At AIPAC, a lesson in teen potential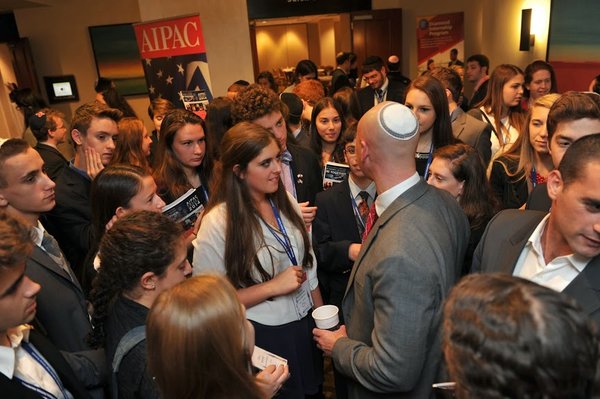 "If you zone in for 45 minutes, I promise I will change your life," said Jonathan Kessler, Leadership and Development Director of the American Israel Public Affairs Committee, speaking to a room full of teenagers in Washington, D.C., Nov. 4.
And though I thought my life didn't need much changing, after leaving the Wilson Lecture Hall of the Doubltetree Hotel that day, I knew that my life was changed forever.
After co-founding the Firehawks 4 Israel group on campus late last year, I signed up to attend AIPAC's teen institute, formally called the Schusterman Advocacy Institute High School Summit 2013, Nov. 2-5. The institute meets during AIPAC's annual convention.
I wanted to learn new strategies and ideas for engaging Shalhevet students with the Middle East conflict. That was about the limit of my ambition, and it seemed like the most I could do.
Personally, not only in regard to Israel advocacy, but also in regard to life in general, I feel belittled and deprecated by wealthy and well-respected adults. Who am I, an ignorant and young teenage girl, to contest arguments presented by those older and more powerful than I am?
What Jonathan Kessler did was cast being a teenager in an entirely new light. First of all, he showed me the power each individual actually has. If I put my mind to something, I can do it. It's about motivation, determination and perspiration.
There is no need to rely on great organizations or famous people to motivate people to advocate for Israel, he said – since I'm a teenager, people will listen to me because it's actually not normal to be so involved and passionate about such a sophisticated topic. I heard this description of my potential and all if the barriers that I thought stood before me vanished.
Then, he explained at length how to do it.
A person's ability to achieve a long-term goal does not sprout from attending events, listening to accomplished speakers, acquiring large fortunes of money or directing annual programs, he said.
Instead, the way to do it is to start with the end in mind and work backwards — without relying on friends, family, speakers, resources, outside support or money.
"It is imperative to individually engage on an interpersonal level," he said.
The message Jonathan Kessler imparted to me is not one that only relates to political Israel advocacy but to a multitude of realms and causes, both within the Shalhevet community and beyond.
AIPAC is just one organization that deals with the America-Israel relationship, lobbying congressmen to promote support for the state of Israel on a legislative level. But there are millions of ways to mobilize, engage, participate and become a leader.
Jonathan Kessler was not talking to the old man in the back corner with the white long beard when he said these things. He was addressing the vibrant and young teenagers sitting on the edge of their chairs in the first few rows of the lecture hall, enveloped with uncontainable passion.
I left AIPAC thinking that students are over-engaged in academics and educational goals.
Sometimes it is more important to venture into activities one feels most passionate about. That, I learned, is where one's greatest accomplishments will eventually take place.
Whether it's basketball or debate, choir or drama, business or social action, each student should learn to take initiative, despite his or her busy schedule and lack of confidence.
"What's easy to do is easy to ignore," Jonathan Kessler said. "What's hard to do is impossible to ignore."