Photo Courtesy of Polina Vorona
'A sadness which you cannot explain with words'
Ukrainian teenagers share what they've lost in the war
May 20, 2022
It seemed natural for Shalhevet sophomore Arielle Gueorguiev to sign up for a program that would connect her with a teenager in Ukraine. Her mother and father are from there, and she needed community service hours. 
So last year she signed up for a program that pairs Ukrainian youth with English speakers to help them learn English. She never thought that she would be working with a teenager whose home would become a war zone.
"We work on English mostly," said Arielle, who about six months ago was paired with a 15-year-old Liza Kalaida of Khmelnytskyi.
They met every Sunday for 30 minutes, and have continued to do so since Russia invaded Ukraine and Liza had fled to Poland. 
"I'll always ask her, like, 'We can talk about what's going on right now or we can, like, stick to English'," Arielle said.
 "She just wants to stick to English, and I feel like I don't want to bug her about it and make her talk about it if she doesn't want to."
But Liza agreed to discuss her life since the invasion with the Boiling Point last month – like many Ukrainians who are hoping to shed light on the tragedies occurring in their country.
"All the news saying there would be a war, even then we didn't realize what we have to go through and how hard it would be," Liza said in an interview last month. "…I am in Poland with my family, we are in a safe place, but we really want to come back home."
On Feb. 24, 18-year-old Polina Vorona woke up to the sound of explosions and air alarms blaring through the city of Kyiv in Ukraine, her home city since she was born.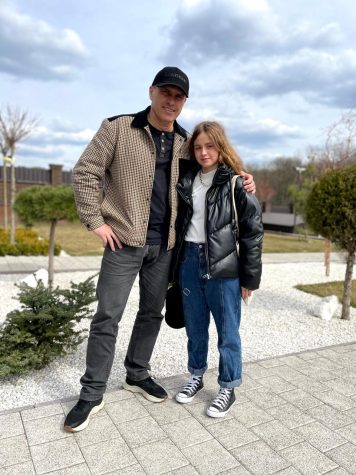 Polina did not witness any actual violence, as she remained inside all day, but she later learned there had been a skirmish between the Russian and Ukrainian armies on a bridge near the apartment where she lived with her mother, her mother's boyfriend and her grandparents. 
She said the only word she could use to describe her feelings about the invasion of her city was sadness.
"I think it's like not scared, it's a huge sadness, like – it's a sadness which you cannot explain with words, it's only can to feel it," Polina said in a phone interview with the Boiling Point April 14. 
"You leave your safe place at all in your life," she said. "You leave your family…and leave your grandparents and part of your friends, and you leave your native city. That's all your life  — this city, this country."
Both Liza and Polina fled Ukraine at the beginning of the war, and both are currently living in Poland. They were introduced to the Boiling Point by Mr. Tchavdar Gueorguiev, Arielle's father, who has been helping Ukranians trying to reach safety within Ukraine and in other countries since the war began. Both teens were interviewed by phone.
Mr. Gueorguiev met Polina through a friend of his who is a cameraman in Kyiv. 
For both girls, the most basic things to teenagers – social lives, favorite activities, home lives and thoughts about the future  – have either changed or vanished as a result of the war.
Polina was in the middle of her first year of University at the National University of Kyiv Mohyla Academy, studying culture.
"In this situation, I can't plan for a long time in the future," she said.
The future was also something that Liza feared.
"It's really, like scary, because you even don't know what will happen tomorrow, will you wake up tomorrow, because you don't even know what will happen," Liza said in an interview April 11. "Now I am in Poland with my family, we are in a safe place. But we really want to come back home."
Polina said that this was the year that she planned on finding her independence.  
"For me it's like a new part of my life, a new chapter at all…" she said. "It was a really typical student life in Kyiv, which I love. I had a really good summer before the studying year, and really many things that I did first by myself, I planned to find more stable work, to separate from my family, like maybe rent a flat alone."
Polina now continues her university classes via Zoom in Poland, where she is living with her grandmother, whom she crossed the border with. Liza attends Zoom classes from her public high school in Khmelnytskyi from Busko-Zdroj, the Polish town that she lives in with her mother, sister, and grandparents. 
Both girls said it was difficult to concentrate on school.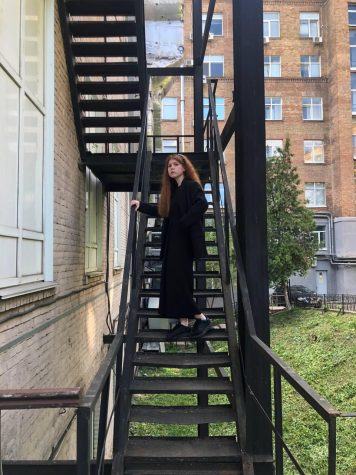 "You can listen to your teacher for 10 minutes and then you are start to check the news," said Polina. "So it's really hard to be in material if it's like music, or film, or like a new lesson. It's really hard to concentrate at all."
The war also has broken apart groups of friends, in spite of cellphones.
Polina said her friends are now scattered – some in Europe, some in Kyiv and some in safer parts of Ukraine.
"Now it's really hard to call each other because it's nothing to discuss," Polina said.
"Sometimes it's really better to send message: 'Are you ok?'  'Yes, I'm safe, I have water, food, and my relatives are in a safe place,' and that's like the best words in life and that's all. All of us have a really small measure of [strength] to speak too much, to discuss this news all the time, to discuss that we are not at home at all."
The war has also broken apart the teenagers' families. Because men between the ages of 18 and 60 are not permitted to leave Ukraine, neither Polina nor Liza has seen her father since the invasion began.
"My dad is not able to leave Ukraine," Liza said. "We call and talk to him every day, but we really miss him."
That absence is also felt by her younger sister Dasha, age 2.
"All day she asks, 'Oh, when are we going to go home, when will I see my dad?'" Liza said.
Polina has not seen her mother, father or grandfather. Her father is currently living in Uzhhorod, Ukraine, with his girlfriend, and weeks before the war broke out, her mother, who is the art manager of Dakha Brakha, a Ukrainian orchestra group, left on a tour in the U.S.
Polina's grandfather decided to stay in Kyiv, to protect their apartment and their cats.
"I know it's really hard for Granny," Polina said, "[To] be separate [from] her husband, with my grandfather, for the first time in I don't know, 40 years."
The two teenagers also left behind hobbies and activities. Liza played guitar and had frequent lessons, and has also had to give up horseback riding.
Before the war, Polina loved watching movies, but says that she is unable to watch the false realities in movies while living such a harsh real one.
"I can't see films now too, because you can't be in this movie," she said. 
Polina had graduated from a music school in piano and cello. She says she now can't play or even listen to music, as it reminds her of the two days she spent in Kyiv after the war erupted.
Polina said that while in her apartment on the first day of the invasion, she was forced to pay attention to every sound that she could hear from outside. She said she can no longer listen to or play music as it forces her to utilize those same skills. 
"Now I'm trying to — it sounds crazy – but trying to learn to listen to music [again]…" Polina said. "After you concentrate on sounds, it's really similar to bombs, or rockets, or planes."
When asked what she missed most about Ukraine, Polina said her bedroom.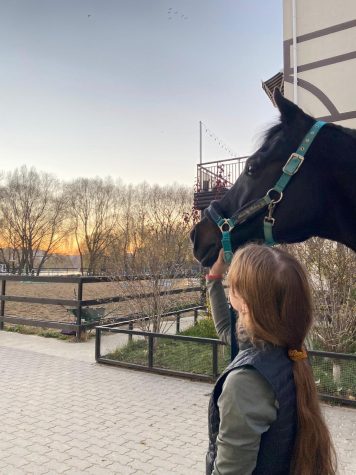 "Maybe it's like really selfish, but except for people, maybe my room," Polina said. "Because it's the most beautiful, the safest place in my life."
"It's that feeling that I am in Ukraine," she continued, "It's hard to maybe understand, maybe it's like a different feeling for every person – their own feelings, but that feel that you're home. That you're in the right place."
In the early hours of Feb. 24, Russian President Vladamir Putin launched a full scale invasion of his neighboring country, Ukraine. It was the biggest attack on a European state since World War II.
Initially, Russia attacked from three sides – from Belarus in the north, the Donbas region in the east, and from Crimea in the south. 
It has targeted Ukraine's largest cities, such as Kharkiv, Kherson and Kyiv, and completely destroyed smaller ones, including Mariupol, Mykolaiv and Irpin.  All of Ukraine's ports have been blockaded. 
Roughly 20,000 civilians have died in Mariupol alone, according to media reports.
According to the United Nations, more than 14 million Ukranians have fled their homes over the course of the war; 6 million having left Ukraine entirely seeking refuge in neighboring countries, and 8 million people displaced within Ukraine itself.
According to the U.N, as of May 17,  Poland has welcomed 3,418,077 refugees, more than any other country. 
Liza and Polina were some of many who fled to Poland.
On the first day of the invasion, Liza  traveled to the western Ukrainian city of Lviv with her family, and they remained there for five days. They were then helped across the border into Poland by Liza's grandfather, who had been working there at the time. 
They stayed with relatives until they found an apartment in Busko-Zdroj, where they reside currently. 
Polina remained with her family in her city of Kyiv for the first two days of the war, first inside their apartment and the second day hiding from bombs in an underground parking garage and a subway station. She said those two days felt like a week.
In the subway, her family recognized people from their neighborhood. She said many people have now been living in subway stations for months at a time to avoid the violence above ground.
"
I am in Poland with my family, we are in a safe place, but we really want to come back home.
— Liza Kalaida, 15
"We really tried to speak, tried to joke, not to be in this nervous situation," she said. "But to be honest, for more we sat quietly and read news." On the third day, Polina, her father and his girlfriend journeyed to the city of Uzhhorod, near the neighboring country of Slovakia. The normally one-day drive took four days due to the overwhelming number of Ukranians fleeing west. They stopped twice to sleep, once on the floor of a Ukrainian Baptist church.
Polina then traveled alone to Lviv, where she met her grandmother, and together they crossed the border into Poland by foot. It took them two hours. They now live with friends in a small Polish town. Polina preferred not to say what town it was. 
Polina said her safe journey to Uzhhorod was a result of quick thinking and luck. 
"It was a really quick decision – like yes, now we [will spend the] night, now in this place," she said. "It's like a situation when everything goes by – I don't know – some unbelievable ways."
But many others have been helped by networks around the world of people like Mr. Gueorguiev, a documentary filmmaker who has been using connections in Ukraine and Europe to aid in what has become a global humanitarian effort. 
Asked for specifics of how this works, Mr. Gueorguiev said there were too many examples to list, but he provided a few.
He saw a post on Facebook that a surrogate mother in Kyiv had given birth to a baby that was two days old at the time. She fled during the bombings, and the baby's adoptive parents had sought refuge in Germany. The child was left behind in the nursery.
Mr. Gueorguiev called a Swiss-German filmmaker who had recently evacuated to Lviv.
"He put me immediately in touch with the German consulate in Poland," Mr. Gueorguiev said. "We contacted the parents. The next day they flew into Poland, and we used an undercover network to ship the baby from Kyiv to meet them.
"
There came a point where so many Jews crossing the border into Moldova and Romania that it was difficult to find a place for them to stay because all the housing was occupied.
— Mr. Tchavy Gueorguiev, Shalhevet parent
Mr. Gueorguiev said that his role in this situation, as in others, was making connections.
"I connected all the dots," he said.
He said he's helped people out of Ukraine through filmmakers in Europe and rabbis in Ukraine, one of whom reached out to him for help finding places to stay across the border.
"There came a point where so many Jews crossing the border into Moldova and Romania that it was difficult to find a place for them to stay because all the housing was occupied," Mr. Gueorguiev said. 
"I knew producers in Moldova and Romania," he said. "As film producers, they are good at logistics. They know where to get transportation, they know where they can put people up, how to feed them, so on. So these producers started working with the rabbi to help him organize places for people to stay."
When Mr. Gueorguiev was helping a friend's mother-in-law out of Ukraine, he reached out to Liza Kalaida's mother for help. 
"Somebody here in Los Angeles found out that I was helping people out and called me." Mr. Gueorguiev said. "I told her what train she needs to take to get out to Western Ukraine, but somewhere in the middle of her journey, because the tracks were being bombed, the train was sent to a different direction. And they called me in desperation, telling me that they are going to a town that they don't even know called Khmelnytskyi." 
He immediately called Arielle's friend's mother.
"It turns out that Arielle's friend's grandfather, who is over 60, who crossed the border, was at that time coming back from Poland to Ukraine to get some more people out, and he had one free space to take this mother out of Ukraine and into Poland."
Mr. Gueorguiev said that each story is unique, yet all are typical for the 14 million Ukrainians who have fled their homes.
"I don't think I'm special in any way in that regard," Mr. Gueorguiev said. "It just maybe happens that through my filmmaking career, I have the opportunity to meet all kinds of people."
Meanwhile, Arielle's grandparents are both in Ukraine currently, living in the city of Odesa which has been shelled by rockets. Its bridge into Romania has been destroyed.
Arielle said her grandparents have refused to leave.
"My uncle is not allowed to leave because he is of fighting age," said Arielle, "And my grandparents don't want to leave without him."
Mr. Gueorguiev fled Ukraine, which had been part of the Soviet Union, after the fall of communism in 1993. He said he felt ethnically and morally connected to the conflict despite living in Los Angeles. 
"I was born there, so in a way, whether I like it or not, this is my motherland," Mr. Gueorguiev said. "And Ukraine was attacked by an aggressor without any reason, and it's a democratic country that is fighting a fight, and because I know these people, more up close than I know let's say people in China, it felt a lot closer to home.״
"
My uncle is not allowed to leave because he is of fighting age. And my grandparents don't want to leave without him.
— Arielle Gueorguiev, 10th grade
He has not been able to help everyone. 
"People were stuck in Mariupol, that has been leveled to the ground," he said. "They were desperately trying to hear word from their parents. I wasn't able to help them, and I now found out that the parents were shipped against their will to Russia, and put in an internment camp."
He said he was in shock when he heard that Russia had invaded Ukraine. 
"I don't know a single person who had the thought that — this is beyond our wildest dreams," he said.
Arielle was also in disbelief. 
"I was joking about it with my parents before it started, they were talking like mentioning 'Oh, Putin might invade Ukraine,' and I didn't think it was really gonna happen," said Arielle. "I was like, 'Oh I'm gonna write him a letter, tell him not to because I want to go visit my grandparents in the summer.' And then when I found out that it happened, I was just like, it's crazy. I couldn't believe it and I was just really worried about them, I still am."
Shalhevet Science Chair Mr. Pavel Lieb, who is from Russia, shared a similar reaction.
"It's really, really dark," said Mr. Lieb. "It's a conflict that has zero rational explanation, and personally I struggle with this not because I come from Russia, but because I am a parent and a human being… And I really struggle with that."
Mr. Lieb was born in Moscow and left in 1992. 
"I even feel bad for the Russian soldiers being sent into this," he said. "They don't want to do this either. They are just following really, really stupid, bad orders, and the worst part  is that they can't quite turn around and act on their conscience because their families are going to get hurt."
To escape an overwhelming feeling of helplessness, Polina said she has volunteered with a local refugee center in her Polish town. 
"It's really hard to stay in the flat and do nothing, and you're always with your phone, with this news, and then you can't sleep," Polina said. "And yes, so I understood that I should to do something to help Ukrainian people because it is really hard to understand that you are in safe and… other people like in Mariupol don't see food for months, and now you sit in a safe place and eat food. That is really hard to understand."
She said her role in the center was to welcome in new refugees and help them navigate their first few days there, offering comfort and a reminder of their homes.
"It's cool that I can speak with Ukrainians or Russians, and they feel more comfortable and more calm that they saw a Ukrainian face," she said.
The refugee center in Polina's town was not set up by the Polish government, but rather by  individual Polish people who wished to help the increasing number of refugees entering their city. 
"Poland does everything so these people can feel safe – can feel warm, can feel like they can be protected, can be part of this world at all, have medicine, have food, and have a place where to live," Polina said.
"
All of us have a really small measure of [strength] to speak too much, to discuss this news all the time, to discuss that we are not at home at all.
— Polina Vorona, 18
Liza was also thankful to the Poles.
"Poland, it's a beautiful country," said Liza. "There live kind people, they support Ukraine a lot. They support us, and it's really important now, this support." 
But Mr. Gueorguiev said that Poland, too, is threatened by Russia.
"Anybody out there that thinks that this conflict is far away, that it has nothing to do with them, is kidding themselves," Mr. Gueorguiev said. "Because if Putin is allowed to do what they're doing in Ukraine right now, who is next is the question. 
"He needs to be stopped at all costs."
The thought of war had always been a distant one for Polina. Even as the invasion was approaching and President Biden and other leaders expressed certainty it would come, most Ukrainians were still in disbelief.
But on Feb. 23, the day before it started, a feeling came over her that something might occur.
Polina's family spent that day doing their favorite things.
"For me and my family it was a really good day," Polina said. "We spent [time] with each other, with my mother and her boyfriend, and we ate our favorite pizza, and we went to the cinema and in all, it was a really good day, because we all felt like we should do now because maybe it's like — maybe it's our last day.
"I felt something," she said. " I don't know what but I felt something."