Peace talks have started between Israel and Palestinian Authority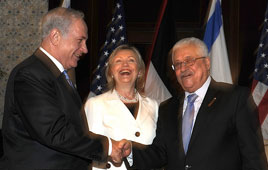 Peace talks between Israel and the Palestinian authority resumed Sept. 20 after 20 months, after Secretary of State Hillary Rodham Clinton worked with the United Nations, European Union and Russia – in a group known as the Quartet, which promotes peace in the Middle East – to clear the way for negotiations.
Israeli Prime Minister Benyamin Netanyahu expressed hope for a successful outcome.
"If we find we have a real partner on the Palestinian side, an honest and earnest partner in negotiations that will need both sides to make the necessary steps…we can soon reach a historic peace agreement between the two peoples," Mr. Netanyahu told an Aug. 23 cabinet meeting, according to an article in the Israeli newspaper Haaretz (http://tinyurl.com/BPNetanyahu).
Netanyahu and Palestinian Authority President Mahmoud Abbas have been invited to the White House September 2 – along with the Egyptian President Hosni Mubarak and Jordan's King Abdullah – to open talks on topics including the right of return for Palestinian refugees, security provisions for Israel, the political boundaries of Jerusalem, and the map of a new Palestinian state.
"We will be active and sustained partners, although we recognize that this is a bilateral negotiation," said former Sen. George Mitchell, the Obama administration's Middle East envoy, at the State Department. "And we have indicated to both parties that, as necessary and appropriate, we will offer bridging proposals." (http://tinyurl.com/BPStateDept).
There has been no sign as to whether the U.S-encouraged10-month moratorium on housing projects in the West Bank (planned to expire Sep. 26) will be extended. According to Abbas, the failure to do so could end negotiations.
"It's impossible to conduct negotiations alongside settlement construction," wrote Abbas in a letter to the U.S, E.U, and Russia, as reported in an article in Haaretz (http://tinyurl.com/BPNetanyahu).
But according to an Associated Press report (http://tinyurl.com/BPPressReport), the U.S. position remains that the moratorium will not be a precondition, and that issues related to construction in the West Bank will be discussed in September.
Meet the Writer
Leila Miller, Editor-in-Chief Emeritus
Currently a staff writer at the Los Angeles Times, Leila has already had a distinguished career in journalism, writing ground-breaking reports for the Miami Herald, Moment Magazine and the Jewish Journal, particularly on the Jewish community in Argentina and its history through that country's "dirty war" and beyond. She also has interned for KCRW News in Santa Monica.

A graduate of Columbia University's Graduate School of Journalism in New York, she is Argentinian by birth and fluent in Spanish. She enjoyed her first dulce de leche ice cream at five months, became a Harry Potter fanatic at age eight, and got her second ear piercing at 14. Leila joined The Boiling Point team as a freshman, and her story assignments led her to her first-ever rock concert at the Troubadour (Say Anything!), watch intense behind-the-scenes Drama rehearsals, and wake up early before school to interview Jewish community leaders in Chile after the earthquake...