Meet Nathan Reynolds, Shalhevet's interim head of school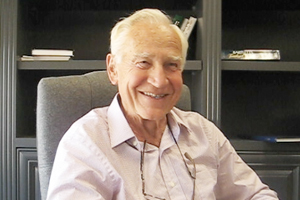 By Zev Hurwitz, Opinion Editor, and Jaclyn Kellner, Community Editor
July 5, 2010
Nathan Reynolds, former Shalhevet general studies principal and longtime principal of Harvard-Westlake School, has been named Interim Head of School, effective July 1. Mr. Reynolds, who has worked at Shalhevet three different times in the past, will help the school until a new permanent head of school is selected. His appointment comes in light of former head of school Rabbi Elchanan Weinbach's unexpected resignation April 30.
One of the original builders of Shalhevet, Mr. Reynolds was first brought in by school founder Dr. Jerry Friedman and hired the school's original staff. He returned to Shalhevet in 1997 to fill in for a general studies principal who had a prolonged illness. After retiring in 2000, he came back to serve for another year and a half in that same position in 2002 and 2003.
Earlier, Mr. Reynolds had worked at a variety of schools including Chadwick, Harvard High School and Westlake School for Girls. He was headmaster at Westlake for more than 20 years, continuing through its merger with Harvard into Harvard-Westlake. Most recently, Mr. Reynolds was president of the Ojai Foundation, a support group for public schools.
"It takes a team effort to get a school to the best it can be," said Mr. Reynolds in an interview with The Boiling Point. "I'm going to work with the whole staff to get Shalhevet to the top."
An e-mail sent by Shalhevet's board June 18 informed the community of Reynolds' return.
"Mr. Reynolds is an extraordinarily bright and visionary educator who is no stranger to Shalhevet," read the e-mail, signed by board president Mr. Larry Gill. "We feel truly blessed that Mr. Reynolds has accepted the position as interim Head of School, and look forward to welcoming him back to the campus."
A Los Angeles native, Mr. Reynolds enjoys jazz, blues and classical music and speaks with colorful language.  He attended UCLA and later Johns Hopkins University graduate school.
With almost 50 years in education, he has countless stories and recollections from his experiences.
"One student I knew ended up becoming the first-baseman for the Dodgers," he recalled. "I was such a cool dad when Wes Parker came over to me and my kids during a game and signed autographs for them."
He is a self-proclaimed technology "troglodyte," explaining that he can't type. Instead he uses a speech-to-text program where he speaks into a microphone and his words appear on his computer screen.
"I need it because I type like a one-legged hippopotamus with athlete's foot," he joked.
Originally an English teacher, Mr. Reynolds has a particular love of poetry and drama. When Shalhevet moved into its current building, Mr. Reynolds discovered a large store room at the southeast corner of the Annex — and the Wildfire Theatre Lab was born.
"Nat has been a really important mentor to me," said Drama teacher Ms. Emily Chase. "He holds high academic standards for the best reasons — because he believes that studying the humanities and arts makes you a deeper, more empathic, more cultured, and more engaged person."
Among the teachers hired by Mr. Reynolds are English teachers Ms. Melanie Berkey and Mr. Roy Danovitch, and math and science teacher Mr. Christopher Buckley. Music teacher Mrs. Joelle Keene was teaching Music Appreciation part-time when he arrived, and he made her fulltime,  suggesting that she take over the dormant  Boiling Point.
Reaction to Mr. Reynolds'appointment has been overwhelmingly positive.
"He is amazing," wrote Ms. Berkey in an e-mail. "A huge mentor for me and I'm very happy he's involved with Shalhevet again."
Mr.Buckley recalled that Mr. Reynolds established the Advisory program in 2003.
"That was a big change for the school," said Mr. Buckley. "I think it's a really positive move bringing him on board right now."
"He's a really knowledgeable guy who really gets what Shalhevet's mission," said Mr. Danovitch.
Outgoing Shalhevet board president Esther Feder praised Mr. Reynolds saying that his "decades of experience" would be instrumental in the future of the school.
"He really built up Westlake when he was head of school there and he was the think tank for Shalhevet during its inception," Mrs. Feder said in a phone interview. "Some of the best staff that is still at Shalhevet was hired during his tenure."
Though he is not a rabbi, she added, he has the "best interests of Modern Orthodoxy for the school" at heart.
"Jerry Friedman ran the school for many years and he was not a rabbi," Mrs. Feder said. "This concept of a rabbi as head of school is relatively new, and Mr. Reynolds is only temporary."
Mrs. Feder said Rabbi Ari Leubitz, who was temporarily sharing head of school duties with General Studies Principal Phu Tranchi, will remain the head of Judaic studies for the coming year, and Mr. Tranchi will continue to lead the General Studies program.
In a separate e-mail to the Shalhevet community, Mr. Reynolds outlined his plans for the 2010-11 school year.
"I believe in Shalhevet and the vision articulated by Jerry Friedman," Mr. Reynolds wrote. "Over the coming months I will do everything in my power  to ensure that Shalhevet is well-run and provides for the faculty, the students and their families an engaging and vibrant educational community in both Judaic and General Studies."
Meanwhile, the board of directors continues the search begun in May for a permanent head of school. The search committee, which is headed by Mrs. Marci Spitzer, mother of Eitan Spitzer, is aiming for the 2011-12 school year.
"We have a very aggressive search going on," said Mrs. Feder, who is also on the committee. "We are conducting a nationwide search and we have many tremendous candidates that we're looking at."
Mr. Reynolds' road back to Shalhevet started at the fundraising gala May 18, which  he attended because he has been a longtime mentor and friend to alumnus Ilan Graff  '01, honored there this year. At the banquet, he said, he was approached by various board members and began to discuss the state of the school. Eventually he agreed to visit for a week and give a professional opinion as to how it could be improved.
He determined that someone was needed to run the school in its transitional period, and the board of directors unanimously voted to hire him for the job.
"Any school that goes through a major administrative change is going have some disruption," said Mr. Reynolds. "There needs to be a head person to keep things in line and I am willing to do that."
For now Mr. Reynolds  has been working out of the former Admissions Office and, when he's not walking around the building smiling and talking to people, can often be seen dictating into his computer with his headset on.
"Nat always treated people with great respect and kindness, whether they were parents, students, or custodians," recalled Ms. Chase. "He fiercely supported teachers and helped us to become our best selves.  I am so happy that a new generation of Shalhevet families will get to learn from, and know, this wonderful man."