In a rapidly developing story, at least nine pro-Palestinian activists were killed in a clash with Israeli soldiers aboard a ship carrying humanitarian supplies to Gaza. Four soldiers were injured including one critically injured when he was thrown to a lower deck by the ship's passengers.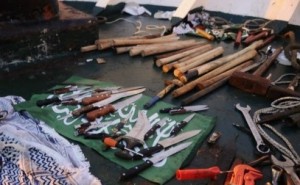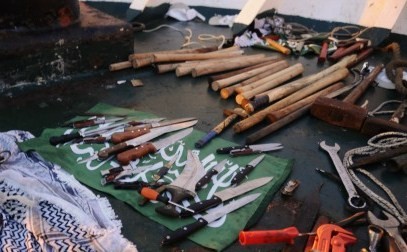 Early Monday morning May 31, a six-ship flotilla, filled with pro-Palestinian activists bound for Gaza, was stopped by Israeli defense forces in accordance with the naval blockade of those waters. Each boat was said to be carrying humanitarian aid to residents of Gaza which Israel has blockaded since 2006.
According to an IDF  video viewed on Youtube, Israeli forces contacted each of those ships warning them of the blockade and offering them each a chance to dock in the port of Ashdod. The first five accepted with the offer, but the sixth and largest vessel, the Mavi Marmara refused to comply.
http://www.youtube.com/watch?v=qKOmLP4yHb4
That ship was soon boarded by Israel soldiers, lowered by helicopter, who were surprised to be met with violence.  As seen on an IDF video, the soldiers were attacked with metal poles, firebombs, as well as with fists and shoving.
At least nine of the activists were killed in the ensuing clash with the Israeli soldiers though nothing is yet know about the cause of death as no passengers aboard any of the ships has left Israeli custody. The story is still developing as Israel has brought the ships' passengers ashore.