East Coast mumps outbreak reaches LA Jewish day schools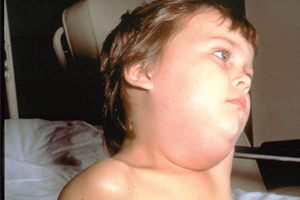 Nate Erez, Staff Writer
May 24, 2010
A mumps outbreak affecting primarily the Chassidic community on the East Coast has spread to Los Angeles, with 12 cases reported so far. The outbreak began last fall and spread to Los Angeles after Passover.
"Four of the confirmed cases [of mumps] have occurred in the past two months and may be related to the multi-state mumps outbreak affecting the Hasidic Jewish population," said a news release from the LA County Department of Public Health. "Specifically, cases have been detected in congregate settings such as schools, colleges, and community centers."
In New York and New Jersey, theyre have been more than 1,500 cases reported since last November, according to the U.S. Centers for Disease Control and Prevention, compared to just 179 through October of last year — "a substantial increase," the CDC said.
No cases have been reported at Shalhevet, but the school may be susceptible to an outbreak in the future due to a low vaccination rate. The California Schools Guide reports that in 2008, the last year for which data was available, 25 percent of Shalhevet kindergarteners were not vaccinated. Those students would now be in first or second grade.
The Guide is an online database produced by the Los Angles Times  that shows test scores, demographic information and kindergarten vaccination rates for all public, private and charter schools in the state. On Shalhevet's page, it states: "The 25 percent exemption rate puts the school at high-risk for an outbreak, according to the U.S. Centers for Disease Control and Prevention" (http://projects.latimes.com/schools).
That was one of the worst vaccination rates among Jewish schools, which the Health Department said tend to have better vaccination rates than average.
By comparison, Yavneh Hebrew Academy had 4.5 percent of kindergardeners unvaccinated, Cheder Menachem had 8.3 percent unvaccinated, Pressman Academy had 6.5 percent unvaccinated, Maimonides Academy had 3.3 percent unvaccinated and Harkham Hillel Hebrew Academy had just 2.2 percent unvaccinated, all as of 2008, the Guide said.
How come Shalhevet has such a low vaccination rate?
"Many students are immigrants and perhaps the mumps vaccination wasn't required in Israel, France, etc," said lower school General Studies Principal Dr. Debora Parks. "Some people are associating autism with vaccinations, so it may be parents' [decisions] were affected by this scare."
Parks also noted that these were just her guesses and not necessarily fact.
Los Angeles has the second largest Hassidic community in the country and cases of the mumps are likely to spread quickly, the CDC said.  The Los Angeles County Health Department sent an alert directed specifically at the Hassidic community of Los Angeles on May 12.
The alert states that "The best way to protect yourself, your children, and other children in your community from mumps is to get two doses of the Measles, Mumps, and Rubella (MMR) vaccine."
However, the CDC report  states that 75 percent of the people infected had already received the two vaccinations (http://tinyurl.com/2f6u32m).
"The vaccination is not a guarantee you won't get infected, but it highly lessens the risk of getting the illness," said Health Department personnel Dulmini Kodagoda. She added that there is recent evidence that those with no vaccination or only one dose tend to have more serious symptoms.
Would it help to get a third dose of the vaccine?
"There have been studies, but so far there has been no evidence that a third dose of the MMR is effective," Kodagoda said.
Some symptoms of the mumps are a low-grade fever, sore throat, and most notably, swelling of the salivary glands under the jaw on one or both sides of the face. Complications — which are more likely to occur in teenagers and young adults — include loss of hearing, deafness, male sterility and meningitis.  Mumps was the largest cause of acquired deafness in the United States before the vaccine was released in 1967, according to CDC information (http://tinyurl.com/cawfa).
Mumps are contagious and spread through airborne transmission, just like the flu, although the illness usually requires closer contact to spread.
Chavrusa study may also be a cause for the spread in the Orthodox community.
"Outbreaks have been notable at boys-only Orthodox Jewish schools, where students sit for long periods facing a study partner," said the L.A Times in an article (http://tinyurl.com/yfflt53).
The Health Department urges people to stay home from work or school if any symptoms
develop, even if only a sore throat or headache.
"Similar precautions should be taken to those of the swine flu epidemic," Kodagoda added.
According to a press release from Bikur Cholim, an organization who helps Los Angeles Jewish families in need of healthcare, the outbreak did start within the Hassidic community, but the Jewish community as a whole is likely to be and already is being affected, meaning that just because you are not Hassidic does not mean you will not be infected.
"While these cases [of mumps] may have in fact begun in a Hasidic setting, it is without question that this has passed beyond these boundaries and significantly spread throughout the observant Jewish community," said the press release from Bikur Cholim.
However, when Bikur Cholim founder Rabbi Hershey Ten was asked if he knew of any cases outside the Hassidic community, he would not specify and said to "read the press release."
But he warned that everyone should be immunized.
"The decision not to immunize goes beyond effecting one's own child and family, it directly impacts society," Rabbi Ten said. "For example, children not immunized for measles and rubella that contract these diseases can place pregnant women, such as teachers and day care providers, and their unborn children at risk."
The L.A. Health Department's Kodagoda said health officials don't distinguish between Hasidic and other observant Jews, but added, "Less than three percent of the New York cases were outside the observant Jewish community."
Students in Shalhevet should take extra care to wash their hands and cover their mouths when they sneeze or cough; even start using the hand sanitizer vendors around school again. If you do become ill, you need to stay home for at least 5 days, the Health Department says.