Head of School Rabbi Weinbach resigns, citing family; Mr. Tranchi and Rabbi Leubitz take reins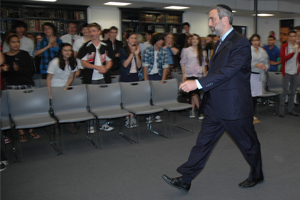 Lexi Gelb, Editor-in-Chief, and Jaclyn Kellner, Community Editor
May 23, 2010
Rabbi Elchanan Weinbach, who was credited with helping put Shalhevet on a more secure financial footing and strengthening its Modern Orthodox identity, abruptly announced his resignation April 30 after less than two years as head of school. He said the needs of his family and his needs for personal space "outweighed the importance of what we do here" [see story Page 6].
During his tenure at Shalhevet, Rabbi Weinbach implemented a new davening system, hired the first Dean of Students, opened the preschool, oversaw a makeover of high school classrooms and hallways and installation of school's first-ever sport court, systemized financial aid, brought the budget into line with professional standards and supported extra-curriculars.
He also established a good rapport with many students and typically used references from popular culture to make his points.
"I think his relationship with the students was incredible," said senior Emma Lipner. "As much as he was an administrator, I found him to be a personable person and I really enjoyed his presence in the school."
But for Rabbi Weinbach himself, the job was ultimately less important than what he called family considerations.
"I have had neither the time nor, when available, the presence with my family to enjoy them or support them," wrote Rabbi Weinbach in an email to the Shalhevet community on May 4. "It was against this backdrop that I began, in October, to seriously question whether or not my work here justified the price to my family, and finally led me to resign my position at Shalhevet."
The school's Board of Trustees quickly put General Studies Principal Mr. Phu Tranchi and Jewish Philosophy and Law teacher Rabbi Ari Leubitz in charge of the high school, joined by Dr. Debora Parks, who currently serves as general studies Continued from Page 1
principal in the lower school, slated to be closed next month.  Rabbi Leubitz will be Judaic Studies Principal and Dr. Parks will serve as Admissions Director and Teacher Liaison.
The board also has already initiated a search for a new Head of School, and possibly an interim head of school.  Incoming board president Larry Gill told a meeting of parents and faculty May 13 that saying that while there were strong candidates already, the decision is very important and they would not be rushed.
"One of the reasons there's not panic and the board is not rushing is that the administration is spectacular, the staff is spectacular," said Mr. Larry Gill, the new President of the Board, at a meeting with parents on April 11. "We formed a search committee but are not going to rush into this. We want to make sure it's a right fit who can articulate vision, mission and philosophy."
Mr. Tranchi echoed Mr. Gill's sentiments, explaining that Shalhevet's capable student body could make up for the temporary lack of leadership.
"No one person is the school," said Mr. Tranchi on hiring a new Head of School. "You, the students, are the school."
Mr. Gill added that in spite of the uncertainty regarding its leadership, the High School is on stable financial footing, with 82 percent "coverage" — meaning that the difference between the money attained from tuition and the money required to run the school is 18 percent, typical or slightly better compared to other private schools.  He also said the school has a five-year-plan which will aims to lower the amount of money Shalhevet needs to fundraise to $350,000 a year, which he called "very manageable."
Despite this, the timing of Rabbi Weinbach's announcement has caused worry about freshman enrollment for next year.
"We had been going back and forth between YULA and Shalhevet for a long time and we wanted to see a much stronger Judaic Studies program," said a parent whose child is about to graduate from one of Shalhevet's feeder schools and will now attend YULA after all.  "And with Rabbi Weinbach we were really hopeful that the curriculum would really take off. Once we heard that that he was leaving we just didn't have the confidence that the curriculum would be in place next year. It was very disappointing for us–there's so much else about Shalhevet that we love."
How widespread this feeling is was difficult to say, and enrollment for next year is still unknown.
Among students, the question of whether Rabbi Weinbach's departure has affected school already received mixed responses.
"I don't honestly feel a change," freshman Sarah Badreau told The Boiling Point. "There haven't been any major changes that make a difference to my everyday school life."
Junior Dalya Silverstein, however, already feels impacted by the change.
"I definitely feel that the school is somewhat chaotic due to all the changes going on," said Dalya. "Even though I think they are really trying their best to handle everything."
Other students embraced the change. On the first Friday under the new administration, a rowdy group of junior boys led a long, intense Shabbos Kodesh session, marching and singing in the halls uninterrupted for the first time this year.
"Half the administration's gone for a few days and it's already old Shalhevet," junior Toby Bern commented after school, with a grin.
The surprising news of Weinbach's departure first came at four minutes to midnight Thursday, April 29, when the Shalhevet Board announced via e-mail that Rabbi Elchanan Weinbach would "be leaving the school, effective immediately."
Mr. Tranchi ran a 15-minute assembly Friday at the end of Period E assuring the students that everything would function normally.
"As Shalhevet moves into its next chapter, I think we're all feeling fear and excitement," said Mr. Tranchi at the assembly. "But we're going to continue on the path we're on. We will continue to move the school forward. I'm here for you, the faculty and teachers are here for you, and you will continue to be the strong, exemplary, wonderful, polite students that you are."
Then, after school, the board distributed a letter from Rabbi Weinbach saying he was leaving for family reasons, but that his resignation would be effective at the end of the year. It also announced that longtime president of the board Mrs. Esther Feder would become chairman of the board, and Mr. Gill would become president.
That  same day, Rabbi Weinbach sent a separate e-mail to parents, also distributed by the board, apologizing for the effect his resignation would have on the community and pledging to do his part to ease the transition period.
The various different e-mails and meetings seemed to give contradictory information, causing a slew of rumors, concern and confusion among students.
"I have been told different reasons for the sudden decision by different, reliable sources, and am, more than anything else, confused." senior Trevor Brandt-Sarif said. "I know there might be legal limits to what I can know, but I would like a consistent story."
Rabbi Weinbach spoke during Town Hall on May 6, asking the students and staff for forgiveness for not being completely present lately. He reiterated his decisions for leaving, and said that he had confidence that Shalhevet will continue to thrive and improve.
"Here in Los Angeles, I have the opportunity to live not just a good and comfortable life but really a very meaningful life as a Jewish educator… but I have to measure that against the needs of my family and my needs for personal space," Rabbi Weinbach said. "I have not been as responsive as I should have been. I ask you for mechila [forgiveness]."
There was also a meeting for staff and parents the evening of May 11. Mrs. Feder, Rabbi Weinbach, Mr. Gill, Mr. Tranchi, Rabbi Leubitz, Dr. Parks and Chief Financial Officer Lori Fogel discussed the future of the school and answered questions.
This story is part of the coverage that was named 2010 Multimedia Story of the Year by the National Scholastic Press Association and American Society of News Editors.