Harvard, Penn, Columbia, Wash. U., Hopkins top list of seniors' college acceptances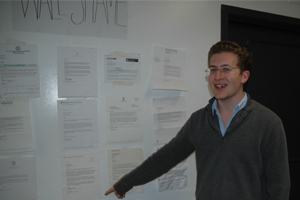 Despite the ever-growing competition to get into colleges, this year's senior class has done remarkably well in the college process, compiling a list of acceptances that includes Harvard, Penn, Columbia, Washington University in St. Louis, Johns Hopkins, and Cornell, all ranked in the top 15 national universities according to U.S. News and World Report.
Also on the list of prestigious college acceptances for Shalhevet seniors are McGill, Claremont-McKenna, Smith, Rice, Wesleyan, UCLA Nursing School, USC Film School, and the Schottenstein Honors Program sat Yeshiva University, in addition to Shalhevet's usual admissions to UCLA, Berkeley, USC, NYU, Barnard and University of Maryland.
Dr. Steven Mercer, Shalhevet's college counselor, said that this year's senior class has been successful not only at getting into great colleges, but also at finding great matches for them.
"This year was a tough year of college acceptances nationwide," he told THE BOILING POINT in an interview. "I'm totally blown away by what the seniors have done. They're getting into really good colleges for them, not just well known colleges."
Some students will be going to schools that are famously high ranked and well known — among them Daniella Newman, who accepted to  Columbia, Cornell and Emory and plans to attend USC, where she earned admission to the eight-year combined undergraduate and medical school program; and Trevor Brandt-Sarif, who will accept his admission to Harvard.
Others went for smaller, more intimate colleges. Lauren Bearman will be Shalhevet's first alumna to attend Smith College in Massachusetts, while Gamliel Kalfa will be the first at St. Johns, a liberal arts school in Santa Fe with less than 500 students that focuses on Western literature and offers no traditional majors.
Others still chose schools where they could make their Jewish education a priority, such as Zach Miller, who was accepted with a full scholarship into the honors program at Yeshiva University.
How did it happen?
"The seniors individually worked really hard for these acceptances," Dr. Mercer said. "They took advice, asked questions, and spent serious time on their applications."
"Our grade was a potent mix of simply being lucky enough to have a good group of kids and being competitive enough to push each other to do well," said Trevor Brandt-Sarif.
Easily distinguished from other students because of the college paraphernalia most of them have been sporting, the seniors reveled in their good news after almost four years of studying, essay writing, test-taking, number-crunching and nail-biting.
Seniors said they chose schools based on many factors.
"I took the usual considerations that most students make: size, core curriculum, location, and how well it can prepare you for medical school," said Daniella Newman. "But I also only looked at schools with big Jewish populations and an active Jewish life."
Size was an almost universal factor, and ranking of colleges played an important role, but seniors seem to be focusing more on finding the right fit for them, instead of just going for the well-known, good colleges.
"Some people consider ranking above everything else," said senior Talia Reich, who will attend Washington University in St. Louis after spending next year in Israel. "But sometimes people just like to be in an environment with certain types of people. Our grade did really well with rankings, and it seems like most people are satisfied with where they're going, rankings or not."
Meanwhile, the impressive list of acceptances didn't stop the seniors of 2010 from taking part in what is now a six-year-old senior class tradition – posting their rejections on the 'Wall of Shame.'
Shalhevet seniors hang their rejection letters right outside the history and English offices. As the year progresses, more and more papers are put up on the wall, as bad news as well as good comes back from colleges.
"I put my letters up because it makes the rejection easier to deal with," said Sara Fletcher, who posted a rejection from Swarthmore College and also plans to attend Washington University. "It makes it something communal – something we share as a grade and as a school."
Harvard-bound Trevor Brandt-Sarif posted rejections from MIT, Yale, UC Berkeley, and the University of Chicago.
"I think its important for us to all – when we get caught up in this process – to remember that at the end of the day, some of it is arbitrary," said Trevor. "We shouldn't take it too seriously – if we all put them up, we can share that level of camaraderie. I hope it continues as a tradition next year."
At this time of year, however, the seniors aren't lingering on the rejection letters that line the wall, but are instead reflecting on their successes.
"We're determined, and we know what we want," said Avital Shoomer, who is deciding between Santa Barbara City College and Marymount College for next fall. "We rock!"
Meet the Writer
Jenny Newman, Outside News Columnist
Jenny Newman has been writing for the Boiling Point since her freshman year, her stories contributing to every section from Torah to Opinion. She has been editor of Outside News for a year, and has written many detailed stories for her section on topics like the Goldstone Report and the actions of the Israeli army. Jenny is also involved in a plethora of after-school activities, including Mock Trial, Model Congress, Model United Nations, Playwriting, and Choir.