An interview with Rabbi Weinbach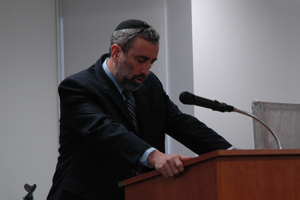 The Boiling Point asked Rabbi Weinbach for an interview in early May about his decision to resign, and he asked to be interviewed in writing.  This interview was conducted via e-mail on May 9.
Q: What are your plans for next year?
A: I will either be teaching or the Head of School at a school on the East Coast.
Q: Why did you decide to leave now?
A: The effect on our family outweighed the importance of what we do here.
Q: You said in Town Hall and in your emails that you'll be leaving the school at the end of the year. What do you mean by that?  We don't see you very much at school.
A: I am working for the school until the end of the school year.  At present, most of that work is being done remotely, although I will be in the building from time to time to help with the transition and to be available to students
Q: In your email you wrote you began looking to moving to the East Coast in October. Why did you wait until now to tell the school?
A: We discussed the possibility for many months, but it was not until Pesach vacation that we decided to seriously look into the possibility.
Q: What do you have to say to would-be parents and students who feel shaky about the school now that you left and the lower schools closed?
A: The financial study shows a school with great strength, and the core of what makes Shalhevet great – its teachers, the Just Community and its outstanding education – is strong.  Shalhevet remains the only option for a true Modern Orthodox education that is non-judgmental and non-coercive.  I foresee only growth.
Q: When you accepted the position of Head of School, you accepted a role model position. What do you think Shalhevet students will learn from your example?
A: I hope that my concern for the needs of each individual student will affect their parenting.  I hope that our choice for the welfare of our family over considerations of money, professional prestige and the good life in LA – great restaurants, great people and great weather – will inspire others to fully embrace their responsibilities as Jewish parents.
Q: What is your favorite and-or funniest memory of your time here?
A: Favorite – the response of the school community in support of Ms. Rosales [when she was diagnosed with breast cancer], and when Mr. Tranchi and I responded to an incident of alcohol abuse in the community by educating the students how to prevent alcohol poisoning.  Funniest – My repeat, pre-Purim, of the same message but with an unintended reference.
Q: Is there anything else you'd like to say?
A: Life is filled with choices that often have painful trade-offs; for me, this one is very, very painful.
This story is part of the coverage that was named 2010 Multimedia Story of the Year by the National Scholastic Press Association and American Society of News Editors