Mexikosher owner says cooking kosher changed him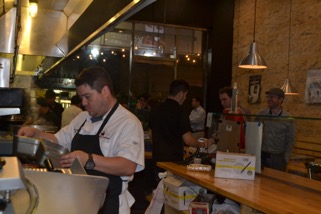 By Eric Bazak, Features Editor and Alexa Fishman, Editor-in-Chief
Half Mexican, half Japanese and five-sevenths kosher, Katsuji Tanabe won the Food Network's Chopped reality cooking competition last August.  He is also the creator and chef of Mexikosher, one of the most popular kosher restaurants on Pico Boulevard and recently added to Shalhevet's lunch program (see related story, Page 3).
Mr. Tanabe served as Shiloh's executive chef for five years before opening his own restaurant in 2011. Mexikosher is known for its burritos, tacos, and nachos, always with a choice of meats — along with specials most nights of the week that incorporate Korean flavors.  He was born in Mexico to a father of Japanese descent.
In addition to winning Chopped, where four competitors compete to make a three-course meal with unusual ingredients, Mr. Tanabe appeared this season on Food Network's Top Chef, where he came in 6th place among 16 contestants. 
He was interviewed by Features Editor Erik Bazak for this story. 
How did you get connected with Top Chef?
I went and saw the open casting on the internet and I just applied and got casted.
Why do you think they picked you? 
The funny thing is that out of the 15,000 people who applied, I was the only who got an open casting call.  Everyone else just got a phone call.
I think they liked my personality and the fact that what I do doesn't make sense. I'm not Jewish, but I have a kosher restaurant. I don't keep kosher, but I keep kosher Sunday to Thursday and then eat whatever I want Friday and Saturday. And also the fact that I am a good chef. You can't go to Top Chef and be a bad chef because you will get killed within the first hour.
How do you prepare for Top Chef. Do you have recipes you prepare for it?
I've been preparing for Top chef since I wanted to be a chef, so that was like 14-15 years ago. It's not like once you find out you got casted you then start studying your recipes. You just either know it or don't know it.
What made you want to go into kosher cooking? 
I didn't pick kosher, kosher picked me. It's interesting how it turned out, but thanks to kosher, I became a better chef and a better person. If you were to ask me 10 years ago if I would want to serve kosher, I would have said no. I didn't plan for this, but I was very happy that thanks to kosher I became a much better chef.
How did kosher cooking make you a better person? 
My life was a little messy, it didn't have much direction, I was partying and drinking and being wild. And then I started doing kosher. My craft became more focused on just cooking, making sure that people were having a great time, great food — and being surrounded by the Jewish community, being so family-oriented and everyone being so nice, started helping me to be a better person.
Did it take you a long time to learn all of the rules of kosher cooking? 
It did and it didn't. Now that I've been doing this for 10 years I know pretty much everything, but at the beginning they just threw me into the kitchen and said figure it out, so I learned not from a mistake, because I never made a kosher mistake, but just by asking a lot of questions and asking and asking.
How did you get started with Mexikosher? 
When I was at Shiloh's, I realized that every time I put Mexican food as a special, it would be selling out every night. If I put a French special, we would sell about five, and then I would put a Mexican special, and we would sell 50. So I realized there was a need for kosher Mexican food in the Pico-Robertson area, and when I had the chance to open my new restaurant, I knew what I wanted to do.
Something unusual about Mexikosher is that it serves Korean food.  What is your connection to Korean food?  How much Korean food do you cook at MexiKosher? 
I was born in Mexico – but I love Korean food. Living in LA for the last 15 years, you know we have the biggest Korean population out of Korea here in LA, so I love Korean flavors and the spices, so I always incorporate those flavors that I like into our kosher cooking.
I am a huge Korean food fan. I eat it once a week, and it is a big influence on my cooking. I like the spices and flavors, and I like to keep my cooking interesting. Just because I have a Mexican restaurant doesn't mean I should serve only Mexican food. I'm still a chef and I should be creative.
What dishes in MexiKosher do you recommend Shalhevet students to try?
When I was that age I wanted something big, so I would go for the carnitas burrito, it is by far the best thing we have on the menu.