Samira Miller, Class of 1999: Community and family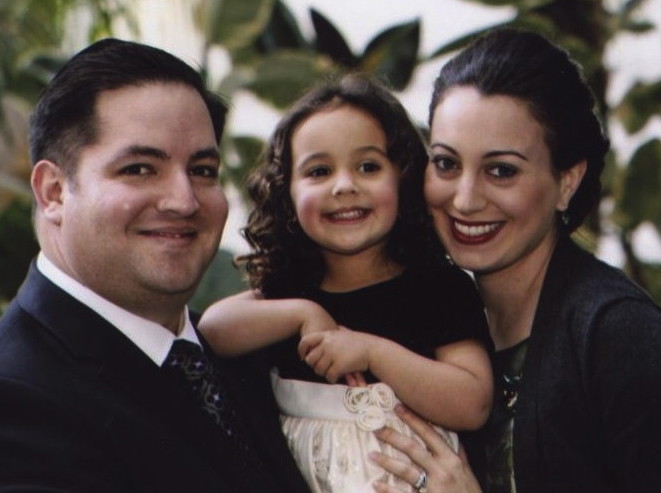 SHALHEVET AT 20: A SERIES
Editor's note: Shalhevet's first academic year was 1992-93, meaning the school is now 20 years old. The Boiling Point will profile alumni from each graduating class.
Q: What did you do straight after high school, and what do you do now?
A: Right after high school I went to UCSD, graduated from there and worked at the Jewish Journal in advertising. Then I worked in Israel for a few months, and then came back and entered a masters program at CSUN [Cal State Northridge] in educational administration, and now I work at Touro College in L.A. and I'm the Director of Admissions.
Q: Are you married and do you have children, and if so how many and what ages?
A: Yes, I'm married to Ari Miller and we have two kids: Hadassa, who is four-and-a-half and goes to Yavneh, and Yaakov, one.
Q:. In one sentence, how would you describe the role of Judaism in their life now?
A: Being part of the Jewish community is very important to me. My daughter goes to shul every Shabbat. We're very active and do everything we can to educate our children.
Q: What is your fondest or funniest memory from your time at Shalhevet?
A: We were in the JCC – that's where Shalhevet was at the time – and I just have memories of being in the hallway with all the students at once. There were 120 students in the entire school, and we were all friends with each other, very close knit, and we all had very specific roles and we all just loved school. I just remember the general atmosphere and environment.
Q: How has Shalhevet influenced you even after graduation?
A: Shalhevet helped mold me into a leader. I really strive to make a difference, I think partially because Shalhevet gave me that opportunity. Shalhevet gave me a voice, and confidence that has led me through life so far. It helped me believe that I can make a difference, and I think that's what a lot of students gain.
Q: If you could plan a Town Hall for the current students, what would the topic be?
A: How to give back to the larger community. People are different, and they like to be involved in different things, but everyone should strive to be involved in a larger picture – something bigger than themselves. A chesed organization, religious, etc, it doesn't really matter. As long as you're giving back to the Jewish community.
Q: What is the main lesson you learned from your time at Shalhevet?
A: It's okay to ask questions. Shalhevet makes you feel comfortable when you do have questions. You're able to explore questions you may have in order to strengthen your identity as a student, Jew and young adult..
Q: Who was your favorite teacher and why?
A: Rabbi [Daniel] Bouskila was my basketball coach and Jewish History teacher, and he became a mentor to me, but I can't say that I had a favorite teacher.
Q: When someone says 'Shalhevet,' what is the first word or thing that comes to mind?
A: Family.
Q: If you could go back and give your high school self some advice, what would it be?
A: Slow down, take more time, and try not to rush it.
–Sarah Soroudi, Community Editor
Related: Shoshana Cohen '01: Giving Israeli girls a gift of Torah
Related: Josh Abrams '01: Kickstarting a company
Related: Zvika Krieger '99: Asking questions and facing danger, alumnus mines complexity in the Middle East
Related: Andy Green '02: Dedicating his life to sharing Judaism