Special fast day schedule today asks what kind of a people we want to be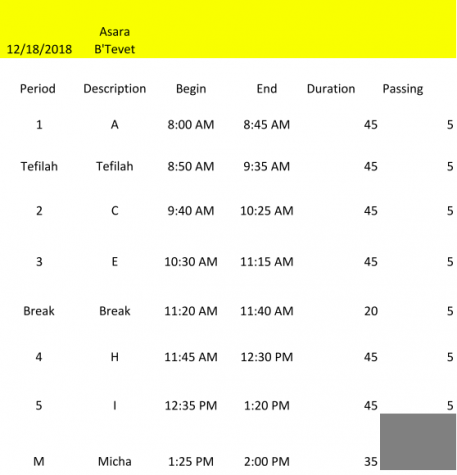 School will end at 2:00 today for Asara b'Tevet, the 10th day of the Hebrew month of Tevet.
The holiday is a minor fast day which commemorates the siege of Jerusalem in 587 B.C.E, which ultimately led to the destruction of the first temple.
Dean of Students Rabbi Ari Schwarzberg said that the holiday has more importance than simply remembrance.
"The destruction of the Beit Hamikdash becomes placed in our calendar as days during the year where we take a step back to think about who we are as a people, and about the type of people that we want to be," said Rabbi Schwarzberg.
"And Asara b'Tevet has that status because it is the beginning of the destruction of the Beit Hamikdash. [So] its value transcends that historical moment, and becomes something that very much has contemporary value."
All classes will meet, but club meet and Flex periods, usually from 10:50-11:35 a.m and 3:40-4:35 p.m respectively, have been cancelled and classes are shortened by 10 minutes.
According to Chabad.org, the fast, which began at 5:29 a.m this morning, ends at 5:15 p.m.