Mrs. Fuller moving to Maine next semester, school seeks replacement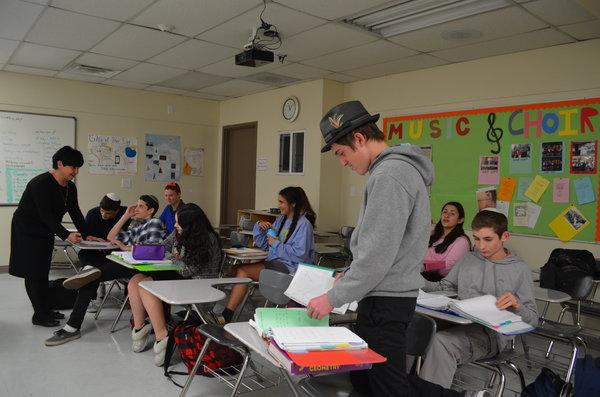 Continuing a trail of temporary math teachers over the past two years, Shalhevet's newest part-time math teacher, Mrs. Gina Fuller, has resigned effective the end of the current semester to move back to her home state of Maine, where her husband has accepted a position as director of an international education initiative.
Her departure, announced last month, means the students in Mrs. Fuller's 10th grade geometry class, who had three math teachers last year, will have had five math teachers in the span of only two years.
However, according to many of Mrs. Fuller's sophomores, this first semester of Geometry was not in vain.
"It was really hard learning math last year with three different teachers," said sophomore Kayla Ablin, "but Mrs. Fuller was able to teach us both geometry and give us a great review in algebra."
General Studies Principal Mr. Roy Danovitch and Mrs. Katya Malikov, Academic Chair for math and science, told the Boiling Point they have interviewed more than 20 candidates to replace Mrs. Fuller, and extensively looked into a few strong candidates.
"We don't look at anyone as a part-time filler," said Mr. Danovitch, though the new teacher would have to start out as part time. "We want to invest in a great math teacher who will bring continuity."
According to Mr. Danovitch, potential math teachers are evaluated according to how challenging they make their class, how they relate to all types of students and other teachers, and their personality.
As they did last year, administrators have used both private recruiting agencies and contacts in the private school world, he said.
"In the end, you never know where you will find the best teacher," said Mr. Danovitch.
According to Mr. Danovitch, many schools are suffering turnover in their math departments, because of a lack of good, qualified math teachers in the U.S. He said that this reflects a national trend at the moment — perhaps because of the many job opportunities in technology — though in a few years, any other subject could be equally likely to have similar turnover.
"[Right now,] it is a lot more challenging to find a strong math teacher than it is to find a strong history or English teacher," he said.
The biggest challenge in finding a math teacher mid-year, however, is that many great teachers have already been hired for this school year in full-time positions.
"Normally when schools interview teachers, they give themselves about four or five months to find someone who has time to prepare," Mr. Danovitch said.
In this case, the teacher would have less than a few weeks. Ms. Malikov said she and Mr. Danovitch are looking to hire a new teacher by mid-January.
Mrs. Fuller anticipated that she would eventually have to move back to Maine, but it came as a shock when her husband — who currently serves as General Studies Principal of Milken Community High School — was appointed director of an international curricular technology initiative halfway through the semester.
Mr. Roger Fuller was tapped by U.S. Sen. Angus King (R-Maine), the state's former governor and someone Mr. Fuller had worked with before,  to run the new Maine International Center for Digital Learning, an international laptop program to bring technology to underdeveloped countries.
Mrs. Fuller expressed much disappointment in leaving Shalhevet, but said she appreciates this great opportunity for her husband. They are grateful that his position there can be relinquished without much difficulty, since Dr. Kimberly Schwartz is ready to take over his position as principal.
"This is how things work out in life," Mrs. Fuller said. "You have to take chances and opportunities when they arrive."
Although Mrs. Fuller was only able to teach at Shalhevet for one semester, she viewed it as a very positive teaching experience. She was inspired by the value system and unity within the school and felt welcomed by the warm Shalhevet community.
"I'm just totally blown away with Shalhevet and what a nice community it is," she said.
Students and teachers said she became a very beloved teacher in a short period of time, participating in community events and being a role model for her coworkers.  She also enriched math learning for many of her students.
"She really wants us to succeed," said sophomore Laly Chriki.
After teaching in Maine for 30 years, Mrs. Fuller moved out to the West Coast so that her husband, who was nominated Teacher of the Year by the Milken Foundation, could become Milken's principal, while she taught middle school math there for nine years.
Then, after a brief retirement, Mrs. Fuller did not plan to resume teaching, but changed her mind after substituting for Mrs. Malikov at Shalhevet last spring.  She said she was thrilled to receive a job offer for the upcoming year.
"When they offered me a position, I jumped at it," said Mrs. Fuller.
Upon returning to Maine, Mrs. Fuller will resume teaching AP statistics and calculus in the same classroom where she taught previously. The teacher who took over for her when she left Maine happens to be going on a maternity leave for her third child, so the timing is perfect for Mrs. Fuller to step back in.
However, the greatest enticement for Mrs. Fuller to return to Maine is that her grandchildren not only live there, but actually attend the high school that she will be teaching at — one granddaughter as a freshman, and another as a sophomore.
As Mrs. Fuller embarks on this new chapter in her life, Shalhevet's administration continues the search for a replacement math teacher who will stop its revolving door.
"It's an ongoing process," said Ms. Malikov.