Shalhevet wins construction appeal; demolition to begin within 60 days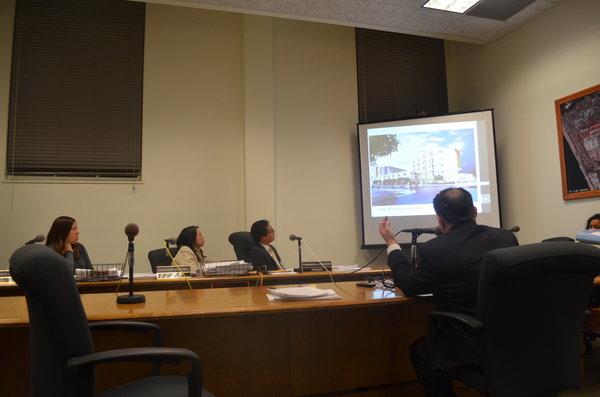 The final appeal holding up construction for Shalhevet's new building was overruled at City Hall downtown last Tuesday night, paving the way for demolition and construction to begin in either January or February, half a year behind schedule.
Los Angeles Associate Zoning Administrator Fernando Tovar had approved the plan in September, but city policy offers citizens an appeal period, and a single challenge was filed during that time.
The appeal was filed by Barbara Meiers, a Superior Court judge who owns a building nearby, though she does not live in it.  Judge Meiers alleged that the apartments and stores planned for the southern two-thirds of Shalhevet's current lot would cause too much traffic on Orange Grove Avenue, which runs behind the school.
She also said that Orange Grove is a street that is "lined with cars all the time" and therefore could not handle traffic from the complex.
The city's Central Area Planning Commission, made up of citizen appointees who decide whether or not to overrule city-zoning officials like Mr. Tovar, was therefore given the final say.  They scheduled a hearing for Dec. 10.
After more than an hour of presentations and rebuttals that night in a 10th-floor City Hall meeting room, at about 7:30 p.m. the three commission members voted unanimously to reject the appeal.
That gave the green light for Shalhevet's new three-story building on the northern, now unoccupied end of campus, and a 147-unit apartment and retail complex on the southern two-thirds, which ends at San Vicente.
"It's something that is needed in this neighborhood, and there is no comparison between what they are proposing for this school development and what is there now," said Marsha L. Brown, one of three members of the Central Planning Commission, who added that she has lived in the area.
Ms. Brown and other Commission members praised the plan for both the apartments and the school, as well as for including street changes that should improve traffic on Fairfax. They also noted that a subway station is planned nearby.
"It is really going to be a benefit, and we want that synergy between the residential, the commercial retail and the transit district," said Commissioner Chanchanit Martorell.
Judge Meiers also complained that the four-story buildings Alliance Residential plans to build would dwarf the duplexes on her street and ruin a "quiet, established neighborhood."
"We are supposed to be looking at the complexion of this neighborhood," Judge Meiers said. "The four-story buildings do not match those which are on Orange Grove."
And though officials of Shalhevet and Alliance Residential had held numerous meetings and gotten the support of every homeowner's group in the area, Judge Meiers said she had never had a chance to comment — hence her last-minute appeal.
That appeal single-handedly delayed the project, which was first announced a year ago. All other complaints were resolved before the ruling by Mr. Tovar.
During a break in the hearing, a Boiling Point reporter asked Judge Meiers why she had waited to long to object.
"I didn't know of any other previous appeal hearings and I don't feel like chatting with you," said Judge Meiers. "However, I did complain about noise to the Rabbi and the school, and they just told me to go fly a kite."
That seemed at odds with the rest of the speakers at the hearing, including Head of Steven Kramer, a member of the Miracle Mile Chamber of Commerce; Renee Weitzer, a representative from City Councilman Tom Labonge's office; and Daniel Tellalian, who had spoken out against the project in September on behalf of those who live on Barrows Drive. Mr. Tellalian came to show his support this time.
"We have been involved for months, we had great concerns and they have engaged us and they have helped us and supported us," Mr. Tellalian told the commissioners.
After the vote, Shalhevet and Alliance said construction would not start right away.  Steven Stogel, the project's overall director, said groundbreaking would be within 60 days.
In an interview with The Boiling Point, Mr. Stogel said that was because changes made during the permitting process needed to be written into the project's contracts – contracts for the school and contracts for the apartment complex – and then checked by lawyers and the banks involved.
And before any of that can even start, he said, the Planning Commission has to issue its appeal vote in writing, which could take 15 days.  Mr. Stogel said the December holidays would also cause a delay.
Still, Tuesday's hearing seemed to be the final hurdle, and officials including Head of School Rabbi Ari Segal, board president Larry Gill, Executive Director Robyn Lewis, and numerous lawyers and architects for Alliance Residential were enthusiastically congratulating one another in the hallway outside the meeting room after the vote.
Also present was Mark Hurwitz, father of junior Mati Hurwitz, who had testified about Shalhevet's contribution to the neighborhood through tutoring students at Carthay Center School.
When completed, there will be six two-and-a-half story houses on Fairfax Avenue, 4 story high apartment buildings on Orange Grove and, four stories of retail space where Shalhevet's Annex Building is now.  Alliance will own those buildings.
Near Orange Grove, Alliance will build four-story landscaped residential buildings with a pool and barbecue area. Fairfax and Orange Grove are zoned differently, which is why the buildings have different heights.
There will be two entrances for the complex, one on Orange Grove and one on Fairfax.
The project plans also include widening the right-hand turn lane from San Vicente on to Fairfax, and widening the bus lanes on Fairfax.
Shalhevet is giving up a 10-foot strip of the student parking lot to accommodate the wider bus lane. In addition, there will be a 200-foot left-turn lane going southbound on Fairfax toward San Vicente, which will allow people to make lefts from Fairfax into Shalhevet without blocking southbound traffic.
Associate Zoning Administrator Tovar presented the plans at the beginning of the hearing, and praised everything about it from the way it handled the zoning, to the indoor gym at the new school, to the landscaping and traffic provisions.
"I've never seen a developer propose so many offsite mitigation measure when they weren't required to," said Mr. Tovar.