Mock Trial team knocked out in first round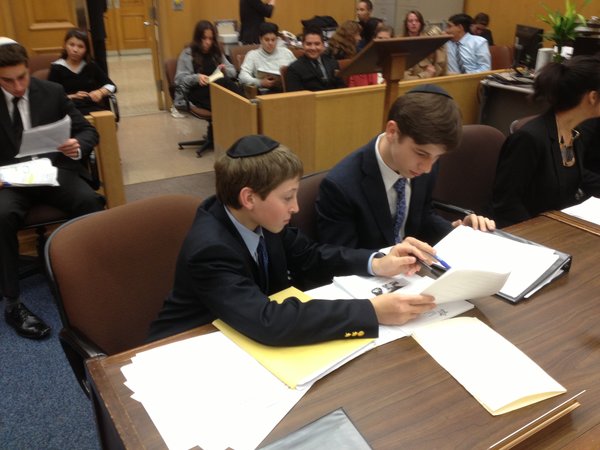 Shalhevet's Mock Trial team has been eliminated after losing in the first round to Damien High School of La Verne by just seven points at the Los Angeles County Mock Trial Competition Nov. 5.
Even though the Firehawks won their second match, against La Serna High School of Whittier, Nov. 12, teams had to win both of their first two matches to advance to the next round at the Los Angeles County Courthouse downtown.
Mr. Chris Buckley, who coaches both Mock Trial and Model Congress, believes that even though Shalhevet usually wins many awards at Model Congress conferences, Mock Trial does not compare because it is an extremely different field of debate.
"It takes a lot more work and practice to get to the level of being an elite Mock Trial participant," said Mr. Buckley. "We have only had a couple students who are really good at Mock Trial, but if you compared them to the best in the country, you would still see a gap."
Unlike Model Congress, which involves writing and debating bills, Mock Trial requires acting skills. In this year's case, People v. Concha,defendant Rae Concha faced two charges: second degree murder for the death of student Jason Johnson and possession of a controlled substance, Adderall.
Junior Margo Feuer, in her second year playing a witness, said that she must interplay drama and law in the courtroom.
"It's imperative to be able to portray your role in a very real way," said Margo.
The Firehawks lost the first match because the judges did not like their style, Mr. Buckley said, and he thinks Shalhevet deserved to win.
"We were probably a little better than Damien High School, but the judges score every element you can think of," said Mr. Buckley. "The couple categories that we lost really cost us."
Of the 92 teams that competed, only 26 advanced.