Meet Stacey, your new best friend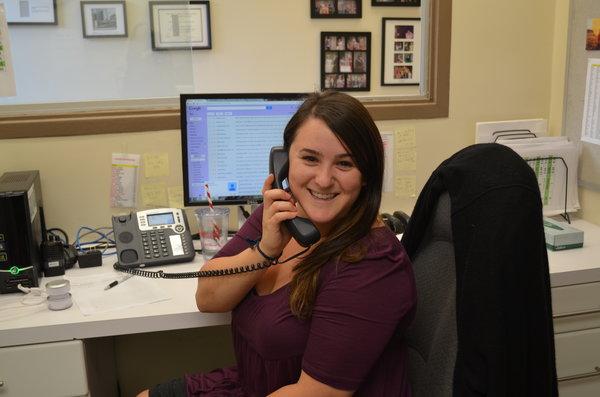 A self-described "go-to gal" — meaning she can be counted on to get things done – Stacey Enoch is known to most students as the receptionist in the Annex.  But officially, she is assistant to Director of Admissions Natalie Weiss, helping with all aspects of recruiting new students from event planning to coordinating tours.
Bringing an enthusiasm for education to her new role, Stacey joined Shalhevet this year after working at the Marymount School in Bel-Air and as a docent at the Museum of Tolerance.  Marymount is a Catholic school for girls.
"That was a Catholic school and this is a Jewish school," Stacey said, but both schools "like to give their students a chance to speak their mind."
Originally from Calabasas, Stacey attended Calabasas High School, followed by the University of California at Santa Cruz, where she majored in Art History.  Her post-college volunteer work as a docent at the Museum of Tolerance inspired her to work with students.
She hopes to remain in the field of education, possibly working towards becoming a teacher one day.
Ms. Weiss says she's glad Stacey has joined her staff, describing her as "competent, quick and willing to problem-solve."
In her free time, Stacey likes to "do things that are fun and that make me happy," she said, including being with family and friends, attending concerts, visiting art museums, cooking and baking.
Meet the Writer
Alec Fields, Co-Editor-in-Chief
Since freshman year, Alec Fields has written numerous stories for the Community, Torah, Features, Outside News, Sports and Arts and Culture sections. In 10th grade, Alec received the post of Torah editor and held that position until being named co-Editor-in-Chief for the 2016-2017 school year. He has received awards for, "SUMMER OF WAR: Hollywood, too, was divided," "Refusing Playoff Suspension, Buckley Resigns," "OUT OF THE SHADOWS: Ancient tradition meets modern sensibility," and for "Rabbi who sauna-ed with students in New York was scholar-in-residence at Beth Jacob on Shavuot." Alec is co-captain of Model Congress, co-president of the Finance Club, a founder of Supplies on Demand, a member of the Mock Trial team, Firehawks for Israel, tennis team and grappling club. Some of his favorite classes are Political Theory of Modern Middle East, Psychology, and Government and Economics. When Alec has time he enjoys playing or watching sports, reading...