Fire truck arrives on campus after alarm goes off, cause is unknown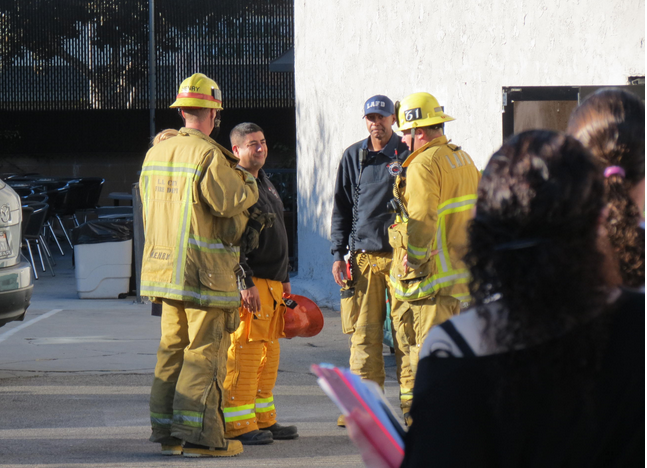 Executive Director Robyn Lewis said that the Los Angeles Fire Department and school officials were not able to find the cause for the alarm that went off Thursday morning.
She mentioned that there was a smell that could be from the electrical air conditioning units in the building, but that the firefighters could not pinpoint the cause.
A fire truck arrived on campus around 8:45 am on Oct. 31 after the alarm went off in the annex about 10 minutes before.  Classes evacuated the building immediately, and firefighters entered the building to check for a cause but could not find one.
"We did not ever find out the cause for the alarm.  Sorry.  False alarms happen in all facilities," Mrs. Lewis wrote in an email to the Boiling Point to follow up on the cause.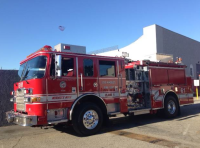 Meet the Writer
Tamar Willis, Editor-In-Chief Emeritus
Tamar Willis is a graduate of Princeton University where she wrote and served as business manager for the culture magazine Nassau Weekly.

She joined the Boiling Point staff in ninth grade and served as Staff Writer, Features Editor, Outside News Editor and Sports Editor, winning national awards in feature writing from Quill and Scroll, the American Jewish Press Association and the Columbia Scholastic Press Association. In high school, English and US History were her favorite subjects, and she loved to read and write, especially for the Boiling Point!

Tamar says that if she were a punctuation mark, she would be an Oxford comma or an exclamation point. Tamar could eat sushi for breakfast, lunch, and dinner, and she thinks Clueless is one of the best movies ever made.

Tamar was Deputy Editor and then Editor-in-Chief of the Boiling Point in 2013-14 school year, leading the paper to its second CSPA Gold Crown Award the following spring....