Student's coffee business shut down during lunchtime due to contract with caterer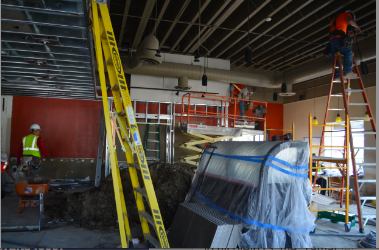 Sophomore Boaz Willis stopped selling coffee and iced chai lattes during lunch last Tuesday after Mrs. Robyn Lewis, Shalhevet's Executive Director, informed him that he could not be open at that time because of Shalhevet's contract with Dudu Zrihen, the caterer who sells lunch.
Mrs. Lewis approached Boaz 15 minutes into lunch on his second day of business, which he had set up to provide coffee while Starbucks' is closed this week for renovations.  She noted that he was selling dairy items while Dudu was selling a meat lunch.  Boaz immediately shut down the stand, which he dubbed "Boaz's Barista Bar," until Mincha, when he reopened it.
"The main reason why it had to close down in my opinion is because he was selling dairy and it was a meat lunch," Mrs. Lewis said. "So we can't have the dairy and the meat thing going on at the same time."
"Number two is we did promise Dudu that during lunchtime there would be no one else selling things," she continued. "At other times, with regards to breakfast and Mincha, we can do whatever we like, when he's not open.  But in order to make it worth his while, he needs to have the opportunity to sell as much as he can during that time."
Mrs. Lewis added that clubs and groups that want to raise funds are also not allowed to do so during lunch, but may do so during breakfast and Mincha.
Boaz started selling coffee Monday, Oct. 21,  the first day that Starbucks located across San Vicente Boulevard from school was  closed.  Since then, he has been  buying ground coffee from Coffee Bean or the Starbucks on La Cienega and brewing it himself in the morning before school starts.
He carries the  brewed coffee to school in an electric urn and serves it in paper cups in the outdoor lunch area.  For sweet drinks, he adds milk to cartons of Oregon Chai brand pre-made tea.
After announcing his plan over Schoology, Boaz originally sold drinks for $1.40, compared to Starbucks' $2.00 and up.  He plans to stay only until Starbuck's reopens, which should be Nov. 1., according to the store.
On Tuesday, his second day, he raised the price to $2.00 because he wanted a flat dollar amount and bought bigger cups.  He also added iced chai lattes to his menu, and added chocolate milk on Wednesday.
He said he is in the process of arranging meetings with the Starbucks district manager in hopes of obtaining a 15 percent discount for Shalhevet students and teachers at the real Starbucks across from school at the corner of Fairfax and Olympic. Boaz figured selling discounted drinks at school would be a good way to show the manager the high demand for coffee at Shalhevet.
The week before he opened, Boaz posted a survey on Schoology to gauge student interest in a discount, and to have stats to convince Starbucks that a discount would benefit them.
"Students well deserve a discount based on how much Starbucks profits from Shalhevet students," Boaz said.  "The potential revenue increase from the expected amounts of Shalhevet student purchases would be extremely beneficial for Starbucks."