Grad speeches recall four years of change, bonding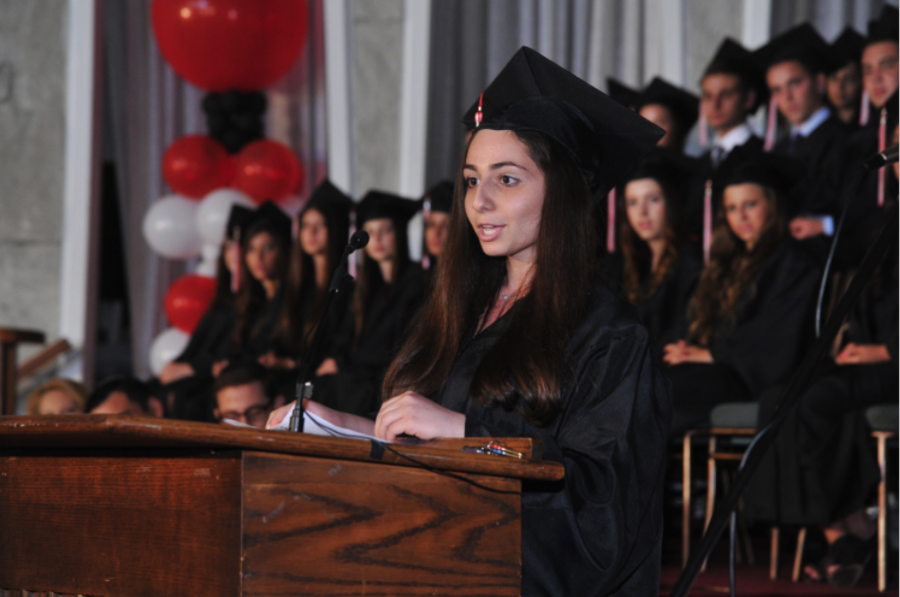 Speakers made the event when the community gathered for graduation June 9 in the sanctuary of Temple Beth Am.  Rabbi Ari Schwarzberg was the speaker chosen by senior class ballot, and Colleen Bazak and Ariela Feitelberg gave addresses as valedictorian and salutatorian, respectively, having earned the highest grade-point averages in the Class of 2013.
Also on the program were speeches by Judaic Studies Director Reb Noam Weissman and General Studies Principal Roy Danovitch; national anthems sung by the Choirhawks, and a video presentation about the Poland-Israel trip with musical accompaniment by seniors Leah Glouberman and Danny Silberstein. 
And just before the presentation of diplomas, founding head of school Dr. Jerry Friedman delivered the 2013 Jean and Jerry Friedman Mensch Award to senior Zev Marcus.
Below are excerpts from speeches by Colleen, senior class co-presidents Ariana Feder and Natalie Kessler, Rabbi Segal and Rabbi Schwarzberg.
Colleen Bazak, Valedictorian
"People define you in moments that are not planned, moments that are difficult or that require leadership. In some such situations, the class of two thousand and thirteen chose to react in a mature and serious way; we became leaders and helped ease a problem. But in other instances, we complained and failed to help solve the issue. We have, therefore, lived with a paradox.
The class of two thousand and thirteen seemed to go through a record number of changes in administrators, teachers, and even smaller modifications such as our student lounge location or the color of the school walls. With each tumultuous change, it was our choice in how to respond. We could rebel and complain — and we certainly did sometimes — or we could accept the new challenge.
We are entirely capable of acting in any manner possible. But it is only our choice to decide the correct way. We have all been given the ability of free choice, and Shalhevet has taught us that we must use that ability to forge our own destiny."
Ariana Feder and Natalie Kessler, Senior Class Co-Presidents
"No class – no matter how opinionated, argumentative or brash we admit we sometimes are – is as united as us. We'll remember the unbelievable relationships we forged with our faculty and administration. Most importantly, we'll remember how thankful we are to our parents for giving us this opportunity to graduate from one of the most unique, daring and exciting schools."
Rabbi Ari Schwarzberg, Judaic Studies, Charge to the class
"Typical of many teenagers, you guys boast some frustrating qualities: at times you are lazy, self centered, arrogant, rebellious, manipulative, and even chauvinist. But out of this tapestry of adolescence you simultaneously managed to be a grade by which all future grades will measure themselves.
Your rebellious streaks inspired great art, music, drama, humor and superb leadership. Your demands and relentlessness produced real changes in school policy. Your challenges and arguments spurred original thought and creativity. Your healthy egos bloomed into champion athletes and budding scholars. And most importantly, you allowed your collection of diverse personalities to merge into a beautiful community of individuals who sincerely cared and appreciated one another."
Rabbi Ari Segal, Head of School 
"I fear that the message you have gotten from society is that your successes alone define you as a contributing member to society; and that we, as a whole, don't care about the effort it took to accomplish those goals….
We need to refocus on the importance of the process by which we achieve our goals. Any shortcut that gives you results without the effort, is cheating – and even when it doesnt hurt anyone else, it is cheating yourself; it leaves you feeling empty inside because there's nothing to reflect on and feel proud of….
Pursue your goals – build a great family, a successful career, a strong community. But make sure to do it righteously, honestly, and with integrity."
— Compiled and excerpted by Daniel Steinberg, Staff Writer, and Kalil Eden, Editor-in-Chief