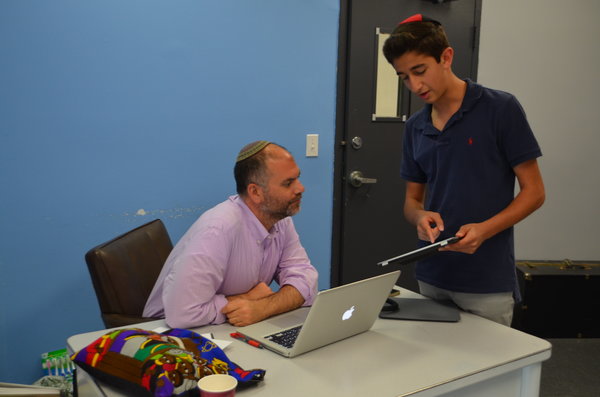 The following e-mail was sent to Shalhevet students, faculty, parents and staff Tuesday afternoon, May 14. 
Dear Members of the Shalhevet Community,
In our ongoing effort to continually improve the quality of our education, I want to share with you an important change in role for one of our most beloved and valued staff members Mr. Jason Feld. Mr. Feld will continue to serve as a senior faculty member but will now be assuming some administrative responsibilities. I am excited to announce his appointment to the position of Coordinator of Educational Technology and Curricular Integration for the 2013-2014 academic year.   Mr. Feld brings to his role a well-defined educational vision, an infectious passion for excellence and years of classroom experience.  These proven leadership skills make him the perfect leader to spearhead our new iPad program.
Mr. Feld holds a Master of Arts in Teaching from AJU and has successfully completed the prestigious YU Lead Program, a selective professional development course designed for emerging leaders in Jewish education.
Mr. Feld will leverage his varied experiences as a beloved educator, faculty mentor and educational technology leader to take Shalhevet to new heights as the benchmark for excellence in 21st century Jewish education..  Among his administrative responsibilities Jason will manage the smooth implementation of our freshman and sophomore 1:1 iPad program, supervise educational technology professional development and act as an ombudsman responsible for managing the balance of work/life for freshmen and sophomores.  Mr. Feld will also teach his popular courses on Modern Jewish History and Political Theory of the Modern Middle East and will continue to be an integral partner in all aspects of our student's success.
In my two years here, I have had the privilege of working closely with Mr. Feld and I am absolutely certain that this new role will help the school grow on many levels.
In addition, I am pleased to announce that we have filled our College Guidance opening with an absolute superstar. We looked for a combination of talent, knowledge, passion, creativity and an ability to support all students in this critical process.
I am happy to share with you that we have hired Ms. Aviva Walls as our Director of College Guidance and Academic Advisement.
Ms. Walls has extensive experience in the world of college admissions both as a former admissions officer and as a high school counselor.  She currently works at New Community Jewish High School as the Associate Director of College Guidance/Associate Dean of Academic Advisement and previously held a similar role at Solomon Schechter School of Westchester in Hartsdale, NY.  In addition to her responsibilities within college guidance, Ms. Walls has developed several school-wide programs, staffed school trips and shabbatonim.
Originally from Seattle, Ms. Walls is a proud graduate of Seattle Hebrew Academy and the Northwest Yeshiva High School.  Before moving to the east coast for college (and staying much longer than she had anticipated), Aviva spent a year studying at Midreshet Lindenbaum.  Ms. Walls began her career in the Admissions Office at Barnard College (her alma mater) shortly after graduation and also served as a Senior Assistant Director of Undergraduate Admissions at New York University.  While working at NYU, Ms. Walls earned an MBA with a concentration in Leadership and Change Management.  Throughout her years as an admissions officer, Ms. Walls worked with student tour guides, developing a sophisticated program of training, peer leadership and management.  She has presented at National and Regional conferences on the importance of campus visits in the college search process.  Very much a believer in "walking the walk," she has visited more than 40 colleges herself.
In the interview process, Ms. Walls met faculty, parents, students and lay leaders and every single person walked away really impressed. We are so excited to welcome her aboard and she is excited to be joining the just and thoughtful Shalhevet community.
Chag Sameach,
Rabbi Segal