Freshmen meet and greet at BBQ
Shalhevet's freshman class gathered together the night before school began for an evening of meeting, greeting and getting to know what high school would be like.
Upon arriving at school Tuesday evening, each student was greeted by upper classmen, who gave each a  personalized folder with his or her class schedule, a lunch menu and details regarding P.E.  Parents were there as well and had forms to fill out.
Next, the group headed into the Beit Midrash to hear from Head of School Rabbi Ari Segal, and to hear principals Rabbi Ari Leubitz and Mr. Roy Danovitch introduce teachers who were standing in the back of the room.
Rabbi Segal welcomed the Class of 2015, reminding them that since it's his first year at Shalhevet, he is actually a freshman, too.  Judaic Studies teacher Raizie Weissman showed cartoon drawings of students in and out of Shalhevet's dress code.
After that, students and parents split into groups to tour the school, learn about Shalhevet's Just Community, and solve moral dilemmas.  The students got to know each other a little bit better through ice breakers and time to schmooze. The evening ended with a buffet dinner catered by Jeff's Gourmet.
During dinner, General Studies Principal Mr. Danovitch had positive words about the incoming students.
"They seem intelligent and dynamic," Mr. Danovitch said. "I think they are going to be strong leaders of the school.  They bring positive energy and look like great students already."
The students and teachers mingled over dinner.  Freshman Alexa Fishman found the event helpful.
"I feel less nervous about starting school, now that I have met more people in the grade," Alexa said.
That may have been the exact reason for the barbecue.
"However nervous or awkward you may feel," Mr. Danovitch had said in the Beit Midrash, "none of you is as awkward as I was when I was in ninth grade…. So don't worry. You're going to be fine."
Meet the Writer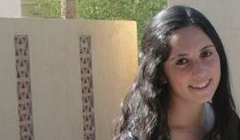 Sigal Spitzer, Opinion Editor
Junior Sigal Spitzer joined the Boiling Point as a freshman staff writer.  She quickly rose to the position of Sports Editor as a sophomore but decided to take on the Opinion section this year.  She is an avid athlete and a member of several Firehawk teams, including the Israel advocacy club and the student activities committee.  She enjoys volunteering with special needs children, participating on the award winning debate team and hanging at the beach out on sunny days.