Welcome Oliver Bui Berkey Tranchi!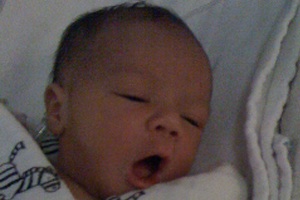 After years of "what-if's," English Department Chair Melanie Berkey and General Studies Principal Phu Tranchi welcomed their son Oliver Bui Berkey Tranchi into the world Sunday, April 18, at 5:07 a.m., weighing six pounds, 10 ounces.
Ms. Berkey and Mr. Tranchi met at Shalhevet where they have been teaching for 12 and 10 years, respectively. They were  married in 2006.
Excited students had been brainstorming baby names for the four months since Mr. Tranchi and Ms. Berkey announced that Ms. Berkey was pregnant. The most discussed name was Enzo, inspiring Ms. Berkey's film class to produce their Film Noir project under "Enzo Productions" though Mr. Tranchi's AP Chemistry class suggested naming the baby after an element like Argon or Krypton.
Ms. Berkey will be on maternity leave until next fall. Mrs. Caryn Malkus, who teaches an after-school dance class at Shalhevet, is substituting for Ms. Berkey's classes. Mr. Tranchi will be out of school until early May on family leave, but said he would be coming to school second period to teach his AP Chemistry class.
Meet the Writer
Jaclyn Kellner, Deputy Editor
Jaclyn Kellner, who also serves as Torah Editor this year, finally gave in to Mrs. Keene's requests to join the Boiling Point at the beginning of sophomore year and is far from regretting it. She became Community editor first semester junior year and is proud to say that along with spending more time at school over the summer than most teachers did, she knows almost every detail of what's happening at Shalhevet. Jaclyn is a dedicated member of Shalhevet's Yoga Minyan and is Chair of the Community Service Committee.Though she'd like to say she reads the newspaper to learn about what's happening in the world, when she picks up a paper she's almost always searching for an article about her favorite beverage of all time–TEA!