Gathered on the roof, students become a giant choir to celebrate Israeli Independence Day
In under an hour on a sunny Yom Ha'atzmaut morning, choir teacher Mrs. Joelle Keene was able to turn an unorganized gathering of 140 students into a full-on musical group.
It was an effort to celebrate Israel's 70th birthday April 19 by doing something they do there, and it succeeded beyond organizers' dreams. Inspired by Koolulam, an Israeli group that teaches gatherings of thousands of people to sing a song, the students had gathered on the third floor's outdoor turf to single "One Day" by Matisyahu.
"The kids at Shalhevet are really enthusiastic," said Mrs. Keene. "So you put together their natural enthusiasm with their love of Israel and their love of music, I would have really had to screw up for it not to have succeeded."
The whole school was present, which that day meant about 140 students, teachers and staff, who were split up into three sections: boys, low-pitched girls and high-pitched girls. They went through and practiced each note until they knew the whole song.
Leading the performance with Mrs. Keene were most of the Choirhawks and an assembled band made up of sophomores Kiku Shaw on keyboard and Mitchell Hoenig on acoustic guitar, junior Adira Waldman on bass, senior Daniel Ornstein on djembe drums,and Rabbi David Block on electric guitar.
After the final performance of the song, the group erupted into cheers and started dancing, followed by wild musical celebrating which freshman Tomer Azrad DJed.
The idea was originally thought of by Judaic Studies teachers Rabbi Ari Schwarzberg and Ms. Ilana Wilner, who is also Student Activities Director. They contacted Mrs. Keene along with students who played instruments and asked if they wanted to be part of the event.
"They didn't have to sell me on it," Mrs. Keene said, adding that she didn't know about Koolulam  until Rabbi Schwarzberg sent her a video. "As soon as I saw it I knew this is the best thing you could do at Shalhevet."
Mrs. Keene taught the song to the choir just the day before. She said they learned the harmony parts and other details in about 40 minutes. Many of them already knew the song.
The band only started practicing that morning. But Kiku was pleased with how it turned out.
"We had to all learn our parts separately and only had so long to go through the song before everyone came," said Kiku. "It was crazy, but I'd say it was a feeling of excitement and relief; it was honestly really amazing to all be able to play the song as well as we did without practicing with each other, and it also was very relieving to know that we were able to pull through it."
Many, including Rabbi Schwarzberg himself, had been skeptical of the success of the undertaking.
"Oh my God, it exceeded my expectations 100 times over," said Rabbi Schwarzberg. "I thought there was a 20 percent chance it would be mildly successful…. Mrs. Keene was unbelievable and the students were awesome. When our school comes together, great things happen."
Mrs. Keene credited the band; the choir members including sophomore tenor Evan Rubel, who at the last minute jumped onto the band platform and led the boys group; and Judaic Studies faculty and administrators who she said "channelled the energy of the junior boys," who were constantly engaged and started shouting and celebrating whenever they got a note right.
"We started by watching videos of it in Hebrew classes and it was really cool to see," said junior Jonathan Fishman. "So when they told us we were doing one, all of my friends and I were really excited, and it ended up being awesome."
Mrs. Keene also gave a lot of credit to the song, written by Matisyhu and the Smeezingtons, a now-defunct group of three songwriters and producers made up of Philip Lawrence, Ari Levine and Bruno Mars.
"I got a lot of help," said Mrs. Keene. "The most help I got was from the song. It's a great song. My hat is off to Matisyahu."
Director of Technology Nick Parsons filmed the event using a camera as well as a drone hovering overhead. With help from sophomore Ari Schlacht, the school released an official video that night.
Leave a Comment
Meet the Writer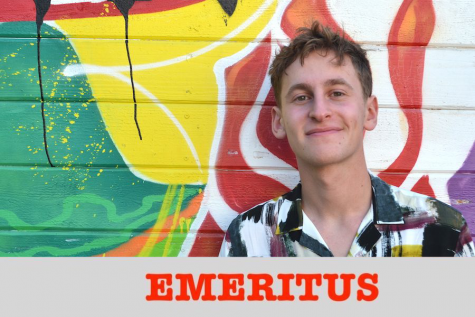 Jacob Joseph Lefkowitz Brooks, Editor-In-Chief Emeritus
Jacob Joseph Lefkowitz Brooks was editor-in-chief during the 2019-20 school year and is now a student at the University of Toronto.