Student show reflected feminism through modest fashion
This year's fashion show had two major stars: modest clothing and a feminist theme. These two highlights may seem contradictory: asking women to cover up is viewed in many feminist circles to be anti-woman, and a fashion show might not seem like the place to showcase feminist values.
But Shalhevet's student Fashion Club managed to bring the two together in an evening event in the gym on the Sunday of President's Day weekend.
It started with the very first walk down the runway. Sophomore Jacqueline Englanoff opened the show, wearing a navy blue shirt from Karen Michelle with a large, bright orange ruffle. In the past, ruffles on women's clothing were seen as demure, ladylike and highly feminine. They were associated with the outfits of Southern belles, the epitome of delicate femininity. After all — a ruffle is a frill, and what is more girly than a frill?
But the look actually fit the times, since recently the ruffle has made a comeback, and in a modern way. Instead of a dress or skirt that is all ruffle, the "power ruffle" puts an avant-garde twist on the classic. Jacqueline paired the outfit with a plain pencil skirt from the store — a staple of many girls' wardrobes at the school — and with Adidas sneakers, another trend owned by students both both female and male.
This is the Fashion Club's third year and it was the group's third show. Designers included Karen Michelle, Raju Official and Polka Dots and Moonbeams, a clothing store that does not aim to be modest or to target a Jewish clientele, unlike Michelle or Raju Official.
Also present was "The Drive," a student project to get pads and tampons for women in need created by senior Sarina Finn and junior Nomi Willis. They collected 20 packages total and $34 to buy feminine hygiene care supplies.
Sarina herself walked in the show, wearing black basics under a large baby-pink fur vest.
"I wanted to wear someone exciting, so I immediately ran to the vest when I saw it in the store," Sarina said. The presidents of the Fashion Club, juniors Kira Faerstein, Jackie Faerstein and Gabby Grunfeld took the models to the stores with the clothing they would be modeling.
"I think it really brought me out of my comfort zone," Sarina added. "I usually don't wear statement pieces like that, I learned a lot about how I wear my own clothes."
But the biggest statement of all from Sarina's walk was that at the end of the catwalk, she snapped a photo of the audience with a pastel green Polaroid camera.
"I saw it in the dressing room and immediately knew I could do something different and make the audience excited," she said.
"It was also a statement about, everyone is always taking photos of the models, but it's about the audience as well, I think it was an interesting reflexive statement."
All of this was against the backdrop of modesty. The fashion show's slogan is "tzniut can be cute." Tzniut (pronounced tznee-OOT) means modesty in Hebrew, and many contemporary feminists argue that modesty is anti-feminist, and even misogynistic. Those with this view see modesty as an oppressive sexualization of women's bodies, and have organized protests across the country against school dress codes which prohibit girls from showing shoulders, or too much thigh.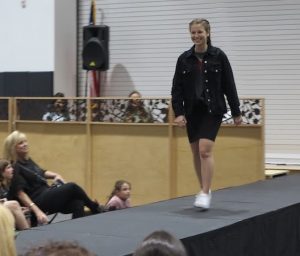 This might make bringing together religious modesty with feminism a difficult feat, but the Fashion Club's show demonstrated a way in which girls could be tzanua, modest, while celebrating themselves and their looks.
"It showed us a different type of modesty, a different side of modesty," said Sarina.
The idea of tzniut being in conflict with modern feminism was a topic of a Shalhevet Institute event this past November. The Institute titled it "Tzniut in the Age of #MeToo." Judaic Studies faculty member and Yoetzet Halacha student Ms. Atara Segal spoke at the event, and commented on the fashion show as an attendee.
"I think this is a celebration of externals in an appropriate way," Ms. Segal said at the show. "They're not saying women should be hidden, they just need to be celebrated in an appropriate way."
All the outfits, bold and trendy yet classic, stayed within Shalhevet's tsanua school dress code. Kira, Jackie and Gaby said they brought in Polka Dots and Moonbeams to show that modest clothing is easy to find and fashionable in the mainstream. The clothing from the store, which is located on Third Street near the Beverly Center, was some of the most exciting and fresh. Junior Elinore Kerendian wore a camouflage denim jacket with patches of colorful sequins. One look which received a lot of applause was a red velvet dress covered in butterflies worn by senior Maia Zelkha.
As the girls waited to walk on the runway and show off their look, they stood behind what is used as a mechitza on school days. The mechitza is used to cover women from men and vice versa during prayer — really the ultimate symbol of modesty.
It was unintentionally symbolic that before the girls exposed their outfits to the all-female audience, they hid behind that same gender divider. But it reflected the show's fashionable amalgamation of tzniut and celebratory revealing. After each walk, the models returned behind the mechitza — showing one can be very much in the public view, but sometimes standing behind the mechitza is the right thing to do.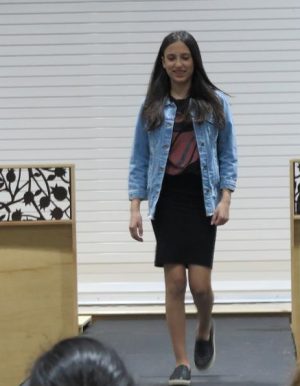 The show presidents were not focused so much on the fashion of the show, but more on the mission of the club and offering a catwalk where a lot of the models were allowed to pick their own outfits, and felt comfortable in whatever they were wearing.
"The goal was to make sure everyone would enjoy their clothes," Kira said. "We wanted them to be comfortable but we are a bit limited by tzniut, and a lot of tzniut clothing is geared toward older women."
Profits from the show were donated to the National Council for Jewish Women, an organization which builds "awareness and advocate[s] for vital issues that affect the women, children and families of Los Angeles including children's rights, economic justice, healthcare, human trafficking, immigration reform, reproductive justice, LGBTQ+ rights, and gender-related violence," according to their website. The NCJW also has eight thrift stores around Los Angeles.
Most of the vendors were businesses founded and run by female entrepreneurs of all ages. Businesses varied from beauty products to clothing and jewelry, and included one jewelry booth run by junior Adira Waldman.
The bold outfits and feminist message of the show aligned with the catwalks this season. In an interview with Vogue, Anna Wintour commented on the unprecedented diversity in size and race seen among the models at NYFW this past month, and the throwback to many fashions of the 1980s, including padded or exposed shoulders on women, which is a sign of their power and prowess in the professional world.
Fashion is always indicative of culture and zeitgeist, so the inclusion of feminist thought and bold fashion statements at Shalhevet were fitting for this year.
Leave a Comment
Meet the Writer
Hannah Jannol, Editor-in-Chief Emeritus
Hannah Jannol was Editor-in-Chief of the Boiling Point during the 2017-2018 school year. Since then, she has attended The New School and written for their HerCampus chapter; edited obituaries for The Trace; written poetry for Eleven and a Half literary magazine, and run Instagram and Twitter for Uptown Stories. Her favorite parts of being on Boiling Point were production night and writing long-form features stories, many of which won awards from CSPA, Quill & Scroll and the American Jewish Press Association.