At LACMA, capturing the colorful in the everyday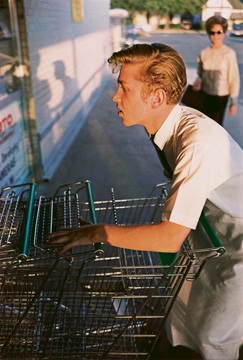 David Rokah, Staff Writer
December 31, 2010
From pioneer color photography of neon lights and dirty barbecues, to the cover of Jimmy Eat World's album Bleed American, to arbitrary black-and-white photos of people standing in the streets, Democratic Camera, a new LACMA exhibit on William Eggleston, showcases an artist who speaks in a distinctly hip and modern language.
LACMA — short for the Los Angeles County Museum of Art — is a major American museum right up the street from Shalhevet at the corner of Fairfax and Wilshire. The museum displays everything from modern paintings to sculptures and even videos, and most students don't realize it's a five-minute walk away.
The Eggleston exhibit encompasses more than 200 pictures taken from his various collections of photographs from books and exhibitions, and will remain open through Jan. 16.
Walking through the exhibit's three bright, silent rooms, you get the feeling you're in an office building with large, colorful photographs on the walls. The only thing making it feel like a museum are the large glass display boxes in the center of each room, full of additional information like Eggleston's printing process or a collection of album covers.
Security guards are on patrol, anxiously awaiting for someone to make a wrong move –like speak, it seems. The Friday afternoon crowd of mostly older viewers did not look like much of a threat, however, staring intently at the photographs and whispering comments to each other.
Born in 1939 in Memphis, Tennessee, Eggleston began his career with black-and-white pictures but is known as the pioneer of color photography, primarily because he was one of the first to view it as a legitimate art form. His color prints were the first to be displayed in art museums, and paved the path for future color photographers to become renowned.
He's also known for changing what people expect to see in pictures. The exhibit's title refers to Eggleston's self-prowwclaimed philosophy that photography was "a democratic way of looking around. Nothing was more important or less important," according to the exhibit's background information placard. His pictures are all associated with a stereotypical American scene, like the outside of a run-down diner or a golden lab drinking from a muddy puddle.
Not only did Eggleston's work and philosophy influenced generations
of photographers after him, it dramatically affected pop-culture. His color photographs were used by on famous album covers including Big Star's Radio City, Spoon's Transference, and Jimmy Eat Worlds Bleed American.
As seen in the LACMA exhibit, Eggleston tends to take seemingly random pictures. However, his photos all have similar qualities. Most of them have one object shown in very clear focus, and the remainder of the picture slightly blurred.
One of the most engrossing photos would be best described as half a
woman. Taken on a road trip with two friends during the 1960's, a tan girl is shown from her calves to her neck. She is wearing a miniskirt, which was quintessential to American women in the 60's, and a wedding ring. There are bold letters scrawled on her hand in pen.
While this girl is in strong focus, there is another girl on the left side of the picture who is also only half shown. Even further out of focus is the brick wall and surrounding plants in the background. Eggleston focuses on one thing, in this case the girl, to reveal details which may otherwise go unnoticed.
In 1976, Eggleston set out to photograph Jimmy Carter in the weeks before the presidential election. While he never got a picture of Carter, he photographed the scenery he passed by throughout his trip. One photo from this trip is of a cheap-looking restaurant with non-uniform tables and chairs. Duct tape is used to keep some of the chairs from collapsing. There are ashtrays on the tables, and, surprisingly flowers on the wall.
This exhibit isn't the only recent addition to LACMA. As of Oct. 2, the museum boasts an entire new wing, donated by Lynda and Stewart
Resnick. Exhibits in the Resnick Pavilion will be changing, but LACMA is initially featuring Eye for the  Sensual: Selections from the Resnick Collection; Olmec: Colossal Masterworks of Ancient Mexico; and Fashioning Fashion: European Dress in Detail, 1700-1915.
So take a Sunday — or if you're a senior, a newly-lengthened lunch period — and visit the world-class museum up the street.  You'll open a window on your culture, and maybe start seeing the ordinary in a not-so-ordinary way.