Scenes from childhood become 'Collective Memory' in drama's One-Act Festival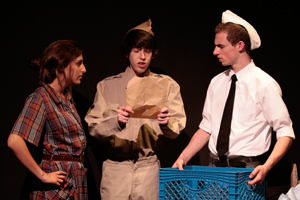 Hang on for a minute...we're trying to find some more stories you might like.
Young people, especially teenagers, sometimes find it hard to identify with older generations, and vice versa. Collective Memory, Shalhevet's very strong recent One-Acts production, tried to weaken age-based prejudices, offering seven student-written short plays featuring particular moments from lives of senior citizens in their earlier years. Despite this, when performed for a mostly teenaged as opposed to senior audience, the dynamics of the performances were strikingly different, revealing that a generational gap still exists.
Produced by junior Rachel Lesel and seniors Yael Rabin and Leora Weinstock, the One-Acts resulted from a creative collaboration between Shalhevet and the Westside Jewish Community Center. According to Ms. Emily Chase, the faculty Drama director, a JCC senior coordinator chose "particularly friendly and talkative seniors" willing to participate. For several hours over a couple of months, the student writers met with their seniors at the JCC, who told them about their lives. Jokes and direct wording from the seniors were incorporated into the plays.
The resulting dramas offered various plots centered on relationships and their repercussions. Junie, written by freshman Rose Bern and sophomore Leona Fallas and based on the life of June St. Louis, examined the frustration between a mother and her daughter when the teenager was caught with a boy in her room after lights-out. After he hurriedly left, the mom, Junie, a strict Christian woman, schooled her daughter on ethics and "boys like that." But as shrieks replaced level tones, the mother accidentally let it slip that her former husband had cheated on her. Understanding replaced anger as the mother and daughter finally embraced.
Another play, Meant to Be, by sophomore Ashley Mashian, exalted love at first sight, as a high school boy practicing the clarinet turned around to tell off a pianist for disturbing him with her scales. Instead, he swallowed his words and asked her to dinner. Their relationship deepened when later, having been told that his army draft had been cancelled, the young man, Harold Kaye, realized with whom his future lay. Lights dimmed, as on bended knee, he proposed.
The mood turned serious in junior Jenny Newman's Never Say Never Unless You Mean It, inspired by the life of Anna Polivoda. Junior Shimmy Weinbach played a photographer, a mortal representation of Death, commenting on his own suffering as he watched World War II unfold.  As Death narrated, the other actors froze in place. "You want to just drop the camera and help, you know?" he said. "[But] in my line of work, the only thing that matters is the story."
Then in junior Joseph Nemetz's Dirty Jew, based off the life of Haskell Solomon, a kind-hearted school janitor from Burma played by freshman Eitan Rothman taught a bloody-nosed teenager that in a fight, words must always replace punches. And in senior Yael Rabin's Vivienne, the one play with a modern twist, a demanding piano teacher, representing Vivienne Florien, told her insubordinate cell phone-texting student that if she wants to learn piano, she must make it her life.
But there was also comedy. In Worldwind, written by Rachel Lesel and inspired by Adele Little, four young adults met at a youth hostel to embark on a road trip together across Europe. A hippie, a "goody-two-shoes," a Yank, and a sharp-tongued French girl playfully spouted fun at one another as they had the time of their lives.
The funniest play was the last of the night. In Punchline, senior Talia Reich wore a kippa with her hair pinned back and played the 93-year old stand-up comedian Mort Varis, who didn't like being called a "warm person" because when he had looked it up in the dictionary, he found out that "warm" meant "not so hot."  Written by juniors Rebecca Asch and Micha Zana and based on Varis's life, the "old geezer"'s jokes and storytelling brought out laughs, and a "good night folks, you've been a wonderful audience!" ended the show.
Convincing acting dominated the stage, complemented by quality costumes and makeup. In Junie, sophomore Deanna Grunfeld portrayed a flirty American girl: black eye shadow, red lipstick, a purple skirt with black leggings, and a supposedly "in-style" side ponytail. Her egocentric boyfriend, played by classmate David Rokah, carried a gel-spiked hair look. Suddenly in a fight, calling his "babe" a tease and a prude, David's "I'm Mr. Perfect" warded off insults. And with round red shades, flowery "groovy" jeans, and a cowboy vest, junior Nathaniel Kukurudz played a hippie driver in Worldwind. Costumes were either rented from Make Believe, a costume and dancewear store, or assembled by the actors, who also did their own makeup for the show.
Simple props and set pieces that were moved during the transitions between the plays proved to be enough. The stage was often split to create multiple locations. A mother and daughter screamed at each other from either side of a door placed in the middle of the stage; Indian-patterned carpets in a corner served as a restaurant; and a medium-sized bookshelf with volumes fed the photographic memory of a Holocaust survivor. The sets were designed by Jeff G. Rack, the same professional who always does it.
Interestingly, the performances played out completely differently before a student crowd compared to a senior citizen audience. In the Wednesday night April 28 showing, the show watched by mostly students, the audience and actors energized each other as the performers played off the crowd's reactions. The enthusiasm was catching as laughter and many "awww"s encouraged performers. And French vs. American jokes mounted up the hilarity in Worldwind, as Rose Bern, playing a French girl in blue beret and white stockings, threw her hat up in the air with a "Yee-ha" to make fun of her typical American travelling companion.
By contrast, when performed the following Sunday before seniors — some of whom had come to see their own life stories on the stage — the audience gave off some chuckles, but their interaction with the actors was definitely low key. This made a huge difference in the actors' delivery of their lines, which did not feel as natural.
Although they had not reviewed final versions of the scripts, some seniors thought the plays depicted their life experiences pretty accurately.
"It's exactly how I used to be," said Ana Polivoda, the woman with a photographic memory who was the inspiration for Never Say Never Unless You Mean It.
"Everything was right on," said another senior, Adele Little, whose travel experiences Worldwind was based upon. "I met all those different kinds of people and it was wonderful." She said that meeting junior Rachel Lesel, her play's writer, was "like meeting an old traveling friend." It was interesting to see "how her [life] as a teenager compared to my life as a teen."
And the man behind the jokes of Punchline, Mort Varis, who is "still active" and performs comedy, said that watching his play was like "seeing life replayed."
"It was like seeing me doing the show," he said of Talia's performance.
Collective Memory seemed to succeed well at bringing out the teenager in every senior. Perhaps now, when a senior says they were young once too, Shalhevet students will believe them.

Meet the Writer
Leila Miller, Editor-in-Chief Emeritus
Currently a staff writer at the Los Angeles Times, Leila has already had a distinguished career in journalism, writing ground-breaking reports for the Miami Herald, Moment Magazine and the Jewish Journal, particularly on the Jewish community in Argentina and its history through that country's "dirty war" and beyond. She also has interned for KCRW News in Santa Monica.

A graduate of Columbia University's Graduate School of Journalism in New York, she is Argentinian by birth and fluent in Spanish. She enjoyed her first dulce de leche ice cream at five months, became a Harry Potter fanatic at age eight, and got her second ear piercing at 14. Leila joined The Boiling Point team as a freshman, and her story assignments led her to her first-ever rock concert at the Troubadour (Say Anything!), watch intense behind-the-scenes Drama rehearsals, and wake up early before school to interview Jewish community leaders in Chile after the earthquake there. She was also the Shalhevet choir's piano accompanist and would go ice skating with you at a moment's notice!

Leila was Editor-in-Chief of the Boiling Point for the 2011-12 school year, and graduated in 2016 from Oberlin College.