Riffs and jams flow through the hallways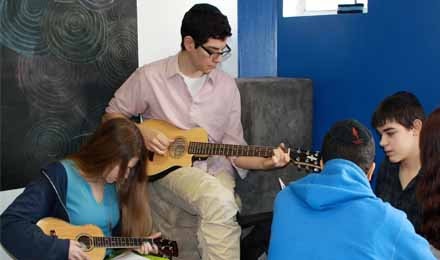 Michael Silver, Web Editor
March 18, 2010
Junior Rebecca Asch and freshman Kalil Eden can be found having jam sessions on the ukulele. Senior David Soroudi, sophomore Adam Sharabi, and freshman Michael Lennet have been spotted playing the piano. Senior Gamliel Kalfa can be heard hitting the bongos as junior Adam Genie and freshmen Danny Silberstein and Adir Hassid play their souls out on the acoustic guitar.
Follow the sound of the instruments, and you will find yourself at the source of Shalhevet's music, the student lounge.
"The fact that I walk around school playing 'Beirut' on a ukulele and I still have friends really says something about Shalhevet," commented Kalil, who also plays guitar. "I love how everyone plays an instrument here. We have jam sessions in the lounge pretty often with all sorts of instruments that people have brought to school."
No one really knows how it started, but since the beginning of the school year, acoustic guitars, ukuleles, basses, and bongos can conveniently be found in the student lounge, left by other students and free for anyone's use to fill spontaneous creative needs. Students themselves leave their instruments around, knowing this will happen.
"I believe there is trust between the people in Shalhevet, and I expect that people who will play the guitar will use it with care," said junior Sammy Badreau, who leaves his acoustic guitar in the student lounge quite often.
His classmate Rebecca Asch, who plays the ukulele in order to musically occupy herself between classes, agreed.
"The fact that there is a communal ukulele and guitar that is still not broken or vandalized considering how many people it reaches is spectacular," said Rebecca.
Now in its second year of existence next to the Registrar's office on the main hallway, the Student Lounge was designed with relaxation in mind and has lots of comfortable chairs and covered foam "cubes" to put books or feet on.  Its foosball and air hockey machines broke months ago, but no one seems to mind.
In the morning, cereal bowls and burekas are put aside after davening so that students can start their day with some calming music. At lunch, food and drinks lie on the floor as students gather in circles for jam sessions. Music is not usually heard during classes; however, some musicians play softly during their free periods.
Not only are the experts playing, but those who have never picked up a guitar are learning while beginners are improving. Say you want to learn a little guitar. Walk into the lounge, grab an open guitar if there's one, and ask someone to teach you how to play a song. Instrument owners allow anyone, regardless of skill level, to borrow their instruments to jam around.
"Personally, as an aspiring musician, I like having them around to play with," remarked senior Gamliel Kalfa. "We get better and learn from each other. It feels so natural to have instruments sitting there, waiting to be played by us."
During breakfast, lunch and Mincha, echoes of music not only crawl though the student lounge, but also float through the rest of the school, including the Annex building where the Music Room is.  From before the first period bell until the final ring at 5:00, it's completely normal to open the door of an empty classroom to find two guys rocking out on guitars.
"I'm a big believer in music during the breaks," said junior Shimmy Weinbach. "It really lifts stress off me because music helps me think clearer. It's also a really great way to bond with people."
The music creates a casual, laid-back atmosphere. One late morning, a 10th-grade Algebra class overheard senior David Soroudi improvising the theme from Titanic on the Music Room piano. The teacher, Ms. Emily Lappe, opened her door to allow the music to flow into the classroom, lightening up the room.
"I definitely think music helps relax students when in a tense environment," said Ms. Lappe. "Math and music have always gone well together. People who listen to music while doing math often focus better."
In a typical Shalhevet music set, the melodies depend on the mood of the atmosphere and of the musicians. A wide variety of genres, from classic rock like "Hotel California" to flamenco music, have been played. Upon hearing a favorite, students will quickly pull up a chair or one of the lounge's small cubes to either play along or enjoy.
Many of the student musicians have actually been playing for a long time. Each has his or her own inspiration.
"I have been playing for almost six years," said Danny Silberstein, a freshman guitarist, who plays a quick song on a guitar every chance he gets and piano in the Music Room before class. "I just really liked music, and I wanted to be able to play all the songs I heard, so I got a guitar and learned them by myself, without a teacher."
"I wanted to start something cool," declared his classmate Adir Hassid, who plays the guitar.
Most people accept and enjoy the music being played in the lounge, despite arriving with different intentions – like studying.
"The music in the lounge is more funny than disturbing," stated senior Aliza Kellerman. "The repertoire of the ukuleles ranges from rock to folk. All in all I don't have a problem with them, and if I'm feeling drowsy, I've slept through worse."
Seniors and juniors are often reminiscing about the spirit of the "old" Shalhevet. According to some upperclassmen, the music flying through the halls this year has brought back memories from their freshmen and sophomore years, when Yoni Avraham and Avi Dahan of the class of '08 regularly filled the hallways with the sounds of the darbuka.
"Although the style of music has certainly changed from an Israeli drum feel to a more guitar based style, I definitely think it's great to be able to walk into the student lounge and hear people jamming once again," noted senior Talia Nimmer.
"Listening to music in the hallways is Shalhevet culture," agreed freshman Boaz Hall. "We all benefit from it because it makes school less stressful."