Prop lists and perfectionism: Taking 'A Shayna Maidel' from the page to the stage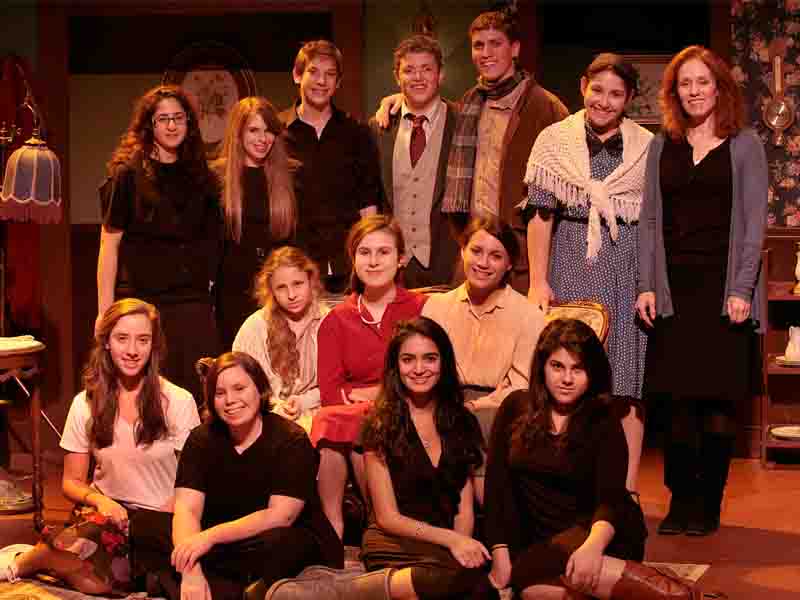 "It's the most stressful thing ever," said junior Nathaniel Kukurudz, who played the father role of Mordechai Weiss in this winter's drama main stage, A Shayna Maidel.
"You're shaking. You're thinking, 'This is it. I know the part, I have to do it.' When you're on the stage you lose touch of everything else. It's just you and the emotion."
A Shayna Maidel, which ran for a preview and five performances Dec. 17-23 in the Wildfire Theatre, was far more than the façade of costumes, set design, acting, and post-show smiles that the audience saw. Months of late, after-school rehearsals, long prop lists, and perfectionist directing and dramatizing told the real story.
Rehearsals lasted nearly four months.
"At first I didn't connect [to my character]," Nathaniel said. "Ms. Chase told me, you have to find this person, you have to find the guy. The way I connected to him developed and improved over each rehearsal."
During rehearsals in the cozy, 60-seat theater, which is located at the far end of the annex building, all eyes are on the actors — especially those of director Ms. Emily Chase, drama director.
"Discipline is military-style, with a clear objective, because there's a wonderful, wonderful thing at the end," Ms. Chase said.
A Shayna Maidel ("A Beautiful Girl") features the re-bonding of a family separated between Europe and America during the chaos of World War II. Six years after liberation, in New York City, all-American Rose Weiss has just been told by her father, Mordechai Weiss, some shocking news. Her long-lost older sister, Luisa Pechenik, a Holocaust survivor, is traveling from Europe to stay with her. Rose tries to show her emotionally scarred sister that in America, she can be beautiful.
The play unfolds, taking the audience through Luisa's adaptation to her 'new' American family and flashbacks of her dead 'Mama', childhood best friend Hanna, and her still living husband, Duvid Pechenik. With a sweet ending to a story of family tragedy, A Shayna Maidel describes the mix of two backgrounds in a family trying to heal from the horrors of the past.
Soon after auditions, a few weeks of what Ms. Chase calls "quiet table work" started off the fall rehearsal season. Either one-on-one with Ms. Chase or in groups of two or three, the six main performers studied the play carefully and then tentatively sketched out some acting on stage. Building "an atmosphere of trust" among the cast and crew is essential, the director said.
"I help create a personal background for the characters," Ms. Chase said. "We break down a character and work for a naturalistic style."
Actors studied not only the play itself but the roots behind it. To help them relate to their character's experiences, Jewish History teacher Mr. Jason Feld came in to answer questions about the Holocaust.
Most of this year's cast had acted before and found various methods to get into character.
"You think of something in your life," said freshman Rose Bern, who played Hanna. "I think about the Holocaust in general." Rose was once on a television pilot and describes herself as having done drama "all through my life."
Nathaniel, who has been acting at Shalhevet since the first semester of his freshman year, emphasized the importance of knowing his character and getting into his mindset.
"Understand what you are saying," Nathaniel said. "[Think to yourself] this is real, this is a real person. You are the actual guy."
Basic dramatic milestones included line memorization, blocking, or determining where actors stand, and learning how to "physicalize the beats" – the individual moments that compose a scene. Three stage managers made sure that the stage work ran smoothly. Sometimes rotating days, the stage managers compile a list of props and help with blocking and line memorization.
"I help if they forget a line, and write down props and blocking—very rewarding job," said sophomore stage manager Ashley Mashian. "You learn a lot about acting through stage managing. It helped me remember how much I love acting."
"You feel like part of the magic because you're making the magic," said junior Rachel Lesel, head stage manager and assistant director. "I appreciate a real performance so much more."
Drama's rehearsal schedule evolved over the course of the semester from three times a week at the beginning to almost daily. At a typical rehearsal, Ms. Chase sat facing the stage at a table layered with scripts and water bottles. She commented on the acting in between a scene's "beats."
During rehearsals (or at least whenever Ms. Chase was present), complete silence reflected concentration and commitment. At one particularly tense practice, when actors were rushing through their lines, Ms. Chase told everyone to relax.
"You can stop yourselves if you want — it's not an SAT test, it's a rehearsal," she said, reminding them to think about delivery.
But the five-hour rehearsals are necessary, Ms. Chase said, for the final product.
"You look at the play and see what you've worked for," said David Fletcher, the third stage manager. "The amazing actors and how it all comes together—the second I came in, it was just on." He then whispered, "Ms. Chase is very demanding."
"People might think she's strict," Ashley agreed. "If you show her real dedication to theatre, she'll have respect for you. She knows what she's doing."
And dedication was evident.
"I've never been so sorry in my entire life," said senior Josh Halaszi, who played the long-lost husband Duvid, to Ms. Chase as he rushed into the theatre loaded with grocery bags minutes before a four-hour rehearsal. "I was in traffic and my heart was beating."
Despite the time it takes up, Leora Weinstock, who played the lead role of Luisa, loved acting in the play.
"Yeah I love it," she said. "A lot of time commitment—the reason I have friends in other grades. This year I'm in every scene."
Although she's acted in almost every drama show through high school, there's always a challenge for Leora.
"I keep improving," she said. "[This time] I'm a deeper character, much more unstable in an emotional state. I've cried a few times, I'm not gonna lie."
With lots of pauses during lines, it is obvious that the actors really think about delivery.
"I loved how you stopped yourself to be real," Ms. Chase told junior Rebecca Asch, who had the play's other lead role, Rose.
After a scene, Ms. Chase would switch places with the students to give feedback. She acted out parts and pointed out lines or movements that were "too fakey"—sometimes corrected with a different voice inflection.
Rebecca tried to compliment Rose Bern after a Sunday morning rehearsal.
"You look really good!" She said. But Ms. Chase interrupted: "Don't give her a big head because there's more."
A Shayna Maidel addressed serious issues, Ms. Chase said, which is why there was a 12-year-old minimum age to watch the show.
"The first rehearsal was very intense," Ashley recalled. "The way Leora acted made me shed a tear… It's really hard for an actor to find a character in them to make others feel what they're feeling—I have a lot of respect for her."
Two weeks before opening came tech week, when lighting, sound and other finishing touches were applied. During breaks in the school day, junior Jenny Newman, in charge of the show's lighting, and her classmate Tziporah Thompson, volunteered to hang up lights.
"We get up on a ladder with a wrench," Jenny said.
As always, Ms. Chase used three outside adults to make the play look more like professional theatre: Leigh Allen, a professional light designer, came in to create the light design, and programmed lights into the theater's new computer light board. Ben Kamine, a sound specialist and Shalhevet alumnus, matched sounds to the lighting cues. And Jeff Rack, a Hollywood set designer and local theatre director, created the set.
"They've already got the acting done, but this is another side to the show," Jenny explained. "The things that are totally random to the audience have to be precisely choreographed perfectly."
Ben Kamine found the spots that needed sound cues in the script and put them a computer, teaching them to Drama first-timer, sophomore Deborah Lelah.  At show time, it's a student who's in charge.
"I can't rely on a paper to know where the cues are," Deborah explained. "I really need to remember how I should play the sounds—does it fade in or out."
The set also tells a story. There are new challenges with every play, said Mr. Rack.
"It's pretty theatrical," Mr. Rack said, adding that the script required he make it look like the 1940s. "Three rooms on a very small space—I put a small wall as a divider. Color scheme and lighting create the separate rooms."
On one of the last days of tech, Ms. Chase's megaphone, a heater, and a "five minutes till places" call, set the vibe. The acting ran itself, but with a lot of pauses from Ms. Chase to give direction and coordinate blocking with lights.
"Be Tevye from Fiddler on the Roof," Ms. Chase told Nathaniel, who played the proud and righteous father.
Giggles lightened up the serious atmosphere during awkward scenes.
"I don't know why I'm smiling right now," Josh said, before his man-on-man hug. Jenny gleefully teased, "Hugs are manly."
"If you really get in the thoughts of your character you don't know it's coming," Ms. Chase advised as they tried to hug without laughing. When the giggling didn't stop, she threatened, "Or else you're going to have to get over it in fear of me."
Aside from the acting, the success of any play depends also on publicity. In the two weeks prior to opening night, a Town Hall skit, fliers, and the call of 'Drama tickets!' in the hallways during break were constant reminders of the show.
Reflecting on the preparation, whatever the size of their role, everyone agreed it was a lot, and worth it.
"It's insane and takes over your life," said Rachel.
"We run the show," said Jenny. "It's nauseating how many times we run it. Until everyone knows it by heart."
"Definitely a lot of work and much more than I though it would be," said sophomore Talia Rotenberg, who played "Mama."
But no feeling compares to how the drama crew felt each night right after the performance.
"You feel really special," Rachel said. "Everyone cheers and claps just for you. You realize how much work it really was and it's worth it."
This story won a National Award for Feature Writing in the 2010 Quill and Scroll International Writing and Photo Competition, judged by the American Society of News Editors.
Meet the Writer
Leila Miller, Editor-in-Chief Emeritus
Currently a staff writer at the Los Angeles Times, Leila has already had a distinguished career in journalism, writing ground-breaking reports for the Miami Herald, Moment Magazine and the Jewish Journal, particularly on the Jewish community in Argentina and its history through that country's "dirty war" and beyond. She also has interned for KCRW News in Santa Monica.

A graduate of Columbia University's Graduate School of Journalism in New York, she is Argentinian by birth and fluent in Spanish. She enjoyed her first dulce de leche ice cream at five months, became a Harry Potter fanatic at age eight, and got her second ear piercing at 14. Leila joined The Boiling Point team as a freshman, and her story assignments led her to her first-ever rock concert at the Troubadour (Say Anything!), watch intense behind-the-scenes Drama rehearsals, and wake up early before school to interview Jewish community leaders in Chile after the earthquake...