SHALHEVET AT 20: Jaclyn Kellner '11: Goat-herding, farming and studying too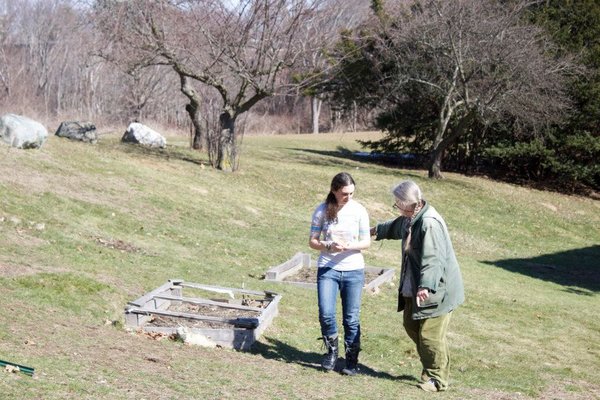 Q: What did you do straight after high school, and what do you do now? 
A: Straight after high school I took a gap year in Israel called Eco Israel, in Modiin. I was on an educational farm called Hava ve'Adam [Eve and Adam]. The first semester I spent two-thirds of the day in class studying the history of Israel, Hebrew and agriculture, specifically permaculture design. The other part of the day I spent working on the farm. I worked with trees and building things. I designed an area for the kindergarten at the farm. The second semester I spent traveling between a few farms and kibbutzim. I went to kibbutz Harduf and I also went to Kadita, which was based near Tzfat. I worked as a goat shepherd and I spent a week at Admamma. I am now a sophomore at Brandeis University, studying environmental studies and teaching at a Hebrew school. I am also the facilitator at the campus garden and I started an American Sign Language club.
Q: What is your fondest/funniest memory from your time at Shalhevet? 
A: One of my most fond memories at Shalhevet has to be freshman year when me and my friends would make up silly songs about pretty much anything from apple juice to specific teachers, or a certain mnemonic for our Halacha tests, and we would skip through the hallways singing them. I also loved playing hide-and-go-seek in the Annex.
Q: How has Shalhevet influenced you, even after graduation? 
A: Shalhevet influenced me a lot in terms of it being a Jewish school. I still have a strong Jewish identity deeply rooted in myself and I still take Tanakh classes. I am involved in Jewish-related things. In some things I do and people I talk to, I do because of my Jewish roots. I am still in touch with many of my friends from Shalhevet. Coming from Shalhevet, I came into college with a voice and with more ownership. Within the first week, I was already talking to professors and working towards starting a club.
Q: If you could plan a Town Hall for the current students, what would the topic be?
A: When I was at school, I always preferred the Town Halls that were school related and about school policy. It is difficult for me to choose a topic with me not being at Shalhevet.
Q: What is the main lesson you learned from your time at Shalhevet? 
A: I learned what it meant to be an active participant in the community, and that complaining was the least productive thing you could do with an issue. A good reaction is to go and speak in a respectful matter to the administration instead of complaining to my friends about it.
Q: Who was your favorite teacher and why? 
A: Mrs. Sunshine, because I had her at different points in high school. I had her in 9th, 11th, and 12th grades. She ran her classes slightly differently each year. In 9th grade,she helped me get more organized and deal with classes and work. Her classes were really interesting and fun, although at the same time serious. Now in college, they teach us things and I will already know some of the things because of Mrs. Sunshine's class.
Q: When someone says 'Shalhevet,' what is the first word/thing that comes to mind? 
A: Yogurt.
Q: If you could go back and give your high school self some advice, what would it be? 
A: I would tell my high school self to go hiking more. I spent all my time inside. Being outside makes me happy. There was a club but I never went and I wished I had spent more time outside. I would have been more happy and productive.
Q: If you could start one club/team/co-curricular at Shalhevet for current students, what would you start and why?
A: I would've started an American Sign Language club. I have always wanted to learn another language and at Shalhevet I could not learn another language other than Hebrew. Sign language helps you communicate with other people around you. It's another language so you can now talk to more people around you.
Q: Sum up your Shalhevet experience in three words or less.
A: Positively Overwhelming, Veggies.
Q: What is the role of Judaism in your life now?
A: Judaism is how I articulate my sense of awe towards the world and how I keep myself intact when I could get carried away with work.