SHALHEVET AT 20: Gaby Grossman '08: On a path to Hollywood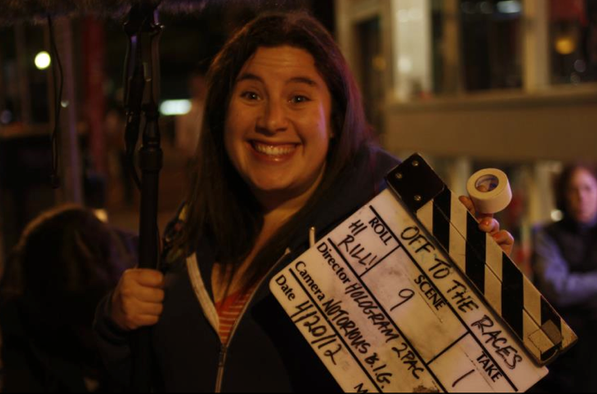 Q: What did you do straight after high school, and what do you do now?
A: Straight after high school I spent a year in Israel on Shalem, which is the Young Judea Modern Orthodox program. I then went to Boston University.  I graduated in January, and I'm now living in LA and working at Universal Studios Entertainment as a digital marketing consultant in the home entertainment department.
Q: What is your fondest memory from your time at Shalhevet?
A: My junior and senior year, I worked on the One-acts. I wrote and directed a play, which got me writing and directing and set me on my path to film school. I had so much fun working on Shalhevet plays, and I rewrote the play I wrote in Junior year and performed it at Boston University.
Q: How has Shalhevet influenced you, even after graduation?
A: Shalhevet is the type of place where if you want something, you have to work for it yourself. Shalhevet taught me to be proactive and stand up for what I need. It also taught me that relationships with teachers are the most important asset to have at a school. I'm extremely close with many of my professors, which is not something most students can say at a huge college like BU.
Q: If you could plan a Town Hall for the current students, what would the topic be?
A: I would probably talk about what happened in Boston this week. It's the first thing that's on my mind because I'm so close to the situation since I went to college there.
Q: Who was your favorite teacher and why?
A: Definitely Ms. Berkey and Mrs. Keene.  Ms. Berkey taught me film, and she once said to me, "Don't act smart. Be smart." She taught me everything I know about film, and she is one of the smartest, funniest people I know. Mrs. Keene taught me the importance of deadlines and how to work with people under pressure.
Q: If you could go back and give your high school self some advice, what would it be?
A: Do all your reading.
Q: If you could start one club, team or co-curricular at Shalhevet for current students, what would you start and why?
A: I'd start a filmmaking society.  Ms. Berkey's class is amazing, but I didn't learn how to use a camera 'til college.
Q: Sum up your Shalhevet experience in three words or less.
A: Shabbat Kodesh
Q: Describe the role of Judaism in your life now in one sentence.
A: Judaism gives me a sense of morality, spirituality, and a greater understanding of the world around me.
-Alexa Fishman, Features Editor
Related: Shoshana Cohen '01: Giving Israeli girls a gift of Torah
Related: Josh Abrams '01: Kickstarting a company
Related: Zvika Krieger '99: Asking questions and facing danger, alumnus mines complexity in the Middle East
Related: Andy Green '02: Dedicating his life to sharing Judaism