Firehawk girls win Southern California basketball championship, repeat battle set with Northern Cal champs San Domenico tomorrow
Decisive defeat of Campbell Hall Tuesday sends basketball team back to Sacramento for second chance at state Div. 4 CIF title
"Back to Sac!  Back to Sac!"  shouted Firehawks fans packed in the Hawks Nest as the final seconds ticked off the clock and the Shalhevet girls basketball team advanced to the CIF State Championship game for the second year in a row. 
And back to Sacramento ("Sac") they are going, after after defeating the Campbell Hall Vikings of Studio City Tuesday night 57-45 Tuesday night in the Shalhevet gym. Once again, they'll be playing in the state capital's Golden 1 Center, home of the NBA Sacramento Kings.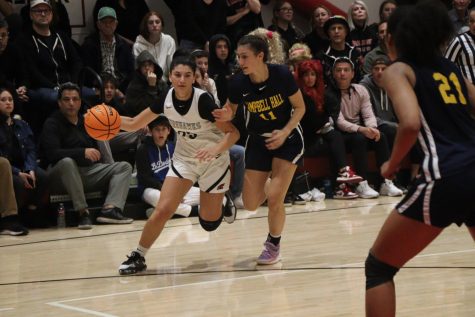 Also once again, they'll face San Domenico High School of San Anselmo, in Marin County, for the state title, this time in Division 4; last year they played in Div. 5. Both the Firehawks and the San Domenico Panthers were Div. 4 top seeds in their half of the state this week.
According to its website, San Domenico is a secular, K-12 "day and boarding school" founded in 1850, making it the oldest accredited independent school in the state. According to U.S. News and World Report, it has 672 students on a 510-acre campus just across the Golden Gate Bridge from San Francisco. Last year, San Domenico beat Shalhevet 38-27.
San Domenico ended its regular season with a 21-6 record coming in second place in the Bay Counties-West League with a record of 8-2. 
Shalhevet its regular season with a record of 20-1 in and came in first place in the Mulholland League with a league record of 4-0. 
A special schedule was anounced for school tomorrow so students can watch the game live in the gym.
"As has become a tradition at Shalhevet for BIG games, we have set aside time to watch the game as a school in the gym," wrote Principal Mr. Daniel Weslow on Schoology.
Classes have been shortened to 30 minutes and breakfast will be at the beginning of the game viewing slot, at 9:45 to 11:40 a.m.
Against Campbell Hall, the game started slow and close. 
After the first quarter Shalhevet led 8-4.
In the second quarter, Shalhevet added 10 points while the Vikings scored eight. Shalhevet led 18-12 at halftime. 
In the second half both teams picked up momentum. Shalhevet scored 13 points in the third quarter. Campbell Hall added 10 points. Shalhevet led 31-22 going into the fourth quarter.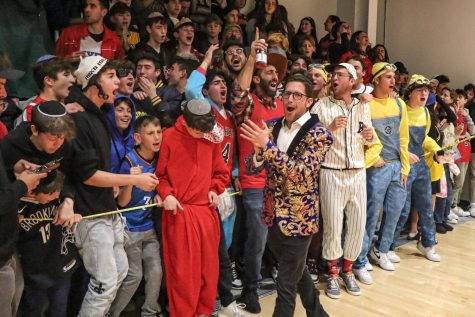 Both teams highest scoring quarter was the fourth, with Shalhevet scoring 26 points and Campbell Hall scoring 23 points. 
The Firehawks lead scorer was junior Yalee Schawrtz who scored 22 points. Junior Arielle Grossman scored 16 points including three threes. Senior Talia Tibi scored 14 points, junior Davina Benelyahu scored four points and junior Malia Nagel scored one. 
Lead scorer for the Vikings was Madison Holden who scored 18 points.