Boiling Point, topping 30 national awards this year, went east for CSPA, JSPA
For the combined work of the staff as well as individual stories, photos and design, the Boiling Point won record numbers of awards this year from the country's three largest high school journalism organizations, increasing its visibility on the internet and continuing its recognition among the top high school news sources in the U.S.
The awards, from the National Scholastic Press Association, Columbia Scholastic Press Association and Quill & Scroll International Honorary Journalism Society, include the BP's second-ever NSPA Online Pacemaker award and its ninth Gold and 11th consecutive CSPA Hybrid Media Crowns – both overall awards for a year's production; and 30 national individual awards for particular stories, including 13 CSPA Gold Circle awards, two NSPA SpringClips and Clicks awards and eight Quill and Scroll awards – all records for the Boiling Point and honoring students in grades nine through 12.
NSPA's annual individual awards for 2022-23 will be announced next fall.
"
We have very, very talented students, who when they work, they work hard, and they achieve a very high level of excellence.
— Mrs. Joelle Keene, Faculty Advisor
Graduating senior Benjamin Gamson, who was Editor-in-Chief in 2021-22 and Co-Editor-in-Chief this year, was particularly proud to have won so many design awards in addition to stories and photos in competition with schools that set aside academic course time for newspaper work.
"It was great to receive recognition for the stories that the staff is covering," Benjamin wrote in a text message to the Boiling Point. "I hope that going into future years we continue building off of the success in this past year and continue reporting nuanced and thorough stories that have real impacts on our community and allow for us to represent voices that are often not heard." 
Boiling Point faculty adviser Mrs. Joelle Keene was especially pleased with the Online Pacemaker Award.
"It's notoriously hard for us to win Pacemakers," Mrs. Keene said, "because we're competing against schools that have only online platforms or only print. We have both, meaning our energy and efforts are divided between the two. So to be able to win a Pacemaker means we're leading high school online news while also running a print site, and trying to balance the two – which of course is what all professional newspapers are now doing, trying to reach every kind of reader on every platform."
Boiling Point staff also won two Simon Rockower awards from the American Jewish Press Association, 13 Best of SNO postings and three "Best of Best of SNO" awards from School Newspapers Online, and the most prizes of any school in the smaller Jewish Scholastic Journalism Awards competition, continuing to lead in the growing field of Jewish high school media even as the number of entries has steadily increased since its founding in 2013.
"It's been just an extraordinary season for us in terms of recognition," said Mrs. Keene said.
"
We put a lot of work in this year, and we deserved it.
— Ezra Helfand, Chief Layout Editor
Because of the way the contests are timed and results announced, about half of the awards were for last year's work (2021–22) and half for this year's. For example, the Online Pacemaker was for 2022–23, while the Hybrid Crown award was for 2021–22. Quill and Scroll awards cover a year that begins around Feb. 1, while Rockower and JSPA awards are for the entire previous calendar year (in this case, 2022).
Shalhevet won eight JSPA awards, including both winners in a tie for first place in page layout and design, and first place in editorial writing and photojournalism categories. Rockower awards, in which Shalhevet is the only student competitor in a contest for professional newspapers.
"You know, on the one hand, I'm not surprised by any of these particular awards at all," Mrs. Keene said. "Whenever we enter a contest, I always believe every entry is prize-worthy, and I think that every year.
"But there are a lot of other amazing journalism programs out there too in the U.S. and to be winning alongside Harvard-Westlake and the top journalism programs in places like Kansas City and Palo Alto and Austin, Texas – I mean, those papers are amazing – is really thrilling. It's a testament to the talent and work ethic of Shalhevet students."
Leading this year's winners were:
"
The idea that we are part of something way bigger than just what we are doing here at Shalhevet was really thrilling to re-experience.
— Mrs. Joelle Keene, Faculty Advisor
 Co-Editor-in-Chief Tali Liebenthal, who won eight national awards across all three of the largest contests including two first places from CSPA, one in news writing and the other in sidebar writing; 

Chief Layout Editor Tehilla Fishman, who won four first-place awards including the Boiling Point's first-ever award in Front Page Design from Quill and Scroll, along with one each from NSPA and Quill and Scroll and two from JSPA; 

Co-editor-in-chief Benjamin Gamsonm who won three national awards, including CSPA First Place in Personality Profiles for his obituary of Roen Salem z"l last year; 

Ezra Helfand, who co-won two with Tehilla and also won one of his own for a different design.
Other national awards were three each for Olivia Fishman and Molly Menashe, and two each for Evan Beller, Keira Beller, Avi Litvak, Keira Beller and Elliot Serure. Molly and Olivia won the Boiling Point's Rockower awards, for Molly's coverage of how Jewish law may see the overturning of Roe vs. Wade, and Olivia's of the new Solomon Souza's paintings in school hallways.
The prizes came during the same year that Boiling Point staff was able to resume its attendance at the March annual CSPA national high school journalism convention in New York City, which had been canceled in 2020, 2021 and 2022 due to Covid. Fourteen BP staffers attended the conference at Columbia University which began March 15. 
The conference includes sessions and workshops to teach both students and teachers about tools, laws, and techniques for running school newspapers and yearbooks. For three days, there were as many as 20 sessions per hour to choose from, beginning at 8 a.m. and continuing into the mid-afternoon. Boiling Point staff also attended two rounds of onsight critiquing, where faculty advisors from different schools critiqued first the print paper and then the BP website.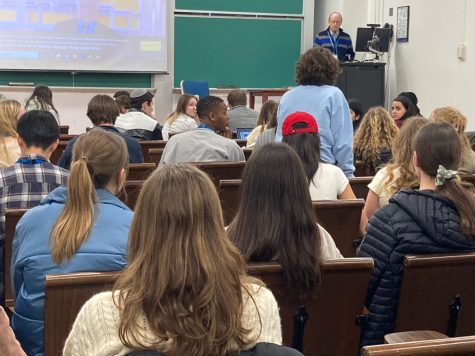 This year, the trip was different from in previous years.
"We had a convention of the Jewish Scholastic Press Association (JSPA) … going on there at the same time, and so there were other Jewish high school news media there. There were four other schools there beside us that were Jewish," says Mrs. Keene.
JSPA, a conference that teaches and looks at journalism through the lens of the Torah, was founded by Mrs. Keene, who is the current executive director. This year, JSPA had five sessions running at the CSPA conference along with a booth in the main convention room. Two of the sessions were taught by Mrs. Keene.
For junior Amalia Zucker, currently serving as editor of both the Arts and Culture section as well as the Features section, a session on basic interview technique was one of her favorites. 
"It was done by this sports journalist who knew a lot about how to get information out of people who don't have a lot to say, or people who can't articulate themselves well," said Amalia. "She was really good at talking about how to go more in-depth in there." 
When awards were presented on Friday afternoon, staff learned that they were one of only 16 hybrid news sources – that is, media that blends print and online production – to receive the Gold Crown. CSPA said that 805 publications entered the contest, some for print only, some for online only, some magazines and some for yearbooks.
Ezra Helfand, Chief Layout Editor of the Boiling Point, said he was very happy with the Boiling Points' success this year. 
"We put a lot of work in this year, and we deserved it," said Ezra. 
The Crown Award is for the overall accomplishments of papers and yearbooks as a whole. Publications are nominated earlier in the year and do not find out if they won a Gold or a Silver Crown until the conference's closing ceremony.
For Mrs. Keene, the Boiling Point being one of the 16 High Schools nationwide to win a Gold Crown was due to two reasons. 
"It's partly that we have very very talented students, who when they work, they work hard, and they achieve a very high level of excellence," Mrs. Keene said. 
"And partly I think we have an unusually interesting community to write about," she said. "I think the combination of religion and Israel, current events, you know our interest in the wider world through the lens of Israel and the Jewish world, is unusual and exciting and I think judges like to read it."
"
I hope that going into future years we continue building off of the success in this past year.
— Benjamin Gamson, Co-Editor-in-Chief
The Boiling Point delegation that went to the CSPA conference consisted of a mix of Shalhevet juniors and seniors, since it had been canceled for three years during Covid the trip was a first for every student who went. 
"It was very exciting, and it was also a little stressful because no one on the trip had ever been there before," said Mrs. Keene. 
 "Certain things that kids used to take for granted about how these trips run, these guys didn't learn…and so there was a learning curve that made it a lot more stressful but other things were great," Mrs. Keene said. 
Amalia said the combination of both JSPA along with CSPA was engaging.
"I talked to a couple of people about Jewish stuff around… and kids from like the middle of Delaware were there who had never like met a Jewish person before, so it was cool to like go into a JSPA conference and see other kids who usually wouldn't go to something like that kind of getting more of an experience."
Mrs. Keene, who ran the JSPA conference, had a similar experience after teaching about "Journalism in Religious Text," at the JSPA sessions during the CSPA conference.
 "A Catholic woman came up to me after that talk and said…her head was really spinning you know trying to…think of all the things in Christianity and Catholicism to Journalism and was looking forward to giving that a lot more personal academic thought," said Mrs. Keene. 
"We think that when we study the Torah verses it's just about us, but every religion can use religion to make them a better person in whatever field, and Journalism is certainly one of them, " Mrs. Keene continued. 
On Friday and Saturday, JSPA hosted a Shabbaton for th schools including Shalhevet. The JSPA Shabbaton included lunch and discussion. 
"I really liked the lunch I think it was a good break from the week… not being around a lot of Jews [at the CSPA conference] made this a great opportunity," said Ezra. 
At the JSPA conference, the Boiling Point won four first-place awards, three second-place awards, and one third-place award. 
Overall, the conference was enjoyable. 
"To feel the vibe of being with so many hundreds and hundreds of students and advisors from all over the country who actually all care about the same stuff that we spend all of our time on; headlines, deadlines, layout, photography, staff management, details of how to write a lede… the idea that we are part of something way bigger than just what we are doing here at Shalhevet was really thrilling to re-experience," said Mrs. Keene.
A complete list of this year's awards can be found at shalhevetboilingpoint.com/awards
Community Editor Joshua Gamson contributed to this story.