Candidates in primary election for open State Senate seat share their views
Special election to replace Holly Mitchell, who was elected County Supervisor last fall, in in district which encompasses Beverlywood, Pico-Robertson, Culver City, Century City, parts of Beverly Hills and more
March 2, 2021
On Feb. 2, residents of California's 30th State Senate district will vote for someone to replace Holly Mitchell, who was elected County Supervisor in December. The Boiling Point invited all candidates to answer the same questions, and interviewed three: Republican Joe Lisuzzo, Democrat Cheryl Turner, and Independent Renita Duncan. Complete transcripts of their interviews are below. 
Democrats Sydney Kamlager — and incumbent assemblywoman hoping to move up to the State Senate — and Daniel Lee, deputy mayor of Culver City; Republican attorney Tiffani Jones, and Peace and Freedom Party candidate Ernesto Alexander Huerto did noy respond to the Boiling Point's interview request. We have pulled short pieces of information from their campaign websites to give voters a fuller look at who's running in this election.
Transcripts have been lightly edited for length.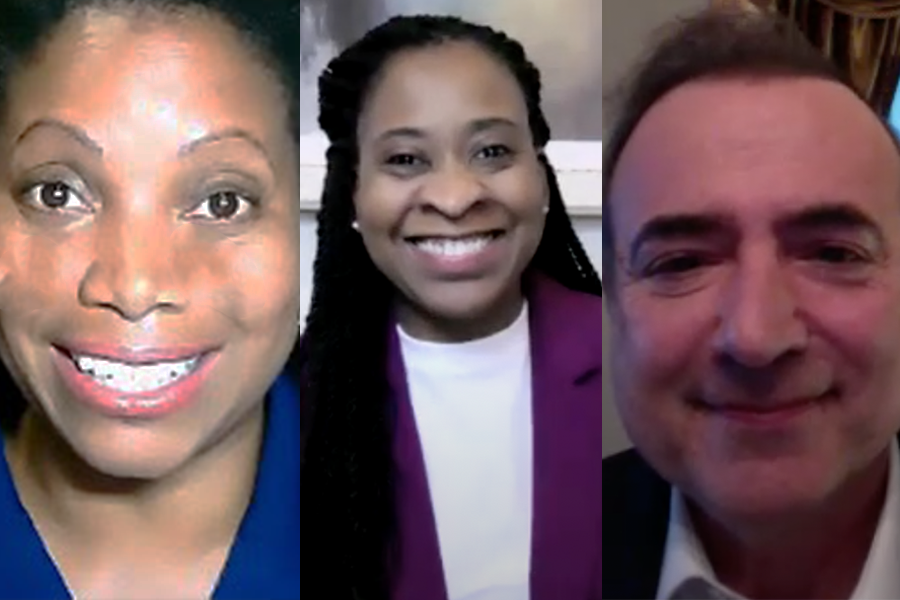 Renita Duncan, Independent, Violence Prevention Integrator for US Air Force
The Boiling Point: How would you describe the 30th State Senatorial district in any way you'd like? 
Renita Duncan: I would describe it as a very diverse district. We have entrepreneurs, we have attorneys, we have blue collar workers, white collar workers, single parents like me, people working two jobs. Income from 40 to 150 to a quarter of a million dollars. So it's very diverse and although it's very diverse and ethnic diversity as well, like every ethnic and orientation is in our district that's why I love it. We have artists. It's just vast. I mean it's exciting to live here. But the one thing that I feel like we all have in common, and are thriving for is hope, like we all have hope. Hope that we'll be able to put food on the table, have a safe environment for our families, and a great education for our children and a great future. So that is what I love about district 30. I've been living in this district since I've lived in California." 
BP: What do you think is the biggest challenge for the district? 
RD: I think the biggest challenge right now is the challenge of not bringing us all together, in a unified communication. And just as I say that we are diverse people we have people that are winners, we have people that are homeowners we have small buisness, and all of that right now is we have like a lot of different, our burdens are a little different, but they all come together the same. I feel like right now the biggest challenge is getting us back to work and empowering our community. Really I really want us to be able to thrive as a community and getting us back to economic empowerment I feel is going to be something that we should look forward too and really market and push as a representative."
BP: What do you think Sacramento can do about some of the challenges facing the district? 
RD: Well first of all I think we can provide some communication better. I know the reason I'm running is because I feel like my voice wasn't heard, as a constituent. When it's election time, we hear a lot from voters and they talk about their endorsements and all the committees thy're a part of and everyone that endorses them, and we've been voting the same people in, but really there's been no action. So the best thing that Sacramento can do — and our representative — is engaging with the community.  'Cause once you write legislation it's really not worth the paper it's written on if we don't engage it and enact it. I'm running because there's been no action. We've made a lot of promises and we haven't engaged our community and moved forward.
I also think they need to understand the diversity of the small businesses that we have in our community, and when we make decisions that, talk about affordable housing, that there are two sides to that and we haven't brought both sides to the table. Because they're small property owners that are not like corporations that are affected when we do things, we haven't discussed that with them. I really feel like we need to communicate better. You shouldn't have to search for information, I should be bringing you information. 
Communication through emails should be rapid, and when things aren't happening for our constituents, they need to know that when they contact me I'm going to respond, and I'm going to ask questions, I don't think Sacramento does that right now." 
BP: What are some of your priorities or goals you have if you're elected? 
RD: I have three priorities. The first is community empowerment, and that includes getting businesses back to work, ensuring that people have jobs, and then our education — equitable education for the people in our community. 
The second one is community collaboration with law enforcement, there's been a lot of dissention and division and I want to change that. And the third thing I want to do is hold accountable the housing and homeless situation for our veterans as well as our community. There are a lot of programs in place — there's a lot of money out here. Our population of homelessness should not have increased by 12%.  The first thing I want to do is a program audit of how we are moving this housing and homelessness situation from the state side, how we're holding the city and county accountable. 
BP: If you are elected, as an independent do you plan to caucus with a particular party? 
RD: I do not. I plan to be representative of the people. That's why I choose to run independent. Now I voted in several different ways many years in my life. I've been a Democrat, I've been a Republican, and I've been an independent. In my life I vote my values, and I wanted to run to represent my community best. Because I don't want to be pulled from the right or to the left — I want to represent the people. I purposely haven't sought out any endorsements, because I really want to represent the community and do that well.
BP: What are some steps or actions you plan to take to work productively from outside of both political parties? 
RD: Like I said, I want to communicate. So when we talk about things like housing again, I want to bring in both parties. I had a wonderful two conversations yesterday, one with a group that supports affordable housing and homelessness and wanting to make sure we do that well, and the other [was] small property owners. People who have business and properties that are trying to provide affordable housing but are really having a hard time hearing their voice in the bills and propositions that we make. 
I want to bring together both those groups so we can communicate and understand. I have three C's that I like to use when I'm doing this: community, collaborate and communicate. And I feel like when we bring them together, there won't be so much emotional division with property owners and those that are in a housing crisis.
BP: Why do you think you should be elected to the State Senate over the other candidates in this race? 
RD: I have over 20 years in government, I have over 20 years of public and military service. Now that doesn't qualify me in itself. I will take action. That's the difference between me and the rest of the people running. If you want to get rid of the status quo, then I'm the one. I don't think running for this office should be a right of passage based on a political party or what you've done in the past, because basically nothing's been done. And the difference I bring is leadership, and I'll bring engaged leadership. I bring leadership where I'm going to reach back down to the people of District 30 and I am going to make sure that I am accountable to you with what I say I'm going to do.
Truth, integrity, and transparency — that's why I want to start bringing these different groups together, and have a transparent conversation rather than playing one side against the other so that I can win a vote. 
Joe Lisuzzo, Republican, businessman and 30 year owner of "Al Gelato" a restaurant in West LA.
BP: How would you describe the 30th State Senatorial district in any way you'd like? 
Joe Lisuzzo: How would I describe it, oh my goodness!  It's a wonderful place, in my opinion. Lived and worked here for over 30 years, still do and it's a wonderfully diverse community. Believe it or not, I even learned so much about this while running for this race. 
You know, I'm not a career politician. I'm a community member who was in business for decades here, and I just wanted so much to make it better since I have seen it precipitously decline under current leadership. Crime has gone up as we know, homelessness has gone up terribly, as well as business shuttering and leaving the state, and it just distubred me so much that I said, 'Coach, pull me off the bench, put me in'. I've got to do something to help with my expertise.'
Regarding the district itself, I learned so much — I had no idea that it's actually larger than the Congressional districts here in California. There are 55 Congressional districts, so when you divide that into the 40 million, it's about 750,000 people per Congressional district. However, Senate District 30 actually comprises about a million people, because there are 40 Senate seats in the state of California. Consequently when you divide that by 40 million you have almost a million per seat. 
I did the analysis of the district and was amazed to find the demographic breakdown to be approximately 55% Hispanic believe it or not. And in addition to that, 28% African American, about 18% percent Anglo and about three percent or so Asian. I was really surprised, because you know like they say sometimes we live in our own little bubble. I live in the Pico-Robertson area and worked in that area for many years, and of course I've traveled the district. But I had no idea of the actual racial demographics breakdown until I analyzed that. 
The district itself runs on the west almost to the ocean — to Mar Vista actually on the west side — all the way across, right past Pico Robertson all the way downtown and then from downtown all the way south, right through South LA to parts of East LA, Inglewood area and then back towards the airport but not as far as the airport, Westchester-ish or so. So it's really an amazingly large and ethnically diverse and great district. I love it. 
BP: What do you think is the biggest challenge for the district?
JL: First of all, it's making sure that the moneys that we have raised in terms of taxes and allocated in terms of special propositions — like the money that the people so generously gave the city in terms of wanting to help with the homeless issue, gave them $1.2 billion dollars. Unfortunately, for some reason, a lot of times when money goes into government, they shuffle that money around and use it for different things that they have to pay off, or they hire analysts and consultants — instead of putting that money to use for which it was given to the city. 
So in 2016, the city was given through proposition HHH $1.2 billion dollars — and I emphasize 'billion' because it just seems today we throw around these numbers as a nation without really thinking about them. And being a businessperson, I think to myself 1.2 billion — wait a minute. Just imagine being a millionaire, right? If you were a millionaire you'd have six zeros after that one million. If you're a billionaire you'd have nine zeros after that and it was 1.2 billion. Nothing was built in 2016, nothing was built in 2017 for the homeless shelters, nothing in 2018, nothing in 2019. Wasn't until 2020 that we opened our first homeless shelter, and when you did the math as a businessman regarding that it was $500,000 per unit. 
And you stop and you think you know what are the biggest problems: it's following the money, and making sure that the money is properly used for which it's been allocated and levied in terms of taxes.  
And the homeless issue again, it's exploded. It's doubled since 2013. There are more homeless in LA County now that can fit inside of Dodger Stadium. Dodger Stadium I think holds about 59,000 people. Just imagine we have more homeless citizens on the streets, to the tune of 70,000 people, not enough room for them. That and businesses shuttering and leaving California. This has got to stop,  because small business are the lifeblood of any state any city, and when you realize that California as a state itself is almost the fifth largest economy in the world, and we've been shut down and a lot of people, it's devastated their businesses and they've just decided to leave altogether to find a better place to live. 
If you have people fleeing from a place, that's a serious, serious thing. And it's not just small mom-and-pop shops, it's people like Elon Musk, the founder of Space X and Tesla. Just last month, he left California for Texas. Inexcusable. Politicians really have to appreciate the businesspeople and allow them to stay. 
BP: What do you think Sacramento can do about some of the challenges facing the district? 
JL: Oh so much, so much. They have to embrace businesses to the point of saying to them look we know you provide jobs for people, you provide taxes, we provide money for their salaries. Think about that, we have to do everything we can for businesses small and large to stay and how do they do that, regulations, cutting these regulations. There are so many regulations that are imposed upon small businesses and large businesses alike. We've got to step back and say this is a serious time. We have to loosen these regulations to make sure that businesses can flourish, people can find jobs. We can generate the revenue that's needed to take care of our infrastructure. It's oversight. A lot of what is going on in the state is very serious. 
There's something called the EDD, the Employment Development Department, which employers pay into in order to have moneys for people if they should lose their job. Well guess what happened during the Covid crisis? Everyone was filing for unemployment, to the EDD, only to find that under this current administration and the way things are running in this state, the mismanagement, they lost $11 billion dollars — with a B, Eleven billion dollars, and they think an additional $15 billion has been misappropriated. So these are serious times, and you need a businessperson to step in, follow that money and make sure it's used properly. Very important. 
BP: What are some of your priorities or goals you have if you're elected? 
JL: I mentioned the business development committee, so important to me. Oversight, like I said, the budget committees. All that stuff has to be watched and analyzed and reconsidered. This is not a Democratic issue, this is not a Republican issue. This is a humanitarian issue, and if you just look out your front door or when you're going down the street,to the market or wherever it is, you see the homeless people on the street and you see the businesses closed. We can't hide from the reality of what's happened, and it's time to stop casting aspersions and pointing fingers. It's time to roll up our sleeves. We know it's bad. It  hasn't gotten better. Let's work together to make it better. 
I love simple analogies. Let's say your car breaks down. You take it to the shop to get it fixed, right? You come back home you drive it a week or two, and the car breaks down again. It's the same problem. You bring it back you say look, okay give the guy the benefit of the doubt, want to give this one more shot, see what happens. I know we have a warranty — can you try it again?  He fixes it, you take it home again, it breaks down again. Do you keep bringing it back to the same mechanic after a while? 
It's like Einstein said: wanting to do the same thing over and over again and expecting a difference is only a form of insanity. It's really time to bring in some fresh blood, a different perspective, because it's got to change for the better, it's got to.
BP: What steps or actions do you plan to take to reach out to the other party not only in the legislature but in the district?
JL: I did not join this race for the party, I joined it for the people. However, I realize that there is a great majority of people that are involved in politics from the other side. It's perfect to put a businessman in this position. When you're working for the people instead of a party, you're concerned about the people. When people would come into my business, I never asked 'Are you a Democrat?' before I served them, are you a Republican, are you a socialist, are you progressive, are you a conservative?  No. They're all equal. 
And I think when you come into government with that perspective, it's not a matter of left or right — it's a matter of solving the problem right. What's the issue? Let's solve this together because the bottom line is we all want the same thing. We want safe neighborhoods, were all human beings we all want the same things. I think a lot of times in life we look at each other's differences, instead of looking at each other's similarites. It's really easy to get along if you put aside all of the labels that seem to be attached to being in government.
BP: Why should you be elected to the state senate over the other candidates?
JL: This is the first time I've ever run for office. However, I was involved in politics in the last year, I actually tried to make things better by trying to help someone who was running for Congress, and I was so upset with the way the Congressional district looked. I said let me help you. So I worked for a year, but after that I said well I tried my best — that's it. 
Well lo and behold, Hashem had a different plan for me, and I looked and found out that there was a special election being run and I thought where is this special election being run, and it was in my Senate district. I thought, oh boy, I can't walk away. I've got to step up and try. And I think being a business person brought me to the table, and that's what makes me different than the rest.
 A lot of these people are career politicians, they've never done a payroll, they've never hired employees, never trained employees, they never had to pay the taxes, they've never had to go through the regulations that it takes just to open a storefront. When I opened my storefront it took me over a year. Just imagine having to pay rent on a location not one month, not two months, not three months, not four months, not five months, not six months. I say it that way purposely slowly cause just imagine a year — 12 months — of paying rent and electricity and water and not being able to open your front door and start to generate some money to pay those bills and hire people and serve the public. That's the thing I love serving the public. That's why I'm in this — to serve the people. It's not for a title or a salary. 
Cheryl Turner, Democrat, Attorney
BP: How would you describe the 30th State Senatorial district in any way you'd like? 
Cheryl Turner: "Well there is quite a diverse population. Starting from the Westside south, Century City, South Beverly Hills, Mar Vista, Palms, cutting across to mid-city all the way to I think the 110 freeway and then all the way down south LA to near the 105 freeway. So it's a wide range, it's mostly African-Americans in the district, but you know Westside you know, and Caucusion population as well as a large Latino population. And it's just mixed. I mean there's lots of neighborhoods throughout with different socioeconomic levels reflected throughout and I'm very familiar with the district. I grew up here. I was born here, I went to the public schools in the district. And so I feel like you know this is my home and I definitely want to represent the people that live within the community." 
BP: What do you think is the biggest challenge facing the district? 
CT: Well there's a number of challenges.  If you look at the south side, they're concerned with criminal justice and policing issues. If you look more to the Westside they are concerned with keeping the police, in contrast to the south where they want to reduce the police. And everybody is interested in housing affordability, everyone is concerned about the homeless crisis that is affecting everyone, and everyone is concerned about Covid and schools. When and at what point will schools be able to reopen. They're concerned about job security and they are all concerned about healthcare and living in a safe environment." 
BP: What do you think Sacramento can do about some of the challenges facing the district? 
CT: With regards to the Covid-19 response, we're beginning to see some action being taken. I believe that we need a coordinated statewide response to the efforts so the local jurisdictions can give their input. Because if you have one area that is open, but then you have other areas that are closed, you have people that are migrating between the areas. There's more likely to be transmission and passing of the Covid virus from one person to the next. So we need something coordinated, but it looks like everything is coming around as far as schools are concerned. 
We do need to do something about reopening [schools]. I know we have some parents saying that they don't feel that it's safe for their children to go back to school and other parents are like, listen — my child is being deprived of their educational opportunities. You know — prom, sports, student travel. All these things they're missing, and they were looking forward to these things. But we need to figure out how to make sure that it's going to be safe. 
We need to vaccinate the teachers and the staff there. The administration there. And with the parents' permission we can also vaccinate some of the students that are there and maintain social distance distancing. But of course, if students go home then we have to be concerned that they, even though they may not experience symptoms, they may pass it on to their family, their parents. So we may have to think about how we're going to vaccinate the parents of those students as well. 
We talked about homelessness and the state really needs to focus on how we can do more outreach to the homeless. If there is a mental health issue we need to address that. Whether it is through support or whether it is through determining whether they are competent to be out on the street and make decisions, because many of the homeless population did come from mental institutions. Some of them have drug addiction issues, so they need support and treatment. Some come from domestic violence situations. There's violence at home down the streets. And you have some foster kids to now of age and now they're out in the street, and you have the formerly incarcerated that are on the streets and don't have a home. So we need to come up with, I believe, more ways to help subsidise the payment for housing for the homeless.
We can do that by the state funding vouchers to help them pay for their housing. Something like Section 8, for those of you who have heard of Section 8. We can open some of the motels that are in certain neighborhoods and use that for housing. And we can resort to vacant buildings that aren't in use. We don't want to force any property owners to have their property taken. But if property owners are willing to sell, then I think that that would be a better use of funds than the local governments trying to purchase buildings, or build buildings themselves at $700,000 per unit, when no investor would ever spend that kind of money for an apartment building. It just doesn't make sense. 
And we have to reopen, get people back to work. They may need childcare support for those children that are not old enough to actually enroll in school — some sort of subsidy to help get them back to work. We have an issue, especially with mothers, who tend to be the main caretakers of children, but not always the case. You have fathers that are involved in that too, but we don't want them to be left behind from the workforce. We want them to be able to return to work and everybody to earn a livable wage and businesses to receive the support they need to reopen during this Covid crisis. 
BP:  What are some of your priorities or goals you have if you're elected to the state senate? 
CT: One of the things that really motivated me is with Covid, people are getting behind on their rents and mortgages. I mean, it's understandable that there's an economic shutdown. People are not able to work there at home and so, even though there's a moratorium saying that they do not have to pay, still those debts are accumulating and eventually they're going to rise to a level where it's going to be something that people will never be able to catch up with, and then we'll be looking at the possibility of massive evictions from apartment buildings, and for people that own their homes, the possibility of foreclosures.
So I would like to be able to go to Sacramento to work quickly to help to develop a rental assistance and mortgage assistance program to help the people, so it's not just a matter of you don't have to pay rent, but then you have some sort of subsidy coming in to help you to stay current. So that when this is all over, you can remain in your homes. 
The other thing that I talked about is that the Covid crisis on education. When I talked before about the issues that Sacramento can do, I was also talking about some of the things that I had in mind — like coordinated statewide response to the Covid crisis in terms of with small businesses, and even larger business, midsized business, receiving grants and loans to help them stay in business while we're going through this crisis. So that they'll be open and that they'll be jobs that are still available to people when they're ready to return to work, we don't want to lose those. And then I talked about education and coming up with the right response to how we can administer the vaccines and create a safe social distancing program, so that the schools can reopen as soon as possible. 
And the homeless crisis, as I said vouchers — I want to work on that. I also would be interested in looking at ways in which the government can return back to developing or building its own public housing. Many years ago they used to be able to, but it's my understanding that there is now a constitutional prohibition preventing them from doing that because certain people live in neighborhoods, have the attitude of no, I don't want affordable housing in my backyard and so a constitutional limitation was passed preventing the government from building public housing. But we need to find a way to to go back with it. That doesn't mean that communities can't have the input — they should have input, and I expect communities to have input and that's always welcome. But still we all agree that we must do something as soon as possible about people that are on the streets and they need a home to live in. 
BP: So what steps or actions do you plan to take to reach out to the other party, not only in the legislature but in the district? 
CT: I have a history of being involved in different organizations, and each of those organizations have a government relations committee, and come up with issues that are important to them. 
And so what we had been doing over the years is traveling back and forth from Los Angeles to Sacramento, and sometimes I even go to the district office. It doesn't matter to me whether they are Republican or Democrat or Peace and Freedom or independent. The goal has been to sit down and talk to them about these proposed bills, how it's going to impact the organization, members that I'm involved in or with or with the community, and give them input as to how either it could be improved. The bill could be improved, or if it's something that we feel is harmful, how it could be defeated. 
And so I've already done that. I'm a Democrat. I've sat in Republican Senator or Assemblyperson's office to talk about those bills, and it has never been an issue. That's why I know that I feel that I when I go to Sacramento. I will be able to work across the aisle, focus on the issues, and work on trying to develop and get the bill passed that best help my district. 
BP: Why should you be elected to the State Senate over the other candidates in the race?
First of all, I'm the one that's most familiar with this district, because although people have come here from Los Angeles all up from all over the world all across the country, I'm one of the ones that was born here. And so this is truly my home from the time I was born and I have, I believe, the deepest passion and desire and commitment to put all my efforts into representing this district. 
Not only that, I had a law degree. I went to law school and I asked people. I mean what does the legislature do? They create laws and these are the exact same laws that you know if an issue comes up in court. I'm in court. I have to argue these lots. And I can see some of the limitations or some of the problems with some of these laws, what they're doing. I feel that I can be the most effective of all the candidates in helping to create new laws and in being able to review, analyze, evaluate and negotiate. 
Also I have other attributes. For instance, all these areas that they're legislating on, I have direct first-hand experience with. For instance, I'm a small business owner. So when they come up with laws that affect business, you know I've been there. I know what it's like. 
I am a housing provider. I'm active in the housing industry. I've helped to develop and manage both affordable housing and market-rate housing, and so I'm familiar with the details of all those. I've represented those in the medical field. I work with community clinics — I represent doctors. I know how they deal. I know how they work. So when you talk about Universal or Medicare-for-all, I'm the most qualified of all the candidates because I've been in that environment. 
If we want to talk about the civil or criminal justice system, as a lawyer, I've represented clients in both those areas, those that were facing criminal prosecution, those that had to deal with police abuse or misconduct, and consumer rights. I've also been active in the environment through my community service, fighting for clean air and against pollution, and having cases involving pesticides and other issues. So I don't have to imagine what these issues are all about in trying to create a law. I've actually had some direct, firsthand experience in these areas. 
Now, that's not to say I won't take advice — I will. I welcome advice from an input from, the district, the community, the stakeholders, because you are my clients or you would be my clients.  And I see it as a similar process — different yes in that I have to work with more people to accomplish passing a law. But it's still the same thing. 
Like my clients, communities come to me, they tell me what their concerns or issues are and I help them to craft a solution to address that by helping them to create laws that resolve their problems. And so, I think that also my whole history, life, of public service to the community shows how much I am dedicated. I wasn't doing it because I was always paid. Many of my public service community activities were pro bono. It wasn't 'cause I worked in somebody's office and they directed me to be responsive to this or that person. No, I did it because that is who I am as a person. And so that means you can count on me to focus on the community's needs and not to be swayed by special interests who will take me away from that, when my whole life has been about helping the people that live in this community. 
CANDIDATES WHO DID NOT RESPOND TO REQUESTS TO BE INTERVIEWED
The Boiling Point reached out to each these candidates and they did not respond.  Here are samples from their campaign websites.
Sydney Kamlager on jobs
"My aim is to help create good jobs and to nurture talent in the people who want those jobs. As your Assemblymember, I prioritize the expansion of vocational, career and technical education programs that furnish the skills needed to develop career goals and score high-wage jobs. For our district to thrive in the rapidly changing global economy, we need to cultivate new industries (technology, clean energy) and invigorate the existing ones (sports, entertainment, transportation)." 
"As a candidate for City Council in Culver City I strongly advocated for raising the minimum wage to $15 an hour. We do need a higher minimum wage in the state of California, but our goal should be a living wage for all employees. As State Senator, I will sponsor living wage legislation."
"To ensure a just recovery, I will support worker retention and rehire legislation. We can capitalize on the shift to virtual work to make jobs and opportunities more accessible to people who have physical impairments. A hybrid virtual workplace can also provide flexibility for employees transitioning back into work after maternity or paternity leave, and parents with children who require more attention to continue working while taking care of children with greater needs.
Tiffany Jones on school choice 
"Children and parents have a right to the best education possible, whether it be public, private, charter or homeschooling. Currently, the California Senate, along with local officials, have been trying to implement policies that would make it more difficult for your child to have access to various forms of education besides public schooling. As your state senator, I promise to fight for school choice, giving your child more options for a brighter future."
Ernesto Alexander Huerto on healthcare
"In the richest country in the world, it should be a simple task for our state government to gather and distribute the items needed to fight COVID-19: masks, ventilators, tests, vaccines, and much more. However, from the beginning of the crisis, these essentials of life were scarce – not because they were hard to make, but because it was not profitable to produce these items for working class people. We demand a statewide, free healthcare system to effectively combat COVID-19. Californians need an end to the for-profit health care industry, which has cost us countless lives during this pandemic."