Schools close as smoke, ash and fire spread across Jewish Los Angeles
Shalhevet dismisses Valley students early as Milken, Lainer and UCLA close. Camp Ramah threatened by Thomas fire.
December 7, 2017
By Hannah Jannol, Editor-in-Chief, and Lucy Fried, Features Editor
In light of Southern California fires which have spread over more than 70,000 acres as of Wednesday afternoon, numerous Jewish day schools ranging from Milken Community Schools in Bel Air, to Valley Torah High School in North Hollywood, to The Alice and Nahum Lainer School (formerly Sinai-Akiba) in Westwood, have cancelled school for the week.
Some have been shut down either due to traffic or ashy air, among them Lainer and public schools including Palisades Charter high school, Santa Monica High School.
De Toledo High School in West Hills has not closed, and neither have Shalhevet or YULA.
Milken Community Schools and Stephen S. Wise Temple Day School, both located near the Skirball Cultural Center and the Getty Center, are especially close to the fires. The Skirball Fire is named after Skirball Center Drive, which is the freeway exit closest to where the fire is, which in turn is named after the Skirball Cultural Center, a Jewish museum.
Milken was closed down today and is set to be closed Thursday and Friday as well.
"As you know, we are carefully watching the danger posed by the Skirball fire," Milken Head of School Gary Weisserman wrote to his community on Wednesday. "The winds are expected to pick up and shift tonight, which increases the risk from the fire to our campus. School will be closed both Thursday and Friday of this week, and no one will be permitted to access campus until an all clear is given."
On Wednesday morning, the Skirball Fire led to a shutdown of the 405 freeway and threatened houses and families in Bel Air Brentwood and beyond, areas of L.A.'s Westside, which is home to much of Los Angeles' Jewish community.
"School was canceled because there is a lot of ash in the air," said Valley Torah senior Ben Hamer. "I tried to stay inside all day."
Ben said he was not worried about having to evacuate his house, and that though the fires in Santa Clarita and near the Getty and Skirball are close to the Jewish community in Valley Village, he thinks everything will turn out okay.
But some have had to evacuate.
Milken junior Lauren Farshi evacuated on Wednesday at seven a.m. to her grandparents' house in Encino due to the Skirball fire near her home.
"I brought some family photos, some clothes to keep me warm, my computer, and my phone," said Lauren. "I panicked in the beginning, but once I got in the car I tried to stay positive."
She said her family received a call from the fire department to evacuate. Prior to this, her family had no evacuation plan.
"My family never thought that something like this would ever happen to them," Lauren said.
Although significantly slowed due to traffic on the 101 freeway, Lauren said that the drive to her grandparents' home made her feel safe.
She has been spending time with her cousins who also evacuated their homes. She said she is currently not worried because it seems the fire is not spreading in the direction of her house, and she thinks she will be able to return home Thursday morning.
Another Milken student who had to evacuate is Milken junior Ben Chasen, who lives across from American Jewish University on Mulholland Drive, right where the skirball fires hit.
"We just kind of on the spot grabbed things we wouldn't be able to replace — family videos, my parents' wedding ketubah," he said.
His father, Rabbi Kenneth Chasen, is also the senior rabbi of the Leo Baeck Temple on North Sepulveda Boulevard near the Skirball fire. The synagogue closed Wednesday, canceling events like their Hebrew school and relocating their Torahs.
Ben said his father received a call at 5:20 a.m. that there was a fire around Leo Baeck. While he was there removing the Torahs, Ben and his mom gathered necessities for evacuation as well as sentimental items.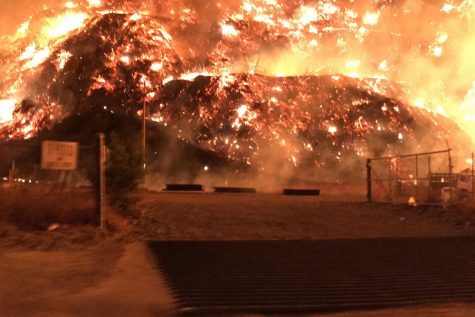 Rabbi Kenneth Chasen
They initially relocated to a family friend's house in Encino but are now at Ben's cousin's home in Calabasas. Rabbi Chasen has since gone back to Leo Baeck to remove artwork from the Reform temple and take it to a person's home who has volunteered to store it.
"I think as terrible and scary as this is, it reminds you of the support you have and the great support these Jewish institutions and the community have," Ben said.
Milken had a shabbaton planned at Camps Ramah and Hess Kramer for this weekend. Both are canceled but will be rescheduled.
Sophomore Amit Henn said the school was supporting its community well during a frightening time.
"They helped by making sure everyone is safe, and offering support to anyone who needs it," Amit said. "They moved the Torah's to [Valley Beth Shalom synagogue], and have made sure that everything in the school was safe."
According to ABC News, The Los Angeles Unified School District closed all 265 schools in the San Fernando Valley and Westside for the week due to the Skirball fire, which has burned at least 150 acres in Bel Air.
Multiple schools have closed despite not being in the direct path of the fires, either because students are affected by traffic due to road closures or by poor air quality. Santa Monica High School held a half-day Tuesday and was closed beginning Wednesday for the rest of the week.
"We understand that some homes, apartments and school indoor spaces are feeling the impact of the smoke and that there are extreme winds in some of our neighborhoods," an email from the Santa Monica Malibu Unified School District wrote to parents, teachers and students.
"We are calling a minimum day today," SMMUSD stated on Tuesday.
The Lainer School also shut down on Wednesday and will be closed Thursday as well.
"Due to continued safety concerns arising from the Skirball fire — given the toxic air quality and our proximity to the blaze — we have decided to exercise the utmost caution and close school again," Lainer Head of School Ms. Sarah Shulkind wrote to parents on Wednesday evening.

Other students, however, have had to attend school despite bad air quality. Arielle Meppen, a junior at Calabasas High School, traveled from the hills of Encino today and yesterday. Calabasas High is in the Las Virgenes Unified School District (LVUSD).
"At my house I can feel the smoke from the Sylmar fires," Arielle said, describing leaving her house for school in Calabasas the past two mornings. "I couldn't see, even being in my car I couldn't breathe. With the air conditioning off, it was unbearable."
She said she can smell the ash and fire even in her home with all the windows and doors closed. Still, she doesn't mind having to go school. Students were allowed to eat lunch in unusual indoor areas, like the library. P.E. classes were also held inside.
"We continue to remain in close communication with LVUSD, our County Fire Officials, law enforcement and area school districts as we monitor the high winds and fires," Calabasas principal Mrs. C.J. Foss, wrote to the community. She said schools would be open Thursday, "but if anything changes, please monitor your email and LVUSD social media for updates and information."
Arielle said she is not worried about the fire reaching her home, since she is at the bottom of the hill and the fire is on the top. She and her family do not have an evacuation plan.
Shalhevet Head of School Rabbi Ari Segal said Shalhevet would stay open but would understand absences of those whose route to school was impacted by the fires. He also allowed Valley students to leave school early on Wednesday.
"Although the fires remain at a safe distance from Shalhevet, the air quality continues to be a concern," Rabbi Segal wrote in an email to parents, students and faculty.
"Our administrative team has developed a plan for tomorrow and we feel that we can remain open with minimal impact to teaching and learning. We will ensure students remain indoors with doors/windows closed throughout the day."
"We understand that traffic has been impacted by this as well and so we have let teachers and students know that they should not stress if they are running late due to traffic," Rabbi Segal wrote.
Meanwhile, the much larger Thomas Fire has ravaged Ojai and Ventura counties, reaching close to Ojai's Camp Ramah in California, a sleepaway camp which many Shalhevet students attend in the summer.
At 10:42 p.m. Wednesday, the camp posted an update to the community on its Facebook page about the Thomas fires.
"Camp Ramah in California is now in an area under mandatory evacuation and the fires continue to burn in the surrounding areas," the posting stated. "The fires have not encroached onto camp and we are monitoring the situation carefully. Please join us in prayers for all the first responders, firefighters, and support personnel."
Schools close as smoke, ash and fire spread across Jewish Los Angeles