Schoology Score: Weslow triumphs for title as Top Ten takes a turn
Kunin again is in second; Schoology Score now tracking comments as well as posts
Principal Daniel Weslow has crushed the 2022–23 Schoology-posting competition, finishing the year as the top poster in the Group Updates feature.
Community members are able to post information about school-wide events, club meetings and other opportunities on schoolwide group pages such as Student Activities, The Just Community and Lost & Found, through the learning-management system Schoology, mostly used for students to submit assignments and access class materials.
Some have continued to do this more than others.
As the second semester comes to a close, the top three – Principal Weslow, senior Dani Kunin and Student Life Dean Dr. Jonny Ravanshenas – are the same as in the last tally, whose stats covered the first semester along with a few weeks of the second.
In end-of-year totals, which are as of 3 p.m. on June 6, Mr. Weslow's schedule and logistics postings remained consistent and bolstered his lead to a whopping 38 posts over Dani.
Mr. Weslow posted on Schoology 97 times in all across the two semesters.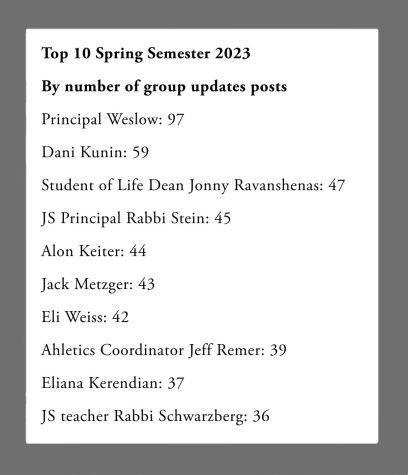 "It was a long and hard-fought battle, but I am proud to earn this victory," Mr. Weslow said in an email. "I wanted to thank my team and the student body for pushing me to reach my goal and achieve new heights for the frequency of posting on Schoology.
"I will need a six-week break beginning July 1 to rest, reflect, regroup and reimagine," he continued, "and to prepare for the '23–24 school year."
Behind him – following that significant drop – is Dani, who ended with 59 posts and has now pitched back-to-back school years as the top-posting student. Now about to graduate, the Student Activities Committee (SAC) co-chair's posts continued even after the seniors' last day of classes on May 5, as he tacked on multiple updates from overseas on the class's Poland–Israel Experience.
"It's an honor and privilege to be the second-highest poster," Dani said via text message. "I'll definitely miss posting on Schoology next year."
And closing out the top is Dr. Ravanshenas, whose announcements have continued at a steady pace since day one.
The remaining spots, on the other hand, have shuffled in recent months. Seniors Alon Keiter and Eli Weiss, as predicted in this column on April 3, jumped up, moving into the fifth (44 posts) and seventh (41) spots, respectively. Alon posted regular updates during Chess Club's school-wide tournament, while Eli sprinkled memes and comedic posts throughout the second semester.
Alon made a late push for a higher spot, even acknowledging that one of his posts was for the score rather than of substance by simply posting "#statpadding." But it was not enough to propel him any further.
Senior Jack Metzger, while short of the 30 he amassed in the season's first half, was able to stay in the 6th spot with his Business Club and National Day Club posts, finishing with 42 updates posted.
"
It's an honor and privilege to be the second-highest poster. I'll definitely miss posting on Schoology next year.
— Dani Kunin '23
Athletic Coordinator Jeff Remer continued to keep Shalhevet students and faculty well updated on sporting events, posting about boys' baseball and girls' volleyball and ending at 39. He also received the most "likes" across his posts, with 330 for an impressive average of 8.46 likes per post.
The sole scorer above him in likes-per-post was basketball coach Ryan Coleman, who averaged 11.61 likes across his 18 posts. Behind Remer in total likes are Eli and Dani, who accumulated 310 and 284 likes, respectively.
Schoology Score is now also tracking people's comments on posts. For the past two semesters Dani Kunin posted the most comments with 84, followed by Eli with 60 and Alon with 49.
And the victors of the new likes-received-on-comments category were Eli (102), SAC Co-Chair Evan Beller (72) and Dani (71).
Meanwhile, claiming his first Top Ten season on Schoology Score is Rabbi Stein, who has continued to post such announcements as tefillah (prayer) locations and programming updates, now hitting 45 on the school year.
Rounding out the list is senior Eliana Kerendian in 9th place, who boosted her numbers by making announcements in her role as Fairness Committee co-chair, as well as informing students of Chai Lifeline volunteering opportunities.
In the concluding No. 10 spot – squeaking into the ranks – is Judaic Studies teacher Rabbi Schwarzberg, who is perhaps missing his No. 1 title from the 2021–22 school year. Barring an unforeseen surge in posts, however, it seems unlikely that anyone will overtake Principal Weslow for that mantle.
An unexpected drop from the last statistics check is Rabbi Tsaidi, who scored a full 51 last year. This year has, overall, seen lower numbers than last among all scorers, but currently sitting at 34, Rabbi Tsaidi will need to work in a handful of posts for the school year's conclusion if he hopes to again reside in the Top Ten.
Looking ahead, next year's Schoology posting raises some obvious questions. With several seniors but no other students finishing in the Top Ten this year, who will take the crown? Will there even be any students in the Top Ten next year? And will anyone challenge Mr. Weslow for No. 1?
Schoology Score plans to be back for the 2023–24 school year, bringing you answers to these queries and more.