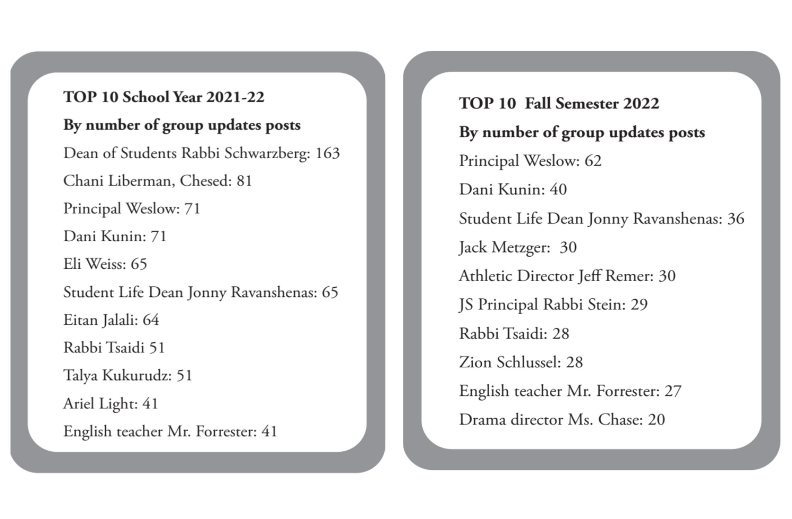 Schoology Score: Weslow leads pack in posting of group updates, Kunin a distant second
Weslow, Kunin top posters on Schoology's Group Update; statistics handicap next year's posters as well
Principal Daniel Weslow, with a whopping score of 62, is officially the most frequent user thus far of the Schoology "Group Update" feature in the 2022–23 school year.
Through the learning-management system Schoology, which is primarily used for students to submit assignments and access class materials, students and faculty are also able to post information about school-wide events, club meetings and other opportunities.
Some do this more than others.
Compare them to last year's numbers (with 11 spots accounting to ties), which are naturally much higher as the current year is not yet finished:
As seen in the second chart above right, the Top 10 highest achievers for 2021–2022 were Rabbi Schwarzberg, then Dean of Students, with 163, and then–chesed director Chani Liberman with 81.
Although we've now crossed the midway point of the season, it's still a little too early to have a clear sense of who will finish in the Top 10 this year. But Schoology fanatics can make some educated guesses.
Principal Weslow, of course, has led the pack since the beginning of the year, posting schedule announcements, timings for events and many other logistical updates. Currently with a double-digit lead over second place, he builds on momentum from the latter half of last year, in which he came back from behind to sneak into the top three around finals time. Mr. Weslow is currently on pace to set a new career high.
"
Compared to last year's statistics, a surprise has been Rabbi Stein, who has scored 29 at the writing of this article. "
As with last year, our top-posting student is senior Dani Kunin, who as this year's Student Activities Committee (SAC) Co-chair, often posts announcements on behalf of SAC along with other miscellaneous posts regarding goings-on at school. He has far outscored his co-chair, senior Evan Beller, 40 to 15.
Dr. Ravanshenas and Rabbi Tsaidi are also no strangers to the Top Ten, notching the sixth and eighth spots respectively last year; as with many other top posters, they often make announcements regarding upcoming events and coordinate various Shalhevet happenings.
Two student newcomers to the ranks are junior Zion Schlussel and senior Jack Metzger; both are leaders of clubs that require meeting times to be frequently posted, which are their main source of points. Also new to the leaderboard is drama director Ms. Emily Chase, whose musical theater and film festival recruitment posts have stayed strong since September.
Compared to last year's statistics, a surprise has been Rabbi Stein, who has scored 29 at the writing of this article. Though a longtime administrator at Shalhevet, Rabbi Stein's Schoology game was simply not as strong last year, having never crossed the thirty-post mark.
Finally, we have English teacher Mr. Brian Forrester, known for his bombardment of writing-themed posts during November's National Novel Writing Month (NaNoWriMo), and Athletic Coordinator Jeff Remer, who has made certain that students and faculty are frequently well-updated on Shalhevet athletics.

The most notable departure from last year's Top Ten is Rabbi Schwarzberg, who is currently sitting just outside of it at 17 posts; this is perhaps due to his currently not being an administrator this year, which comes off a dominant 2021–22 season in which he doubled the next contender on the list (Mrs. Chani Liberman, who did not return this year following maternity leave).
Less surprising to see off the leaderboard were two then-seniors—Eitan Jalali and Talya Kukurudz—and an additional administration member who left at the end of last year, Ariel Light. Overall, the top three—all returnees—are likely favorites to remain in the Top Ten, as is Remer, who made quite a jump to get here to close out the first semester.
Nonetheless, watch out for dark-horse candidates such as senior Eli Weiss, a top-fiver last year whose "Eli Weiss Uni- verse" content may be coming on the horizon; senior Alon Keiter, who makes consistent posts regarding chess club; Ms. Ortal Klyman, a part of the Hebrew department who has been pushing the Hebrew Club in the past few months; and Ms. Priyanka Singh, a part of the College Guidance Department who gained many if not most of her points thus far by informing upperclassmen about college visits earlier this school year.

Interestingly, were Ms. Singh to have posted these announcements in the Classes of 2023 and 2024's respective Schoology groups instead of a school-wide one, the points would not count. For the purposes of these statistics, only school-wide posts count, as students hoping to keep their numbers up only have access to their respective class groups and would thus be at a disadvantage compared to teachers, who can access all four in any given year. Clever strategy indeed seen here from Ms. Singh.
Also noteworthy is that the "bagel-boyz" breakfast business has restarted; Eitan Jalali '22 earned an impressive 64 posts last year, almost exclusively urging payment for bagel IOUs that students had neglected to pay. It remains to be seen if IOUs will pose a similar issue for the business this year and, if so, whether their vendor—senior Oz Shalom—plans to give Eitan a run for his money in Schoology numbers.