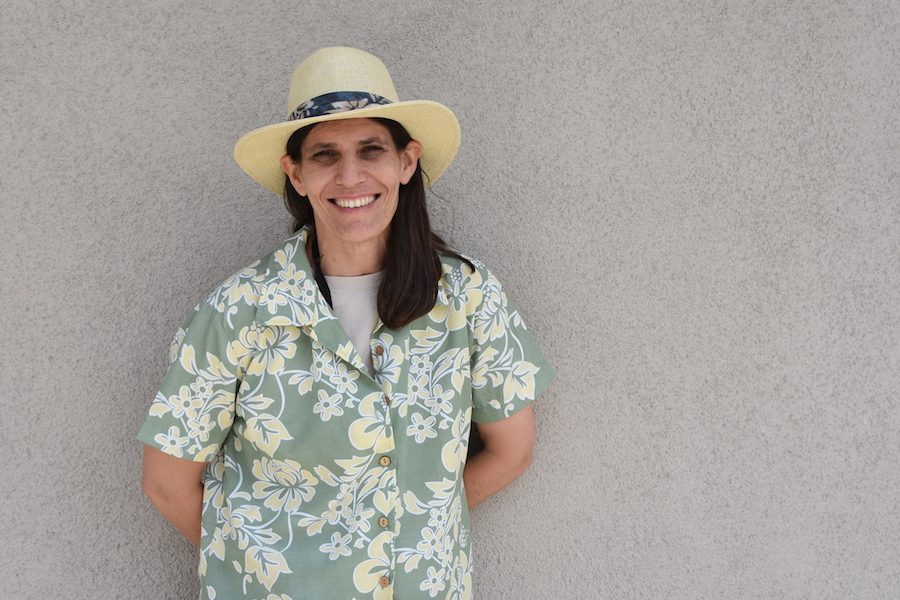 A winding path to teaching, with surfing on the side
From philosophy to surfing, Dr. Sheila Keiter is someone who stays true to her roots.
"If we don't know our own experiences, how do we fully identify?" she asked during an interview last week.
This, it turns out, is part of how she approaches Jewish History and Tanakh, which she is teaching this year to freshmen and sophomores. She plans on using modern references to make her lessons more relatable.
"This is giving away my first lecture, but history defines identity," said Dr. Keiter, who is the mother of senior Adin Keiter. "Especially Jewish history. It's not enough to know what happened yesterday or 3,300 years ago. We have to know what's happened in between, to understand who we are and how we got here and why we do the things we do."
In her own life, Dr. Keiter has not been afraid to make a change of course when she is doing something in which she doesn't find meaning.
Sporting her trademark Panama hat — seen on campus when she briefly taught seniors during a spring mini-mester last year — Dr. Keiter joked lightheartedly as she described her life story and enthusiasm for reading and teaching.
But when she talked about important moments in her life, her comments were more serious.
After graduating from UCLA, Dr. Keiter went to Harvard law school, where she obtained a JD before deciding it was not how she wanted to commit her life.
"I realized that I did not like it at all, but didn't know what else I wanted to do," said Dr. Keiter.
After coming back to L.A., Dr. Keiter had an experience at Westwood Village Synagogue that would alter her career path.
"Eventually, I ended up in a shiur and because of bizarre circumstances I ended up teaching that shiur," she said. "I discovered that I absolutely loved it and that this is what I needed to be doing."
Dr. Keiter then obtained a PhD. from UCLA in Near Eastern Languages and Cultures. But true to her worldview, she does not feel that law school was a waste of time.
"It's interesting how many of the legal concepts that you learn in Law School will appear in the Gemara," Dr. Keiter said. "I can say, 'Oh I can see what they're going for here, they're going for the standard of proof, or jury nullification.'"
Dr. Keiter also believes that surfing — one of her hobbies — has a connection to the bigger picture.
"There's a profound connection to nature when you're surfing," said Dr. Keiter. "You're in that ocean and you get a sense of how big and crazy the ocean is," Dr. Keiter said.
"Nature is big and nasty and you're at the whim of it, but you can connect to it in that moment. Someone once said that you talk about waves in this world — radio waves,light waves, sound waves — but waves in the ocean are the only ones we can perceive and connect to.
The mini-mester elective she taught to seniors last spring was on what links the three Abrahamic religions — Judaism, Christianity and Islam.
"You know a lot about Judaism," she said, "because you go to a Jewish school. But to understand Christianity and Islam within a religious context was a useful thing."
In her classes this year, Dr. Keiter plans on using modern references to make her lessons more relatable.
"You can talk about sports, you can talk about music, you can talk about art and see how history is reflected in those things, because it never exits in a vacuum," Dr. Keiter said.
Last year, during a sample class for sophomores, Dr. Keiter taught a lesson on the history of Jews in comic books. But though she believes an unconventional approach to teaching can be useful and fun, it can't be the whole class.
"You can't sacrifice the meat and potatoes of the course for the fun stuff," said Dr. Keiter. "You have to learn the basics."
A winding path to teaching, with surfing on the side