Senior AP Art student helps teach Comp and Design class, inspiring sophomores
January 13, 2018
Before Sydney Gross starts drawing a face for her class, she asks the students what they have the most trouble with in art.
"They usually respond with 'Everything,'" said Sydney in an interview. "Then, as I'm drawing the face, I tell them how to look at it a different way."
A senior AP Art student who is applying to art schools for college, Sydney has taught four classes of Ms. Roen Salem's 10th-grade Composition and Design course so far this year, all on how to draw the human face.  
According to Ms. Salem, who has taught that class ever since Shalhevet was founded 25 years ago, Sydney is the first student she's ever invited to be a guest teacher.
"She's no-nonsense, she's a mature person, she's willing to help and explain and she has a lot of patience," Ms. Salem said in an interview. "Also, she really likes to be the teacher."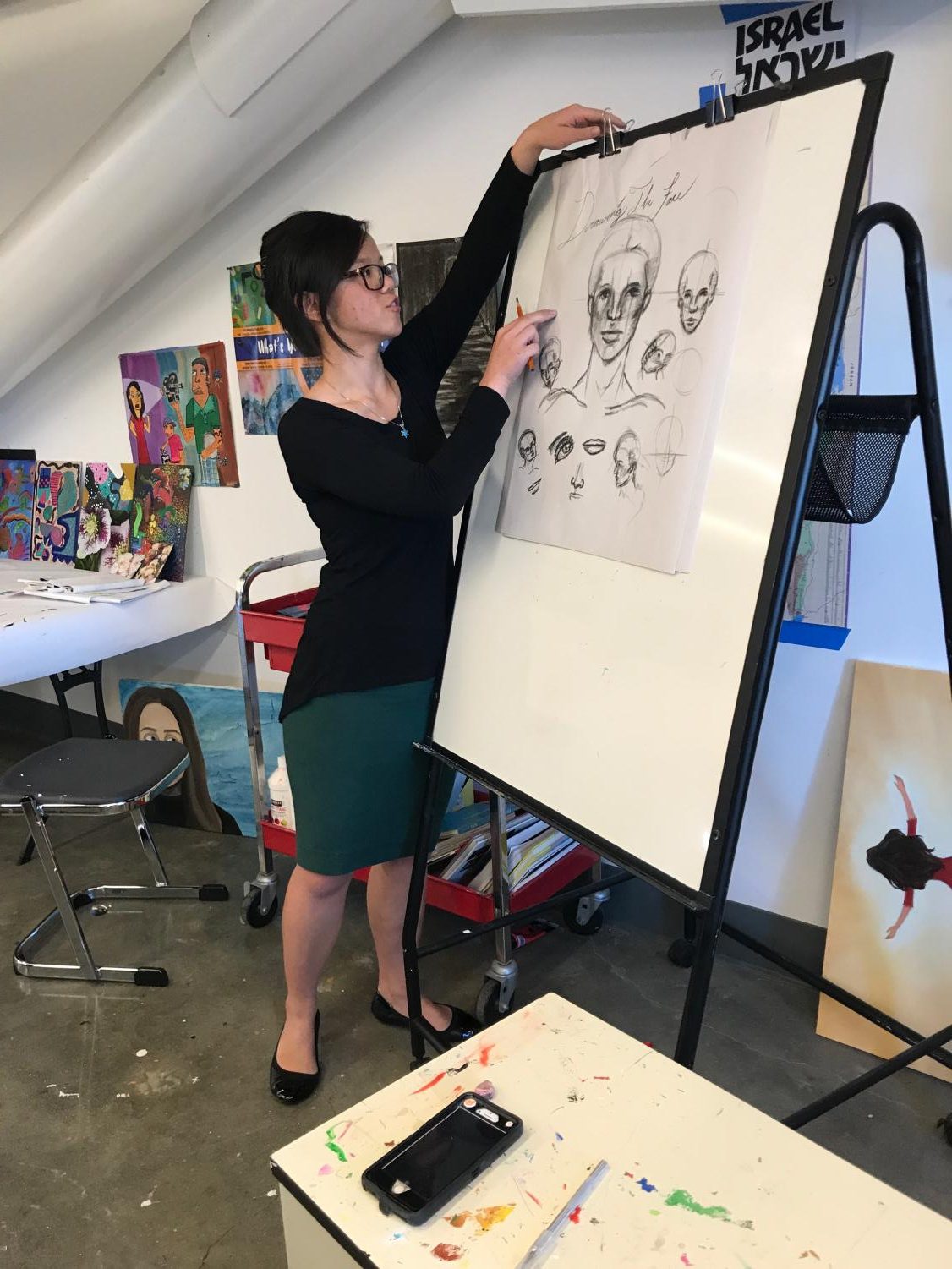 For Sydney, art is not a pursuit she keeps to herself. After enriching her abilities with classes on drawing the face, she was inspired to share her new skills with others.
Her own face beamed as she described her first experience teaching.  She liked all of it — not just the eager students.
"The reason why I love teaching and dealing with other people is that some students listen and some don't," said Sydney.
"The people who do take it very seriously, seeing what they make and what they create — It gives you pride that I helped this person create this," she continued. "Whether or not they remember I taught the class, I remember what each person made, and how each one of them took what I said."
Sydney was helping her classmates even before Ms. Salem made it official. Seeing this in AP Art gave Roen the idea to have her work with the sophomores.
She's able to do it because underclassmen have art during her lunch period, thanks to the MAP schedule which schedules 9th- and 10th-grade required arts classes during the second half of upperclassmen's lunch.
"It was really cool to learn from one of our peers because it was interesting to see how skilled she was in art at such a young age," said sophomore Zach Helfand.
Fellow sophomore Maia Lefferman said it was inspiring.
"Learning from a student made the environment more free, where we asked more questions and paid more attention," said sophomore Maia Lefferman. "She was enthusiastic and dedicated to her role."
Ms. Salem isn't surprised at this reaction.
"Sydney doesn't critique the kids," said Ms. Salem. "She doesn't walk around as an adult or a graduate student would do. She just teaches at a whiteboard or on newsprint paper, showing proportions, explaining how it should look and how it shouldn't look."
Sydney said her goal is not only for her students to improve their skills, but to learn to express themselves,
"I try to make sure to note that every kid has a different style," said Sydney. "And while it may not look exactly the same as mine, it doesn't mean they didn't listen or follow instructions.
"The kids who do listen always bring their own touch to their work. And come up with great pieces! I could probably tell whose sketch book is whose by what by their drawing looks like."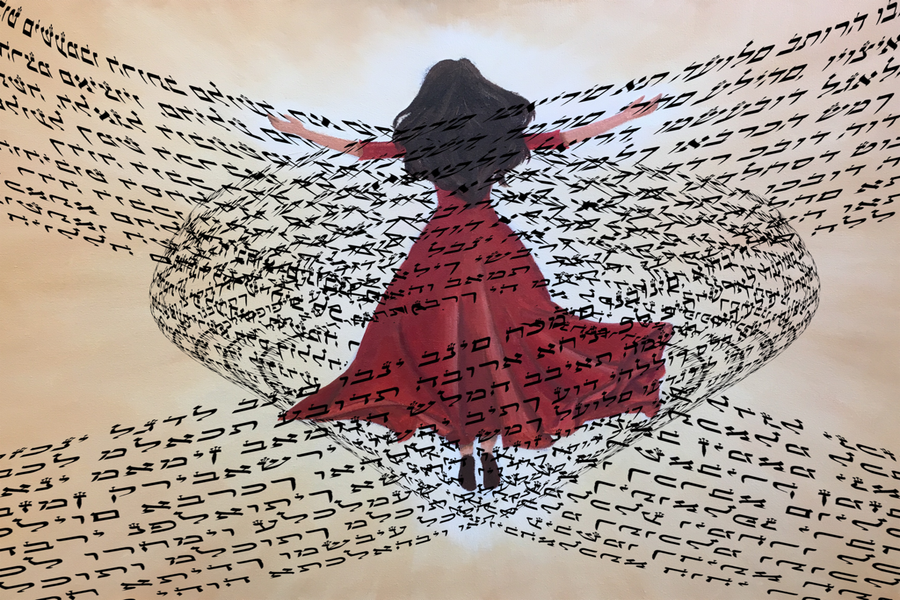 Sydney has been involved in art almost her entire life. Some of her intricate works can be seen in the art room. Many of her paintings portray beautiful female figures in ethereal landscapes. The light colors used in her paintings conveys a dreamy open-endedness. This poetic quality is one that would be expected of a professional artist.
For example, her painting titled Lifted depicts a female figure in a red dress hovering in the air, enveloped by an unwound scroll with the Hebrew words to Jewish songs such as "Acheinu" and "Hava Nagila," among others.
"It's inspired by the feeling of warmth and community that I get singing and dancing with everyone," said Sydney. "The idea originally came to me when I listened to the shofar being blown. When I heard it, I felt it and it filled the entire room with its strong sound.
"From there I recalled all the memories I had, and all the times Judaism and celebrating made me feel that way. It's something I haven't experienced in any other community."
Sydney also enjoys working with fashion, design and animation. She has used animation for class project, and sometimes helps her friends who are less artistically inclined.
"A lot of people in my grade ask me for favors like the donut flyer and design in general," said Sydney.
Right now Sydney is taking a break from teaching to work on applications to art schools. She hopes to resume working in the classroom after all her applications are submitted.
Ms. Salem is confident she will succeed as an artist.
"She's serious," said Ms. Salem said. "In the beginning when I first met her she was in to her own feelings," said Roen. "And now she's really accepting advice on how to enhance her work with more freedom."