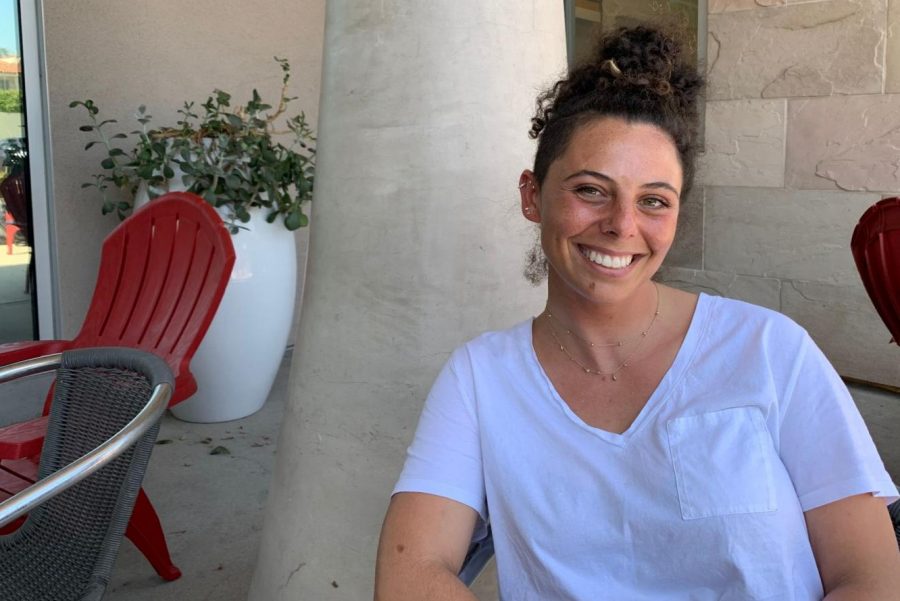 New art teacher wants to change your view of making art
Meirav Finn, an experienced artist and an L.A. native, has joined the Art and Performing Arts department as the third art teacher at Shalhevet, alongside Roen Salem and Samantha Garelick. She is teaching 9th-graders Visual Art and has a 10th-grade advisory group.
Ms. Finn grew up and still lives in Beverlywood, like many of her students. She went to Yavneh Hebrew Academy for elementary school and YULA Girls High School, although her sisters, current senior Danielle Finn and alumni Kaili '14 and Sarina '18, chose Shalhevet. 
She then attended the University of Maryland and studied Fine Art and Graphic Design. 
In her new position, Ms. Finn wants to change the way students think about art. 
"I'm looking forward to breaking people's idea of what art is, and kind of opening it up to more than just painting and sculpture," Ms. Finn said. "And really try to show the therapeutic side of art, and also the academic aspects of art and how important the arts are today." 
Art, she says, is not about perfection.
"Even if you think you can't draw a straight line — neither can I," she said. "That's not what art is about at all. I love to let loose in class and really get all your stress out from other classes."
In fact, she said, some mistakes can become part of the final product.
"For example if you start drawing, right? And you see a lot of pencil marks underneath your drawing and a lot of like layers of that, you can find meaning in that," Ms. Finn said. "Maybe the pencil marks are the path."
Ms. Finn discovered her love for art at a young age. In an interview, she said it all began when she participated in the Mission Renaissance art program at around age 11. The art class was three hours long, with classical music playing in the background. She said looking back, she is impressed at how she was able to enjoy such a complex class as a child. 
From there, she was further inspired by her high school art teacher at YULA,  who encouraged her to go to art school. But she decided to go to the University of Maryland instead and feels she benefited greatly from the decision. Because the art department was so small, Ms. Finn received individualized attention and constantly worked on improving her skills. 
"I want to bring more art that is conceptual, so focusing first on what you're trying to say and then using any tools or any materials that you want to bring that idea forward in an impactful way," she said.
Covid changed Ms. Finn's life as it did everyone else's, but it didn't stop her art. She turned her garage space into an art room. In her backyard, she still holds after-school art classes for younger kids.
Meanwhile, outside of art, she took up surfing, which she only started a month ago.  Now, she said, she heads out to the waves almost every day.