Little Women
February 12, 2020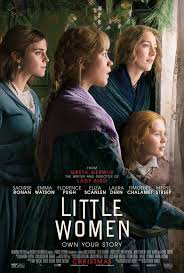 Hollywood's most recent remake of Luisa May Alcott's Little Women, directed by Greta Gerwig, makes a unique statement about feminism.
Based on the 1868 novel, the movie focuses on four sisters in post Civil-War America as they struggle with familial relations, romance, adult life, and pressure to get married. Jo, played by Saoirse Ronan, the second-to-oldest sister and dynamic main character of the movie, is a talented writer who doesn't care for societal norms. Her experiences and attitude towards marriage support the modern notion that women don't need to get married to live successful lives, but the film stresses something else as well.
The other three sisters each seek different paths in life; Meg, played by Emma Watson, has a family, Amy, played by Florence Pugh, focuses on her art and marries at the end, and Beth, played by Eliza Scanlen, devotes her time to music.
Considering the recent women's marches and the #MeToo movement, the movie is timely, but rather than directing women toward one empowering path, it insists that there isn't one "right" direction for women, and different life choices are valid.
Although Little Women is a top candidate for best picture, Greta Gerwig was not nominated for best director. The film may have been based on a classic, but Gerwig's adapted version included changes such as focusing more on Jo's passion for writing than her relationship with the professor, and having flashbacks from the sisters childhood rather than telling the story linearly, which made the movie what it was.
— Molly Litvak, Community Editor