Bohemian Rhapsody
February 24, 2019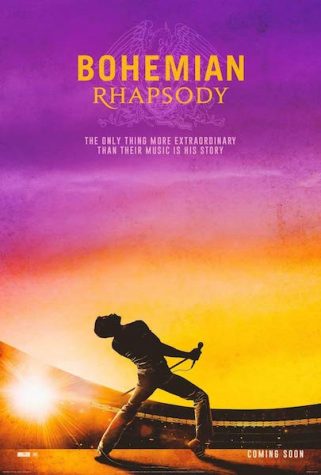 The legacy Freddie Mercury, played by Rami Malek, left on the world is illuminated in Bohemian Rhapsody, a film that will make you laugh, cry, sing along and understand the world of Rock and Roll like no other.
The biopic covers the band's early days up until their historic and memorable Live Aid performance.
Malek outdid himself in embodying Freddie's theatrical and showman-like nature onstage. His flamboyant dance moves and playful quips to the crowd make the two seem indistinguishable.
Although many know Freddie Mercury for his extravagant persona and extroverted character, Bohemian Rhapsody lets the audience in on a more vulnerable and relatable version of the singer. Freddie deals with substance abuse, struggles with his sexuality and has troubled romantic relationships.
The film ends with Queen's 1985 "Live Aid" concert, which uses real recordings so the true talent of the band can be thoroughly enjoyed.
I wholeheartedly recommend Bohemian Rhapsody not only to fans who wish to see a behind- the-scenes story of Queen, but to anyone who is looking for a movie that intertwines romance with sorrow, comedy with drama, and exceptional music with skilled actors.
–Molly Litvak, Outside News Editor