Girls-only course covers Torah view of modesty and intimacy
May 15, 2018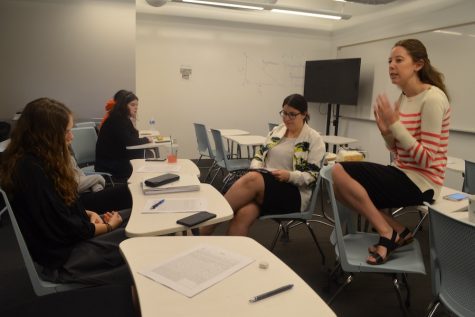 The Girls' Lounge mini-mester, as the title might suggest, is the only all-female mini-mester, offered to seniors during their last two months of high school. Led by Judaic Studies faculty Ms. Ilana Wilner and Rabba Ramie Smith, the one-month course delves into halacha that apply primarily to women — tzniut, or modesty; shomer negiyah, laws about physical contact between unmarried women and men; and the laws of niddah and the mikvah, which address marital intimacy.
Most of the senior girls came into the class with a vague understanding of these concepts. But many said they left feeling empowered by their new knowledge on topics which apply to them.
"I liked how it was discussion based and we talk about how this stuff affects our modern lives," said senior Tali Schlacht, who took the course dur first rotation. "It's not just 'this is the halacha and that's what it is.'"
Tali said the unit on modesty made her realize tzniut is not about being silent.
"That empowered me a lot because that happens to me all the time," she said. "Sometimes I think I'll just be humble and not say anything, but now I realize adding my thoguht to a class discussion can add value."
Judaics Studies teacher Ms. Wilner created the curriculum. She said she thinks there is a gap in Talmud curricula for women's halacha.
She said, "how can we balance putting ourselves out there with being Tznuah and caring about Halacha?"