Zoom assembly sparks daylong outpouring of family stories, inspiration for Yom Hashoah
Students and teachers post photos of relatives and heirlooms with explanations of their meaning
[TO VIEW ALL ARTIFACTS PICTURED ABOVE, CLICK HERE.]
What seemed like a limitation ended up being a new way to connect to Jewish roots Tuesday as pictures of books, diaries, ritual objects, jewelry and other heirlooms poured onto the Student Activities page on Schoology in commemoration of Yom Hashoah.
In past years the day has been observed with a schoolwide assembly in the gym, culminating in a candle lighting ceremony that honors victims of the extermination camps in Europe. This time, a virtual event tried to strike the same chords via Schoology and Zoom.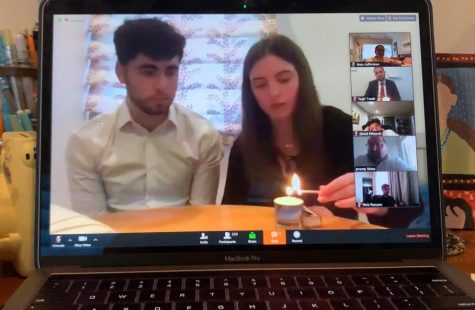 It began with a solemn presentation over Zoom, where about 235 students, teachers, parents and alumni heard Holocaust survivor Dr. Jack Wetter tell of his experiences during and after the war, in Belgium.
Then, personal stories invited by the assembly's organizers were presented, first in the virtual assembly and then online, where they picked up steam over the course of the day. The last post, at 10:49 p.m., brought the total to 40.
At 3:33 p.m., sophomore Emily Klausner posted a photo of her great-great-grandmother's candlesticks that she took with her when fleeing Poland. The candlesticks, she wrote, had survived two World Wars and "traveled across the world and back."
"These candlesticks remind me and my family to stay hopeful even when times get tough," Emily wrote in Student Activities. "No matter how hard the situation is to overcome, we will always be reminded of Sara and her silver candlesticks."
Artifacts posted ranged from a set of silver cups from Lithuania and a locket from Iran to a scrapbook of photos from Michigan. There were also many photos of ancestors, some who had perished in the concentration camps, and there were immigration papers and other family records.
At 8:57 p.m. senior Evan Rubel posted a photo of a book written by his great-grandfather.
"After his bar mitzvah, our great-grandfather Yehoshua Heschel Brook left his town of Kelme, Lithuania, to study in the Yeshivas of Telz, Slabodka, and – eventually – Hebron," wrote Evan.
"After surviving the Hebron Riots in 1929, he alone immigrated to South Africa, a faraway land. Being on the other side of the world, he was spared from the Nazis; however, his town and extended family were not as fortunate. This is a picture of a sefer that he wrote and eventually published in Johannesburg, South Africa. Reading his words inspired me to dig deeper into my family's history and start compiling a family tree."
Jewish History and Israel Education teacher Mr. Jeremy Shine, who co-organized the event, said it didn't matter that not all the artifacts posted were related to the Holocaust.
"It was beautiful what people brought," said Mr. Shine. "It highlighted how important family is, and remembering family and being connected to family. And I do believe that, in a way, really honored survivors and their memory."
"
It was beautiful what people brought. It highlighted how important family is, and remembering family and being connected to family. And I do believe that, in a way, really honored survivors and their memory.
— Mr. Jeremy Shine, Israel Education teacher
A day earlier, Mr. Shine had used Schoology to ask students and faculty to post a picture of something important to their family history on the Student Activities page. He said it did not need to pertain to the Holocaust.
"I wanted it to be something inclusive," said Mr. Shine. "I didn't want anyone who felt that they had no connection to the Shoah would then have nothing that they could contribute."
Yom Hashoah commemorates the six million Jews who were killed in the Holocaust. It is held on the 27th of Nisan, which this year fell on April 21.
It was planned by Mr. Shine, Director of Student Activities & Judaic Studies Ms. Ilana Wilner and Rabbi Yagil Tsaidi. Together they chose family and memory as the day's theme.
About 230 students and staff attended, according to the Zoom screen.
Mr. Shine, who led the program on Zoom, had asked the Museum of Tolerance to suggest a survivor who could speak at the event. Officials introduced him to Dr. Wetter, who serves as a guest speaker there and gave a Powerpoint presentation of family documents and Holocaust-era photos.
Dr. Wetter is a retired UCLA professor and clinical psychologist. He recounted his experiences as a child born in hiding in Brussels, Belgium, in 1943. After he spoke, Mr. Shine moderated a period of student and faculty questions.
"He was very suited to our theme, so there wasn't even a discussion," said Mr. Shine. "He was immediately introduced to me and it was wonderful."
Mr. Shine said it was important to hear survivors' in-person accounts.
"One of the key things today that you're not going to get in the future is how they feel about things," said Mr Shine.
"You can always get the facts or the narrative that they have to share when they are recorded for the Shoah Foundation, or from other opportunities to record their story," he said, "But to be able to explore further into their narrative, that's an opportunity we're not going to have later on."
Toward the end of the event, Rabbi Ari Schwarzberg, five students and alumna Abbi Sentchuk '19 each lit candles — something which had been done at Yom HaShoah assemblies in years past at a table in the front of the gym. After lighting on Zoom camera, each shared family artifacts and stories.
When it was over, people were invited to post their artifacts in the Student Activities group on Schoology, spread out over the course of the afternoon in staggered time blocks by last name.

But to the surprise of many, the posting continued well into the evening, with 40 community members posting in all — 11 teachers and 29 students.
"
My family is my everything, and that picture reminds me of the people who I will always love even though they're not here with me anymore.
— Rebecca Cohen, junior
At 1:15 p.m. junior Rebecca Cohen posted a photo of her family sitting with her great-grandmother from Poland, who survived the Holocaust.
"I posted it because I'm really proud of where I come from," said Rebecca in an interview after the event. "My family is my everything, and that picture reminds me of the people who I will always love even though they're not here with me anymore."
The final item was posted by Mr. Tushar Dwivedi at 10:39 p.m.
"Over these past two months I have found myself getting nostalgic by even the smallest things I find in my home," said Mr. Dwivedi in an interview after the event. "A souvenir from a trip or even a restaurant receipt from a couple months ago strikes differently now.
"This all has gotten me thinking lately about the role artifacts and heirlooms play with memory, particularly those which hold no monetary value but offer a glimpse into everyday life."
Staff writer Benjamin Gamson and Assistant Web Editor Eli Weiss contributed to this story. Page design by Eli Weiss.

This story was also published on Best of SNO.
[ps2id id='artifacts' target="/]
Below are all 40 submissions in the order in which they were posted, used with permission. Click on a photo to see whose it is and read the Schoology post.