Town Hall mostly defends Justice Kavanaugh as conversation stays civil
October 22, 2018
A recent Town Hall discussing the confirmation of Judge Brett Kavanaugh to the Supreme Court turned out to be a serious and dignified conversation, and the contentious debate that some expected failed to materialize since most speakers took Kavanaugh's side.
Announced several days ahead of time, the Oct. 17 discussion had spurred considerable buzz around school, coming less than two weeks after his politically divisive confirmation Oct. 6 by a 50-48 vote in the Senate.
That vote came after several weeks of hearings, culminating in a week-long FBI investigation into allegations that he had attempted to sexually assault a fellow student, Dr. Christine Blasey Ford, while they were in high school about 36 years ago. His confirmation hearings were marked by bitterness and even shouting by pro-Kavanaugh Republicans in the committee room and by anti-Kavanaugh demonstrators in Senate gallery.
Justice Kavanaugh's supporters at Town Hall said there was not enough evidence to derail his confirmation. They noted that no witnesses came forward who had seen the sexual assault that Dr. Ford alleged, although the nominee did admit he may have attended parties where heavy drinking and that kind of behavior may have taken took place.
"It's just one word against another," said sophomore Kate Orlanski, who said she did not believe Dr. Ford's testimony was sufficient to prove that an encounter between them had taken place.
Kate also spoke against the idea that a woman making such an allegation should be believed just because she's a woman.
"In America, we don't believe people based on who they are," she said. "We don't believe only women or only men. We believe based on evidence.
---
"The character and dignity required to be a Supreme Court justice is so above any accusation like this.
— Evan Rubel, 11th grade

---
Like Kate, a large majority of speakers who spoke at Town Hall said they supported Kavanaugh's confirmation. Others speakers cited Dr. Ford's accusation — and her believability at the hearing, in their view — as adequate to prevent Kavanaugh's confirmation on moral grounds.
Sophomore Molly Litvak said that although no one can prove definitively whether the allegations were true, Dr. Ford could have been motivated to lie by ideological opposition to Justice Kavanaugh.
"A bunch of people who were against him already didn't want him on the Supreme Court," Molly said.
Conversely, freshman Barbara Seruya said that she didn't think Dr. Ford would lie about her allegations since she believed it would mean jeopardizing her career and family's name in the process."Why would somebody lie about something this big?" Barbara said.
Anticipating a divisive conversation, planners of the event spoke both on Schoology and at Town Hall about the need to be respectful of others' opinions. History and government teacher Mr. William Reusch gave a brief introduction at the beginning of Town Hall to frame how the rest should go.
Mr. Reusch said the Town Hall shouldn't be used as a competition, but rather to hear other perspectives.
"This isn't a debate," Mr. Reusch said. "This is an opportunity to grow and understand this specific event better."
He also said that this Town Hall could be used a model for future Town Halls on contentious issues.
"We are a community trying to understand the world in a more profound way," Mr. Reusch said. "…If we are successful in growing our own understanding, we can follow a similar path in any and all contentious issues."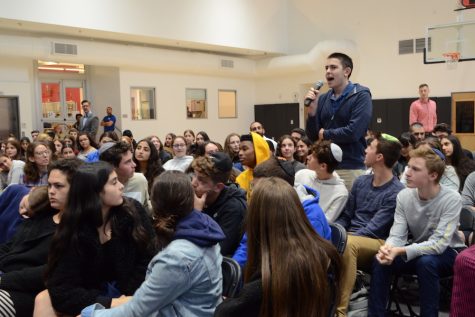 But once Town Hall started, it wasn't clear why the topic was deemed so contentious. Many speakers seemed to share similar views with one another.
Following Mr. Reusch's speech, a four-minute video produced by juniors David Edwards and Jacob Lefkowitz Brooks was played to provide facts about the Kavanaugh confirmation. But the video didn't give a full picture, omitting Dr. Ford's assertion that the future judge had been drunk at the time, and his admission that he drank while in high school.
After the video the floor was opened up for comments.
The first person called upon by Agenda Chair Talia Gill was senior Ari Reder. He said that although he found Dr. Ford's testimony very compelling, more evidence was needed to prevent Judge Kavanaugh's ascent to the high court.
"An accusation isn't enough to restrict what someone can or can't do," Ari said.
Sophomore Noa Silberstein said the confirmation process had been so divisive due a lack of "concrete evidence."
"No matter what political side you're on, we can never know whether or not [Kavanaugh] did that," Noa said.
Junior Noah Hertzberg pointed to "missing pieces" in Dr. Ford's accounts of the sexual assault, which he said hurt her credibility. He noted that she didn't remember how she'd gotten home from the event that night, for example, or during what year it had occurred.
"There are so many gaps, it's hard to assume that what she is saying is correct," Noah said.
Other students believed that Dr. Ford's allegation was enough to morally disqualify Kavanaugh from becoming a Supreme Court justice — one of only nine people out of the estimated U.S. population of 330 million. Junior Evan Rubel said a Supreme Court nominees should be held to a much higher than normal standard.
"The character and dignity required to be a Supreme Court justice is so above any accusation like this," said Evan, who said that made Kavanaugh unfit for the position.
---
"An accusation isn't enough to restrict what someone can or can't do.
— Ari Reder, 12th grade

---
Speakers who outright expressed their support of Kavanaugh's confirmation outnumbered those who were against it by an almost two-to-one ratio.
But most of the people who spoke in Dr. Ford's favor were faculty and staff members. English teacher Ms. Naamit Nagel suggested that Dr. Ford was unable to recall certain details of the encounter due to its having been traumatic.
"When somebody experiences trauma, parts of the brain actually do shut down," Ms. Nagel said. She said she vividly remembered a time when her daughter fell down the stairs, but that her account of other events that day would be inaccurate.
Dean of Academic Affairs Ms. Aviva Walls said the nature of sexual assault cases makes them difficult to prove.
"It's very hard to prove sexual assault, because there are usually just two people in the room," Ms. Walls said.
But, she said, by comparing the Kavanaugh case to a job interview — and not a criminal trial– an allegation could have been enough to undermine Kavanaugh's confirmation.
"Whether or not he gets that job interview can be based on a credible accusation, rather than proof, that anything actually particularly happened," Ms. Walls said.
When the discussion was over, Agenda Chair Talia Gill posted a survey on Schoology as an outlet for students who didn't speak at Town Hall or those who "feared repercussions" if they did.
According to Agenda Vice Chair Maya Tochner, this week's topic will be how to have respectful and productive political conversations with others.