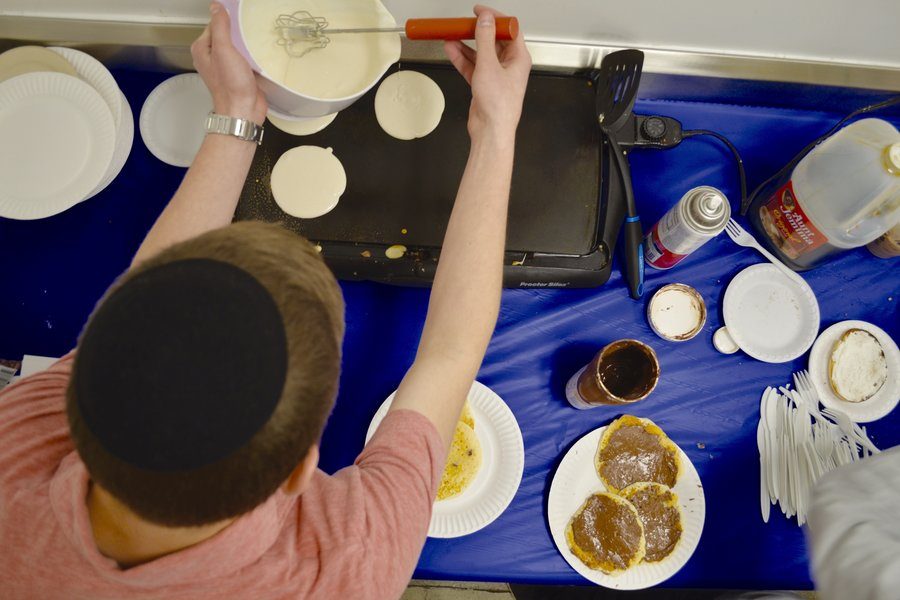 Crispy or with syrup, breakfast to order is delivered by friends
Student businesses earn hundreds of dollars per week - some for profit and some for team - running plates of bagels and pancakes to morning classrooms.
April 1, 2017
Every morning just after 9 a.m., students shuffle downstairs to the cafeteria for Hashkama break and are enveloped by the scent of pancakes being flipped on a griddle and bagels being toasted – all being prepared by students like themselves.
The pancake business is run by seniors Ben Harel and Ephraim Drucker, who thought breakfast options needed a little spicing up last year and started making pancakes on electronic hotplates in the kitchen.
They charge $3 for three made-to-order pancakes on a white paper plate, with free delivery to classes that meet at breakfast.
Selling bagels to support the basketball team continued a multi-year tradition, this year managed by co-captain Eitan Halpert, who was helped especially by junior Ben Mashiach and sophomore Zack Muller.
"Our main form of advertisement is standing by the entrance of the cafeteria selling the bagels, so we are the first thing that catches their eye," said Zack.
The price is $3, with no extra charge for delivery, cream cheese or toasting for extra crispness in the morning.
When the basketball season ended after the recent Sarachek tournament, the bagel business was taken over by seniors raising money for their Poland-Israel trip.
Shalhevet's daily breakfast menu rotates among fruit, yogurt, granola, cereal and grilled cheese. These are free, and different items appear on different days of the week.
But students have made successful businesses by adding to it. The basketball team raised $2,000 for this year's Sarachek tournament, and Ben and Ephraim have been profiting about $300 per week selling pancakes, they said.
Even with free breakfast available, many students are happy to pay for a bagel or pancakes.
"They get you your order on time and if you have any problem or mistakes with your order, they will fix it for you," said sophomore Sam Navon. "I love these boys and all that they have done for me and the school, and for that we should thank them."
The frenetic morning rush up and down the foyer stairs requires Ben and Ephraim to keep close track of each student's order and delivery location.
Pancake customers can choose from an array of toppings, including Nutella, chocolate chips, strawberries, maple syrup, caramel syrup and sometimes blueberries, and people feel strongly about what they order.
Ephraim and Ben are known for their extreme attentiveness and determination. They are common sights running to and from classrooms holding onto white paper plates.
"They do a really good job at making sure everyone orders and gets what they want," said sophomore Kira Faerstein.
However, the two businesses' modes of operation are different.
Ephraim used to work for alumni Eric Bazak and Kian Marghzar, who graduated last year after introducing waffles as a breakfast staple.
"We wanted to make our business more efficient," said Ephraim. "I barely made five dollars a week working for the waffle business."
After getting a green light from then-Executive Director Robyn Lewis, the pair got to work. They decided they would invest $80 to buy products, utensils, toppings and certified OU dairy pancake mix.
"The first thing we bought was a $20 griddle from Target, " Ephraim said.
Then they bought a spatula, whisk, and bowl. Pancake mix and other toppings are restocked every week or so for about $25.
In all, the pair spends 50 to 60 cents for three plain pancakes, and up to about 75 cents for the more elaborate ones.
"The beauty of this model is that we don't need a certain amount of sales to break even," said Ephraim.
They also have no risk of leftovers.
"We only make what we sell," Ephraim said.
On the other hand, the bagel business has been done for years and is now a staple of Shalhevet breakfast, organized by the team's leadership and involving most of the players in one way or another.
Usually it's sophomore Zack Muller who sprints from class to class, making sure bagels are delivered on time and while they are still piping hot from the toaster.
The business offers cinnamon-sugar bagels in addition to plain.
"That sells out almost right away," said Zack.
The bagels are bought in advance, about two to three dozen a day.
"Once we sell out, that's it," Zack said.
He said they make $200 – $300 a week, depending on how many they sell. But sometimes they lose money. Buying bagels each morning necessarily means that the business is risking loss if they buy too many or too few.
Also, both pancakes and bagels can be bought with IOU's. Students who don't have cash sign a piece of paper to pay at a later date. The system is not perfect but seems worth the risk.
w"We do this because it allows students who don't always have money on them to pay us back," said Ephraim Drucker. "Unfortunately, [last year], a few seniors have left the school without paying us back. We even tried to Facebook message them, but they never really paid us back."
Last year they lost about $40 worth of income, he said.
The boys said some students sign their name on the IOU sheet and then forget about it, or pretend to. Ephraim said they handle this problem carefully.
"Four weeks later we'll post the names of those who owe us on Schoology and they'll refuse to pay us back" said Ephraim. "They genuinely think they don't owe us, and by the end of the month they'll mostly pay us back, but not always fully."
Zack Muller said that the bagel business has not had major problems with the IOU system. Very few have not paid them back, he said..
One thing the two businesses have in common is a need for good social and business skills.
"You have to be nice and handle people yelling at you all the time," Ben said.
Ephraim credited his business's success with Ben's likeability.
"Without Ben, I don't think the pancake business would be where it is today," said Ephraim. "Everyone loves Ben, like absolutely loves him."
Then there's the matter of organization.
"You need to be able to provide the correct incentive, because everyone wants something from you and you need to be able to deliver it to people as on time and efficiently as possible," said Ephraim. "That's a big part of it, having lists and staying organized."
Ephraim wants to pursue something in finance some day, while Ben hopes to enter a career involving the culinary arts.