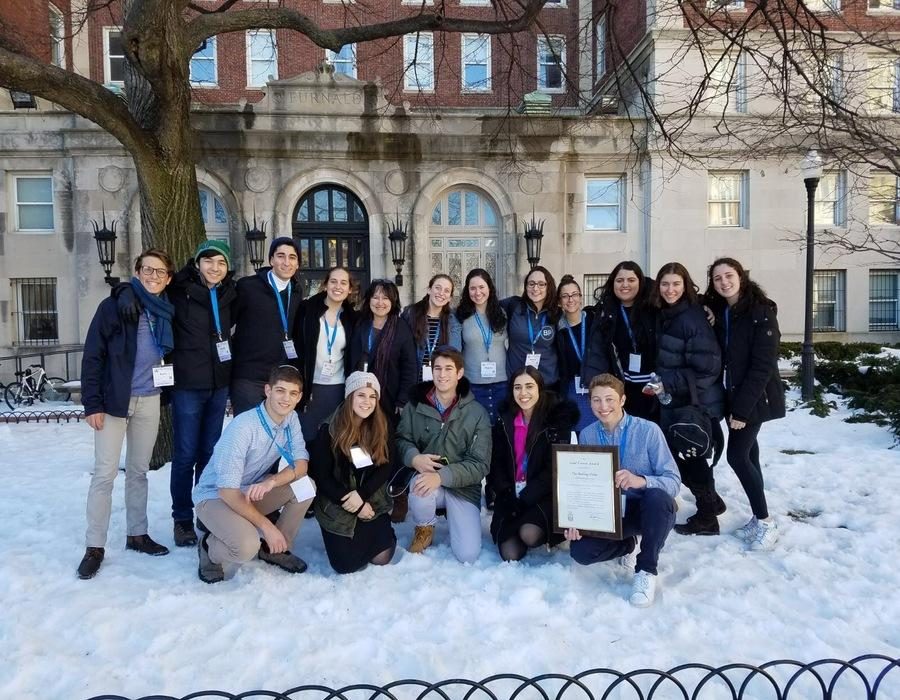 BP Photo by Rabbi David Stein
Fifth consecutive CSPA Gold Crown for the Boiling Point
The Boiling Point won its fifth consecutive Gold Crown award from the Columbia Scholastic Press Association March 17, at the close of the organization's 93rd annual spring convention in New York.
Once again, it won in the hybrid news category, which recognizes high school news sources that publish both online and in print.
"Reading your newspaper is an enlightening experience," said an unnamed CSPA judge who critiqued the paper last summer. "One opens the paper and finds a 'moment,' because in every issue, there is so much rich verbal and visual content."
CSPA holds contests throughout the year, and the Boiling Point and its staff had previously won Gold Circle awards this year for work by individuals, as well as a Gold Medal with All-Columbian Honors in critique judging of the print paper last year.
"Crown Awards are the highest recognition given by the CSPA to a student print or digital medium for overall excellence," stated a press release CSPA.
Sixteen BP editors flew east for the three-day conference, which was held at Columbia University during spring break there, and received the Crown — actually a large wooden plaque, three others of which hang on the wall in the second-floor foyer near the staircase — at the close of the program.
There were 11 other winners in the hybrid category, including schools from Kentucky, Kansas and Texas, along with the Harvard-Westlake Chronicle from Studio City.
Gold and Silver Crown awards are also given to high school yearbooks, print-only newspapers, web-only news, magazines, broadcast news and literary magazines. There are also a few categories for middle schools.
According to the news release, this year 1,100 publications entered the competition for Crown awards.
Judges in the hybrid category considered last year's print newspaper — led by alumni Eric Bazak, Rose Lipner and Michelle Hirschhorn, '16 – and this year's website, led by senior Web Editor-in-Chief Jordan Levine.
"On the print side there's regular reporting and analysis of international news and its effect on the Jewish community, as well as relevant student in-depth stories," said this year's Crown announcement description, which was published March 22. "With the tagline 'When we know it you'll know it,' The Boiling Point home page is reader friendly as it invites readers in with multiple teasers."
Eric Bazak congratulated the editors of both school years.
"I wasn't that surprised, because I know how amazing The Boiling Point was last year and has been this year," said Eric, now a freshman at UCLA.
He said he hadn't thought much about the award while working on the paper.
"I don't think I felt pressured to win a Gold Crown award," said Eric. "That was never what we strove for in the Boiling Point. We just wanted to make high quality newspaper as good or better than previous years', and getting an award this year is just the consequence of that."
This year's staff went to the convention as they do annually, choosing from among 350 sessions on journalism-related topics over three days.
"The point was to learn more about journalism and different ideas that we could bring back to the Boiling Point," said Alec Fields, co-editor-in-chief this year with Ma'ayan Waldman.
"We learn from professionals in the journalism and media fields, which will allow us to grow the paper into something better than what it is now, which is already something great."
In between the sessions, the BP staff planned to enjoy the city, but a massive snowstorm impeded them. This was a shock to some on the trip.
"It was extremely cold, and at first I was really not used to it because last year there was no snow," said Community Editor Hannah Jannol. "But the lessons and discussions we were having were so great that I didn't even notice the cold."
They went mainly to restaurants, shul or stayed in the hotel. For Shabbat they were joined by Judaic Studies teacher Rabbi David Stein.
Alec said the awards ceremony was suspenseful. Several hundred students – all finalists – were gathered in Columbia's Roone Arledge Auditorium to learn who would win silver and who would win gold. Publications were named in alphabetical order (the Boiling Point was with the "t's") and then told what they'd won.
"When you're waiting there it can be a little bit nerve wracking just because you see all these newspapers going before you and you're just thinking about what's going to happen for the Boiling Point," said Alec.
When they learned they'd won gold again, Alec led the group in a run up the auditorium's center aisle to get their picture taken with Edmund Sullivan, CSPA's president.
The Boiling Point's first Gold Crown was for work done in 2011-12, when the editor-in-chief was Leila Miller, now a student in Columbia University's Graduate School of Journalism.
Eric, Alec and co-editor-in-chief Maayan Waldman praised Boiling Point advisor Mrs. Joelle Keene for her contribution.
"There have been other editors-in-chief, many people who have come and gone who have definitely contributed to Boiling Point," said Eric. "But Mrs. Keene is our anchor, the person who saw the potential in every student and optimized it."
Fifth consecutive CSPA Gold Crown for the Boiling Point