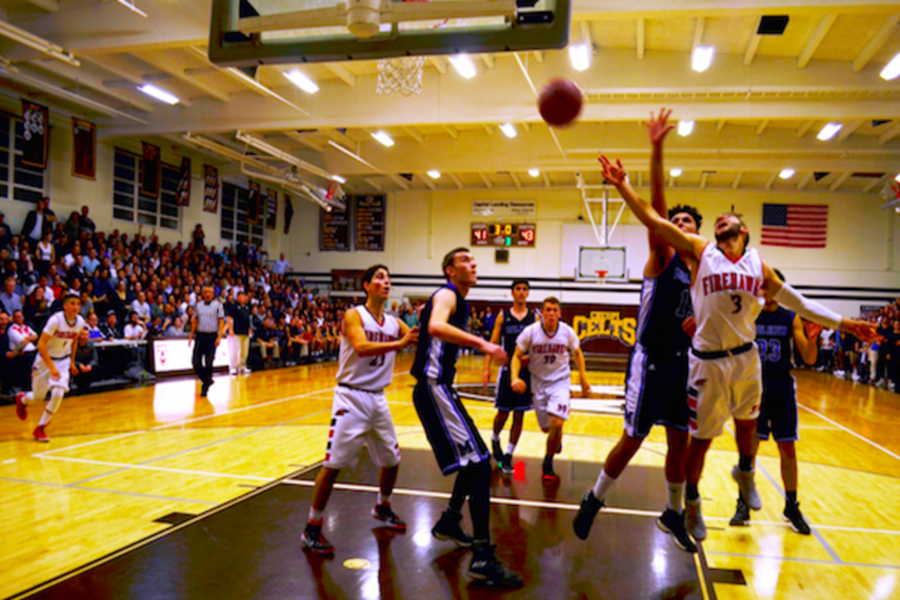 Close the whole game, Firehawks fall to Milken by two as historic victory slips just beyond their grasp
Thousand-seat gym in Encino is packed with fans as Wildcats stay slightly ahead most of the game; Shalhevet's Halpert is game's high scorer with 18 points.
March 3, 2017
Two points. That close to becoming first-time CIF division champions, at the first-ever championship game between two Jewish high schools, in front of an overflow crowd in a 1,000-seat gym.
Two points.
The Shalhevet Firehawks played a back-and-forth game against the Milken Wildcats March 1, leading by as many as four and trailing by as many as seven, in the contest for CIF Divison 4A, and came up just short, losing 54-52.
Both teams were constantly within striking distance of victory. Fans from both schools came out and fanatically cheered on their teams. The intensity of the game was felt by everyone, and the victor was not crowned until the buzzer went off.
Co-captain and senior Edon Sokol said the Firehawks weren't at the the top of their game.
"We didn't play our best," said the star point forward. "We put ourselves in that position. You can't play from behind in a championship game."
And it wasn't just a championship game. This was Milken vs. Shalhevet, a battle between crosstown rivals and friends. At the east end of the gym, the two schools' choirs sang the national anthems together, both American and Israeli.
Just two days before, Milken's head coach had joined a march to Shalhevet after a hate group picketed the school, and Shalhevet Head of School Rabbi Ari Segal delayed the start of the game with a shout-out to unity and a chant of Am Yisroel chai – the Jewish people live.
But it still hurt.
It would have been a historic win for the Firehawks, as they have recently jumped two levels in CIF, and it was incredible that they made it to the championship.
Additionally, they were probably favored to win, as they had won the Milken Classic tournament for the past three years straight, and this year defeated almost every team that Milken lost to.
When the game was over, the Firehawk players bent their heads toward the floor; a few knelt there as well. Many eyes were red as fans surrounded them and told them how well they'd done.  It didn't seem to help.
"I'm devastated, my heart breaks for our kids," said Firehawk Athletic Director and basketball coach Ryan Coleman.
He said the problem had been with rebounding.
"That was our number one key to winning tonight," Coach Coleman said after the game. "I'll have to watch the film and see how many second chance points [Milken] got, but it might've been half of their points tonight off of second chance."
"We had a great game plan — we just didn't execute tonight."
Milken players and staff were filled with joy after the win.  Senior and small forward Kian Zar said that he hadn't thought Milken would reach the CIF Championship in the first place.

"I didn't think we were going to get here honestly," said Kian. "I knew we were going to get league, I knew we hustled enough. But I never saw CIF as a real thing until winning league."

He also said the feeling of winning was heroic and storybook.

"It feels legendary," he said. "I feel like we're making history and so many people are going to look up to us. Everyone's going to want to be like us."

Wildcat head coach Michael Whiting said the Firehawks had been tough to beat. He called Eitan Halpert – Shalhevet's co-captain and the game's high scorer, with 18 points — and Edon, with seven, "great players," and said there were many plays that could have gone either way.

"We're fortunate we came out two points up tonight," Coach Whiting said.

"You don't stop great players, you try to slow 'em down," he said. "You know, both of them had pretty decent games, but we made them earn everything that they had. But they're great players, you don't stop 'em. Honestly, we just had two points more."

The championship game was held at Crespi Carmelite High School in Encino, an hour-plus drive in heavy traffic from Shalhevet, which nevertheless sent two busloads and countless private vehicles of fans to the 7 p.m. contest.

Before it started, the Choirhawks and Milken's Kol Echad sang The Star-Spangled Banner and Hatikvah.  After that, both crowds went wild.

BP Video by Alec Fields

BP Video by Alec Fields

On one side of the gym, the students of Milken Community Schools were going insane. They were wearing all black, matching the jerseys of their players. The student body was screaming chants such as "Let's Go Milken!" and "Let's Go Wildcats!"

Their numbers nearly doubled Shalhevet's – as does their enrollment – but the Firehawk crowd was still more than present.

Wearing white t-shirts provided by SAC, the Firehawk fans were ready to cheer. Chants such as "G'schmack [delicious] to be a Hawk" and "Let's go Firehawks, let's go!" were being yelled in anticipation.

Both teams were ready to play.

After gaining a quick 4-0 lead, the Firehawks quickly lost it and were down 10-6 as the first quarter wound down.

Edon Sokol brought them back with a three to end the quarter, and for the first of many times the Firehawks were within striking distance, down just 14-12 going into the second.

As the game progressed, it was still a tight matchup. Referees tagged Edon and Eitan with three fouls each and they did not play as many minutes as expected.

In the second quarter,  down 17-15, senior Sammy Ellenhorn found sophomore Zack Muller for a three in the corner to put the Firehawks up by one, 18-17. With 4.2 seconds left in the half, the teams were at a dead lock tie, 26-26.

What happened next was unexpected and truly out of the blue. As the clock wound down to zero, the Wildcats' junior forward Doron Matian hit a half-court shot that landed after the buzzer, and Milken went up 29-26 to end the half.

Milken fans went berserk, while Firehawk fans stood in silence, awe and disbelief.

Doron described the shot as wild and insane.

"Craziest shot I've ever made, in the biggest game I've ever played," Doron told the Boiling Point in an interview after the game.

The second half was more of the same, both sides steaming with intensity. With four minutes left to go in the third quarter, after a layup from Eitan Halpert the Firehawks and Wildcats were tied at 34 all.

The two teams traded the ball back and forth. Milken went ahead 38-35, as the minutes of the third quarter ticked away. Edon Sokol, Isaac Goor, and Zack Muller each hit a pair of free throws.

The Firehawks had been superb from the three-point line all night, and never more than then. First, Benny Zaghi hit a clutch shot to tie the game at 38 — after driving in the lane, Zack Muller found him in the corner. After the ball left Benny's hands, it was nothing but net.

Following a two-point shot by Milken, Eitan Halpert hit another three from the top of the key, to put the Firehawks up one, 41-40. Entering the fourth quarter, the teams were again in a standoff, 43-43.

This is when Milken starting pulling away. The Wildcats scored five quick points to start off the quarter, and with 5:20 left, Milken was up by seven. Shalhevet fans, still on their feet as they had been all night, now grew quiet.

Things weren't looking good for the Firehawks. However, when they were down by six, Zack Muller hit another key three-point shot. With 52 seconds left, the Firehawks were only down by three and anything seemed possible.

Following a shot by Milken, Edon missed a three-point shot. But junior Ben Mashiach was there at the basket, hit a key shot and brought the score to 54-52, with 19.5 seconds left on the clock.

After getting a quick stop, the Firehawks now had the ball with 17 seconds left.

Eitan Halpert caught a pass from Edon, faked out a defender and drove in the lane and through traffic.

He put up the layup, and it was just short.

After a quick foul from the Firehawks, Milken had a one-and-one opportunity at the free throw line. Milken missed, and the Firehawks had the ball with 2.1 seconds left.

It all came down to this. The last play of the CIF Championship.

Benny Zaghi threw a hail Mary pass to Eitan Halpert. Eitan took it, and took a three from half court.

The shot was just short, and the Milken Wildcats were CIF Divison 4A Champions.

Many players had outstanding games, including sophomore Zack Muller, who finished the game with 15 points. Eitan Halpert finished with 18 points, and Edon Sokol had 7 points.

For Milken, junior Amitai Afenjar finished the game with 17 points, and Idan Yohanan finished with eight.

The Firehawks went home and packed for New York, where they left this morning for the Red Sarachek Tournament at Yeshiva University. Edon said that the Firehawks are looking to bounce back at Sarachek from this loss.

"Friday's game is going to be I think the toughest game we've played all year to see how we bounce back," Edon said, "but I think we'll be up for the challenge and hopefully get the win."

Alec Fields and Clara Sandler interviewed Milken Head Coach Michael Whiting after the game:
Torah Editor Clara Sandler and Co-Editor-in-Chief Alec Fields contributed to this story.
This story won a Certificate of Merit in the Sports News category in the 2017 Gold Circle Awards of the Columbia Scholastic Press Association.