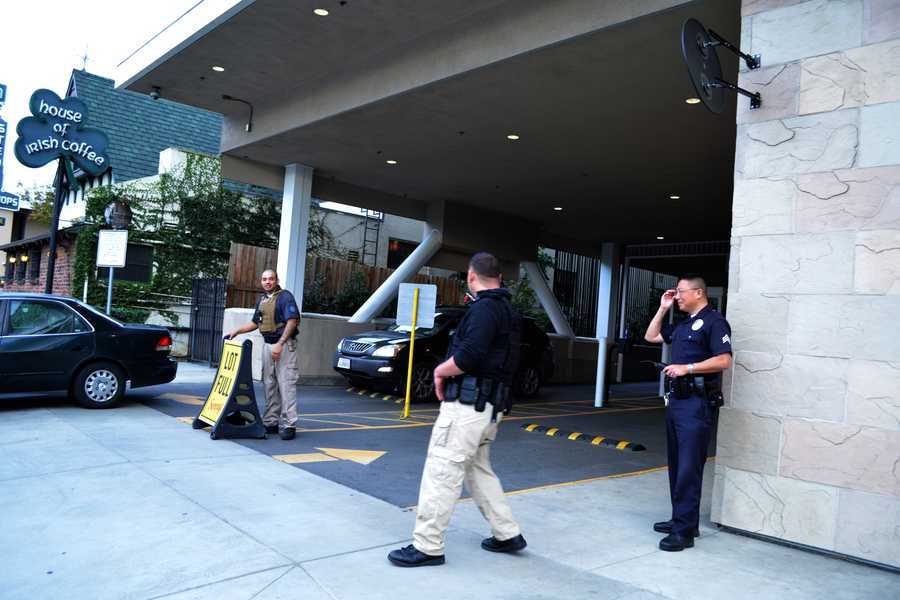 'Suspicious' phone call led to increased security during today's dismissal
Multiple police cars and officers waited outside school during today's dismissal after Shalhevet received a "suspicious call" at 2:48 this afternoon.
At least five officers could be seen standing outside of the Shalhevet driveway, reportedly checking cars as they came through the gate, until 5:13 p.m.
"We received a phone call to the main switchboard that was slightly suspicious today," said Executive Director Ms. Sarah Emerson. "We took it to our security firm, who thought that we should have police presence at dismissal today. Probably an overabundance of caution, but better to be safe than sorry."
The caller did not identify him or herself and was seeking information about the school, according to Ms. Emerson. They were also unable to discern the caller's intentions.
"There was no threat made in the phone call, but it was a slightly suspicious phone call," she said. "[I am] not sure [about the intent]. Someone was seeking information about the school."
The call was received by Stacey Enoch, the assistant to the director of admissions, who was acting as receptionist because Daniella Silva was sick. Ms. Enoch notified the on-sight security guard, who then called the head of LSI LLC, Shalhevet's security provider. The security group and local law enforcement then decided to send officers to the 4:30 dismissal.
Two police officers and a security guard standing outside of Shalhevet on the sidewalk declined to comment on the specifics of the matter when asked by Boiling Point reporters at about 4:45.
Neither students nor parents were notified of the call, but the officers and additional guards could be seen at carpool.
Junior Avi Weinreb saw one LAPD officer with a new security guard wearing a bullet-proof vest.
"When I saw them I was a little surprised because I didn't know why they were there," said Avi. "I thought maybe there was a possible threat, but there was heavy security so I thought we'd be ok."
Sophomore Josh Sarir's mom's car was searched when she went to pick him up. He recounted his mom's experience.
"The policeman and the security guard looked into the car and she said 'what's going on' and the policeman said, 'Nothing, everything's okay,'" said Josh. "The security guard was really quiet and then he said discreetly, 'The school got a call' and then he's like, 'Now you have to go into the school.'"
Today's call came in the wake of dozens of bomb threats to Jewish Community Centers across the country over the past few weeks.
On Jan. 18, 27 different Jewish institutions received threats while 16 JCCs received calls on Jan. 9 leading to several evacuations, according to USA Today.
The officers left at 5:13 p.m. M.s Emerson said officers may show up at school periodically throughout the year.
"We're working with local law enforcement to establish a strong relationship so they may show up from time to time," said Ms. Emerson. "Not necessarily just related to something. Today, it was related to something, but the goal is that they come by on their regular routes."