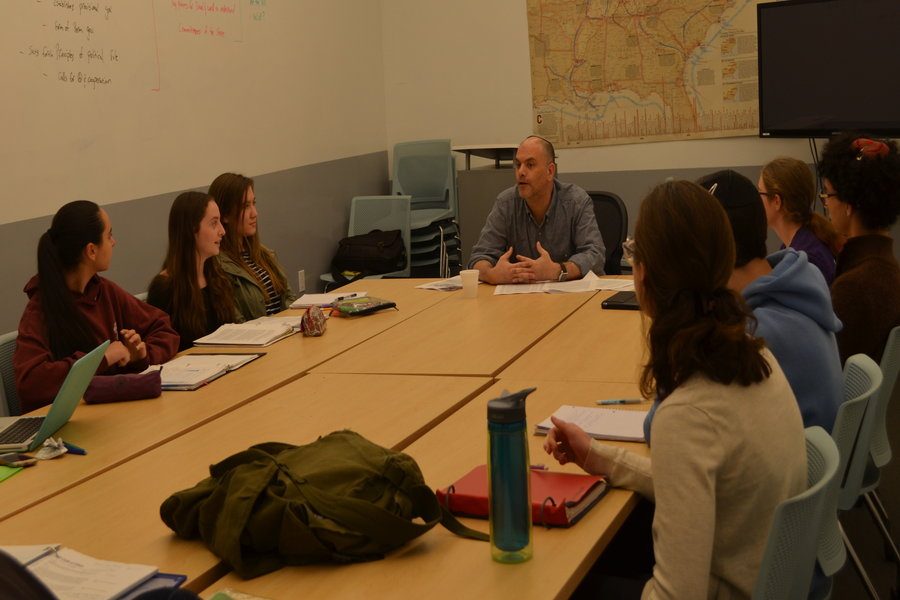 Feld leaving to become head of school in Seattle area
Will lead Northwest Yeshiva High School in Mercer Island, Wash.
Dean of Students Mr. Jason Feld has announced that he will leave Shalhevet next year to become Head of School at Northwest Yeshiva High School (NYHS) in Mercer Island, Wash., a suburb of Seattle.
Mr. Feld has been at Shalhevet for 10 years. He has acted as a teacher and administrator as well as advisor to the Agenda and Fairness Committees. In addition, Mr. Feld has pioneered Shalhevet's Israel education department.
Mr. Feld said that he's looking forward to this new experience, but is also sad to leave Shalhevet.
"It's a really great community," said Mr. Feld in an interview shortly after the announcement was made. "It's an exciting opportunity for myself and for my family, and I think that the time is right for me – professionally, personally. I'm looking forward to it.
"There's so many emotions running through my mind… I want everyone to know how really grateful I am to have had the amazing experience that I've had here. I'm going to miss Shalhevet a lot."
According to Wikipedia, NYHS currently enrolls 87 students in grades 9-12. Director of College Counseling Ms. Aviva Walls is an alumna of the school.
Mr. Feld is filling a vacancy there left by Rabbi Bernie Fox, who retired last year after leading the school for 31 years. Rabbi Ron-Ami Meyers has been serving as the interim Head of School and will continue to do so until Mr. Feld arrives, according to the NYHS website.
Shalhevet Head of School Rabbi Ari Segal sent an email this afternoon a little after 5 p.m. to announcing Mr. Feld's departure.
"Jason has truly become one of Shalhevet's great treasures," wrote Rabbi Segal in the email. "He came on 10 years ago and soon became a force for growth and innovation at Shalhevet. Since then he has developed a reputation for excellence within the school and well beyond it – especially in his groundbreaking work on Israel education."
Mr. Feld said that he wants to use what he has learned and taught at Shalhevet and implement it in a new environment.
"I'm most excited to work with a school to be able to bring some of the experiences that I've learned here to another community," said Mr. Feld.
"It's a little early for me to talk about curricular changes [at NYHS], but certainly our deep sense of Zionism and spirit and love for Israel is something worth cherishing. The Just Community broadly speaking, in terms of really listening to students and providing them with the opportunity to have a voice and a say, is something that is exciting to introduce."
Mr. Feld plans to begin his job at NYHS on July 1, 2017. According to a web post sent out by NYHS, Mr. Feld will be visiting Seattle monthly until he and his family move there in June.
"I hope that it won't have too significant of an impact on [my Shalhevet] classes," said Mr. Feld. "I don't have particular dates set yet. I think that's a major factor and they're aware of that. I'm at Shalhevet for the remainder of the year, but I'll need those opportunities to go and get acclimated and get to know their community."
Students said they would miss Mr. Feld, both as a teacher and as a member of the Just Community.
"Mr. Feld has been a huge part of my experience at Shalhevet," said junior Agenda Committee representative Rosie Wolkind. "Last year when I joined the Agenda Committee he was always a part of it. He really thinks in a different way and adds so much to the committee, and we notice it very, very much.
"I think that the school is definitely gonna be a different place without him and the Just Community is not gonna be anywhere near the same without him."
Students also appreciated his unique love for Israel.
"His passion and devotion to the land of Israel honestly inspired me so much," said senior Gaby Benelyahu. "I took his Political Theory class and it made me have a love for Israel. I don't think I would be going to Israel if it weren't for him, if it weren't for his class and the way he taught it.
"It made you feel like you had the deepest connection to the land. Just the way he talked about it and taught us about it, it just makes you love it more."