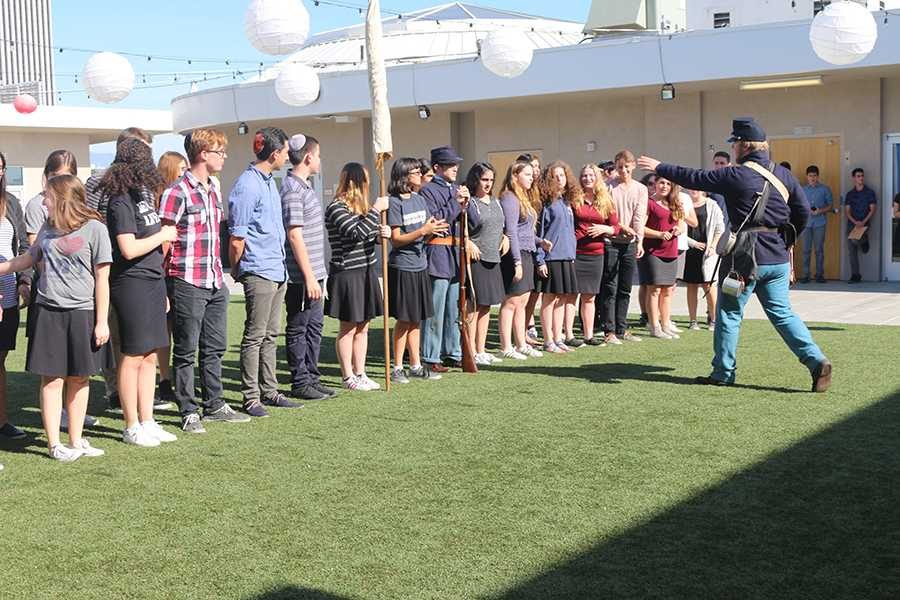 Live on the turf, the Civil War
December 8, 2016
With a South Carolina Civil War battle flag waving above them, rifles stowed on shoulders and intense drumming in the background, Shalhevet students marched in line across the rooftop turf at lunchtime Nov. 9.
Their leaders were "Captain" Larry Kelsey and his son, "Corporal" Weston Kelsey – Civil War reenactors who belong to a group dedicated to recreating a famous South Carolina unit known as the Hampton Legion.
From 1861 to 1865, the Hampton Legion fought for the Confederacy in most of the battles in the Eastern Theater of the Civil War.
The Kelseys were introduced as and spoke from their role-playing titles. Father and son in real life, they'd been invited by history teacher Dr. Keith Harris as part of his SAS Civil War class.  But outside on the roof, anyone was invited.
Since 1974, the legion's "Company G" has been one of the premiere living history organizations in Southern California, Dr. Harris said.
"These guys are so authentic and they do it exactly right," Dr. Harris said, "and I think the kids have a better appreciation of what a Civil War soldier would have had to endure on a daily basis."
According to Wikipedia, there were about 30,000 active re-enactors in the U.S. as of 2011.  That was down from a peak of 50,000 a decade earlier.  
To begin their presentation, the Kelseys and Mr. Harris marched onto the rooftop turf to a surprised audience of students eating lunch.

Acting in character, Mr. Kelsey began by explaining his and Weston's uniforms.

He showed the students everything a soldier had to carry on his back: rifles with bayonets, pistols, swords, bedding, toothbrush, pocket knife used for cutlery, ration bags, blanket, tents, tallow candles, sewing kit and every small utility that a soldier would need.

He explained things in colorful detail. A soldier carried his toothbrush in his hat and used it to clean both his teeth and his dishes. The bayonet has a triangular shape to make it easier to pull out of the enemy's bodies and cause maximum damage.  The Civil War was known for being particularly bloody, with gruesome wounds and no real medicine to treat them.  
After the explanation was finished, the re-enactors and Mr. Harris slipped away.

Then, after a brief wait, they suddenly reappeared marching towards the crowd. With them were Adam Ritz and Judaic Studies teacher Rabbi David Block dressed in Civil War costumes.
"Looks like we captured a prisoner boy," Dr. Harris said, as the students let out a laugh.

The student observers were then directed to line up across the lawn with Adam and Rabbi Block at the head. Nomi Willis stood at the center holding the company flag high in the air.

They were then instructed to march around the lawn, beads of sweat rolling down their faces as they realized that the soldiers had to do this for days at a time.

After this was completed, Mr. Kelsey answered question from the students.

"Can you show us the rebel yell?" junior Daniel Lorell asked with a smile of anticipation on his face.

The re-enactors swiftly picked up their guns and let out a loud shrill, sounding like a wounded animal.
"They take great pride in the authenticity of every detail of their presentation," said Dr. Harris. "From clothing, to weaponry, even to their food. They devote a great deal of time researching and improving their presentation."
SAS Civil War students said they had learned a lot.
"In class when we talk about people, we learn about their accomplishments and the decisions they made in battle," said senior Ezra Hess. "The reenactment, on the other hand, gave a different perspective that we couldn't get by someone describing it to us."
Michelle Greenberg said she now had a visual picture of the war.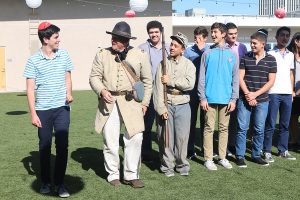 "When learning history, it's hard to find something tangible to help your understanding of something that happened so long ago" said senior Michelle Greenberg. "So by seeing what the war, the weapons, food, and things they took with them helped me visualize what the time during the Civil War was actually like."
Mr. Kelsey said people have different reasons for getting involved in Civil War reenactment. Some like the "theatrics," he said, and others just love history.
"Then there's people who want to set the record straight, especially with the internet and the movies being made," Mr. Kelsey said. "Some of the movies are ridiculous, and the movie producers should be a little more careful in what they portray. You know every Southerner didn't own a slave, and that all Northerners did not march into the South to free the slaves."
Dr. Harris said the lesson was more effective than reading.
"I thought it would be a really great idea to have the kids line up in the heat and march around the way authentic civil war soldiers would," he said, "I thought it would be really good for them to learn how a Civil War soldier would eat and camp, and the things they would have with them, so they could have a more authentic experience that goes beyond just what you can read about."
On the roof, he told the students that the program would be seen again.
"Ladies and gentleman, this is a Shalhevet first and it won't be the last," Dr. Harris said.